Tuesday June 22 - Wednesday June 23, 2021
Over two days in June 2021, Transforma Insights launched 'TI User Group LIVE', an invite-only event which featured five hours of content and networking to allow user group members to connect and learn together in a peer-led environment. Business and technology executives brought their experiences in digital transformation to the program, through interactive panels, roundtables and deep-dive presentations. Selected decision-makers joined to gain best practice in planning, execution and overcoming shared struggles when leading technology-led innovation, implementation, and change management.
Content snapshot
Day 1:
Executive Adopter Case Study: Successful Change Management for Your Business Needs

Panel Discussion: What Did 2020 Spur? Re-evaluating Approaches to Digital Transformation

Executive Adopter Case Study: Defining Your Outcome First

Closed Door Discussion Rooms: New Approaches, Lessons & Tactics for Achieving 2021 Business Goals (Premium subscribers only)
Day 2:
Innovation Revealed Deep Dive: Building Resilience & Scale

Executive Adopter Case Study: Structuring & Managing Data to Drive Business

Panel Discussion: Planning & Implementation - Technologies, Tools & Talent

Structured Discussions & Networking: Effective Leadership For Digital Transformation (Premium subscribers only)
Recordings of the content are available as 'On-Demand Insights' on the Reports & Insights page to members of the User Group. Sign up here.
2021 speakers
Manisha Mistry, Portfolio Director – Digital Culture and Collaboration, R2 Data Labs, Rolls Royce
Chetan Polavaram, Director - Innovation - Global Equipment, Digital and Supply Chain, The Coca-Cola Company
Al Fox, Transformation & Integration Director (Discipline Manager), bp

Brett Hudson, Global Head Ethics, Risk & Compliance - Strategy, Innovation, & Corporate Functions, Novartis
Chetan Polavaram, Director - Innovation - Global Equipment, Digital and Supply Chain, The Coca-Cola Company
Alice de Casanove, Culture Evolution, Intrapreneurship Director, Airbus
Who attends?
Open to all Transforma Insights User Group Members: Any qualifying business or enterprise adopting digital transformation technologies.
Job Titles include: Chief Digital Officers, Chief Information Officers, Chief Innovation Officers, Chief Operations Officers, Chief Technology Officers. VP/Director/Heads of Digital Transformation, Engineering, Innovation, IT, R&D, and Technology.
Visionary contributors
Our Visionary Contributors are selected based on their outstanding industry experience, achievements and contribution. We thank them for their engagement and support during our ongoing research into the TI User Group's content and discussion themes.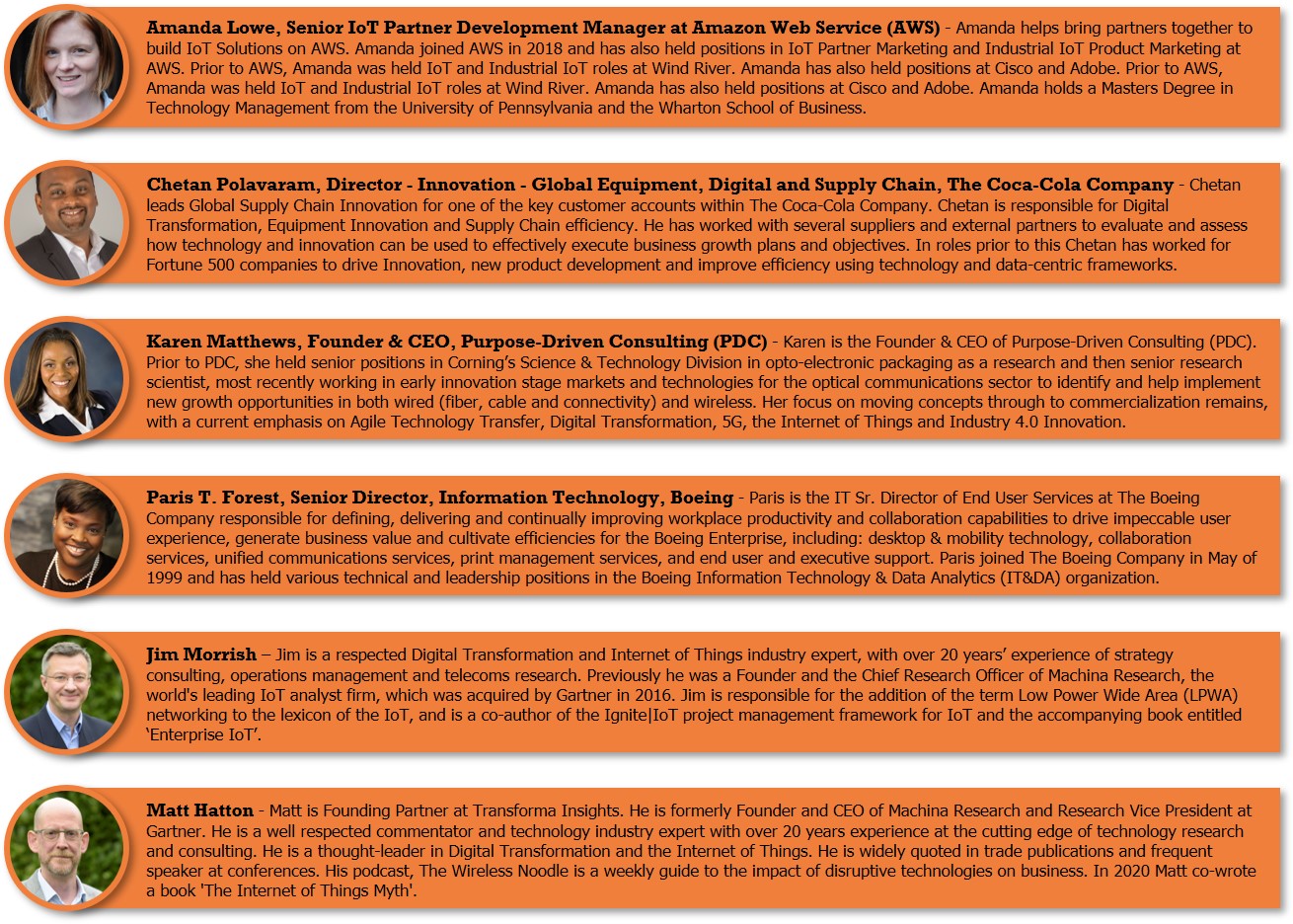 Who we've worked with
The analyst and event team behind the Transforma Insights User Group has worked with a huge and diverse group of leading technology experts and enterprise executives at firms including Boeing, Coca-Cola, Stanley-Black & Decker, EDF, Exelon, Ford, Chevron, NOV, Lowe's, Lockheed Martin, Whirlpool, HP, GSK, Rolls-Royce, Steelcase, Caterpillar, Mall of America, Ghd, Sainsburys, Mastercard, and Visa.