On the 15th September, Transforma Insights published its inaugural Communications Service Provider IoT Peer Benchmarking report, which examines the IoT strategies of the ten leading CSPs in addressing IoT. The companies covered are: Aeris Communications, AT&T, Deutsche Telekom, KORE, Orange, Telefónica, Telenor, Telia, Verizon and Vodafone. In this article I want to share some of the findings, including who we consider to be the best across the various categories that we analyse in this extensive report.
Who is best in IoT? It depends on your needs
The first thing to note is that, of course, the requirements of any company wishing to deploy IoT will be different. Therefore, the question of which is the 'best' CSP will depend on who is asking the question. Some are more adept in certain technologies, others have particular vertical capabilities, and geographical requirements will always be a big deciding factor. In the Transforma Insights report we analyse many different capabilities to allow would-be buyers to understand which of the major players can meet their needs. It's also worth stressing that sometimes the best provider isn't even one of the ten that we profile. But, when it comes to buying global connectivity we think these are the top players.
The deciding factors for selecting a provider of IoT connectivity should be some combination of the three factors noted above: technical, vertical and geographical.
Technical
Technical capabilities are heavily focused on the provision of access networks, including public broadband, narrowband and private networks. All providers have very strong capability in the provision of public broadband connectivity, i.e. 4G and increasingly 5G, and there's not much to choose between them. Strategies for narrowband (i.e. LPWA) networks, vary quite a bit. Choice of technology, roaming and service maturity can vary quite a bit. Top of the rankings here are AT&T, Telia and Vodafone. The third element is private networks which are seeing lots of interest at the moment, for instance for factories or ports. The big European players Deutsche Telekom, Orange, Telefónica and Vodafone have all been investing a lot of effort here. The second set of technical capabilities relate to platforms. Firstly the connectivity platform is closely linked to the provision of connectivity. Here we're seeing a lot more diversity of approach, very different from 6 or 7 years ago where it was focused heavily of using Ericsson's DCP, Jasper's Control Center or a home grown equivalent such as Vodafone's GDSP. Today we see a strong benefit in having in-house control of the platform and having a segmented approach, e.g. with specific platforms for different customer types. Vodafone, Verizon, DT IoT and Telefonica all score well here. Other platform areas include device management, application enablement and data exchange and analytics. Here again DT IoT scores well, particularly thanks to the Data Intelligence Hub capability. Vodafone, Verizon and Telefonica are also strong in these other platforms. The last technical rating is for professional services, i.e. consulting and systems integration capabilities. Some, including Deutsche Telekom via T-Systems, are strong here. Many others have chosen a different approach, relying entirely on providing just horizontal offerings and/or partnering with third parties.
Vertical
Our second category of capabilities is 'vertical', i.e. how good the CSP is at addressing the biggest opportunities. In some cases, they have a direct service offering, such as Verizon's 'Verizon Connect' fleet management and tracking offering or Aeris's Mobility Suite. In others it's about having developed a set of tools to support roll outs in automotive, retail or utilities. In utilities we see Telefónica, Telia and Verizon as having the most experience by virtue of supporting extensive smart meter and grid deployments. For connected car Aeris's Mobility Suite is worth calling out here as a full white-label connected vehicle platform, with AT&T and Vodafone also particularly strong. In other commercial transportation applications it's hard to ignore Verizon's USD3 billion bet on fleet management and associated applications. Smart building represents a very strong revenue opportunity for IoT overall, but is not usually thought of as a good one for CSPs specifically. However, some, including Verizon, Telia and Orange have made some good wins. Few CSPs have much of an offering dedicated to retail IoT but Telefónica, via its OnTheSpot acquisition is a notable exception. The US operators AT&T and Verizon, as well as Telefónica have been the most aggressive in pursuing smart cities. Finally, the industrial is a big focus for CSPs currently, and closely related to both 5G and private networks. Therefore the aforementioned DT IoT, Orange, Telefónica and Vodafone score well. In particular Orange has a strong co-innovation strategy, while Vodafone has had some big industrial private network wins.
Geographical
Our final element is geography. This is very closely linked to the specific characteristics of the deployment, i.e. is it focused on a single country such as smart metering, or is it a container tracking solution where the devices may show up anywhere in the world? In the report we consider mostly global deployments, which can be supported by any of the CSPs covered. However, each has their own strength and weaknesses, either through having bigger footprints with their own networks, or by having broader and deeper relationships with other operators or technical capabilities for providing services around the world. Top marks goes to Vodafone thanks to a strong footprint and an extensive partner operator network. Telenor, Telefónica and DT IoT are also strong. Telenor Connexion having focused for a long time on providing global connectivity deals. KORE and Aeris also score well here for similar reasons. DT has the advantage of its own networks in both Europe and North America.
Based on the assessments for each of the CSPs across each of the three criteria, we can plot them on a chart, as illustrated below. We must stress, of course, that this is based on an aggregated score across each of the verticals, technologies and geographies. The needs of any individual customer will vary.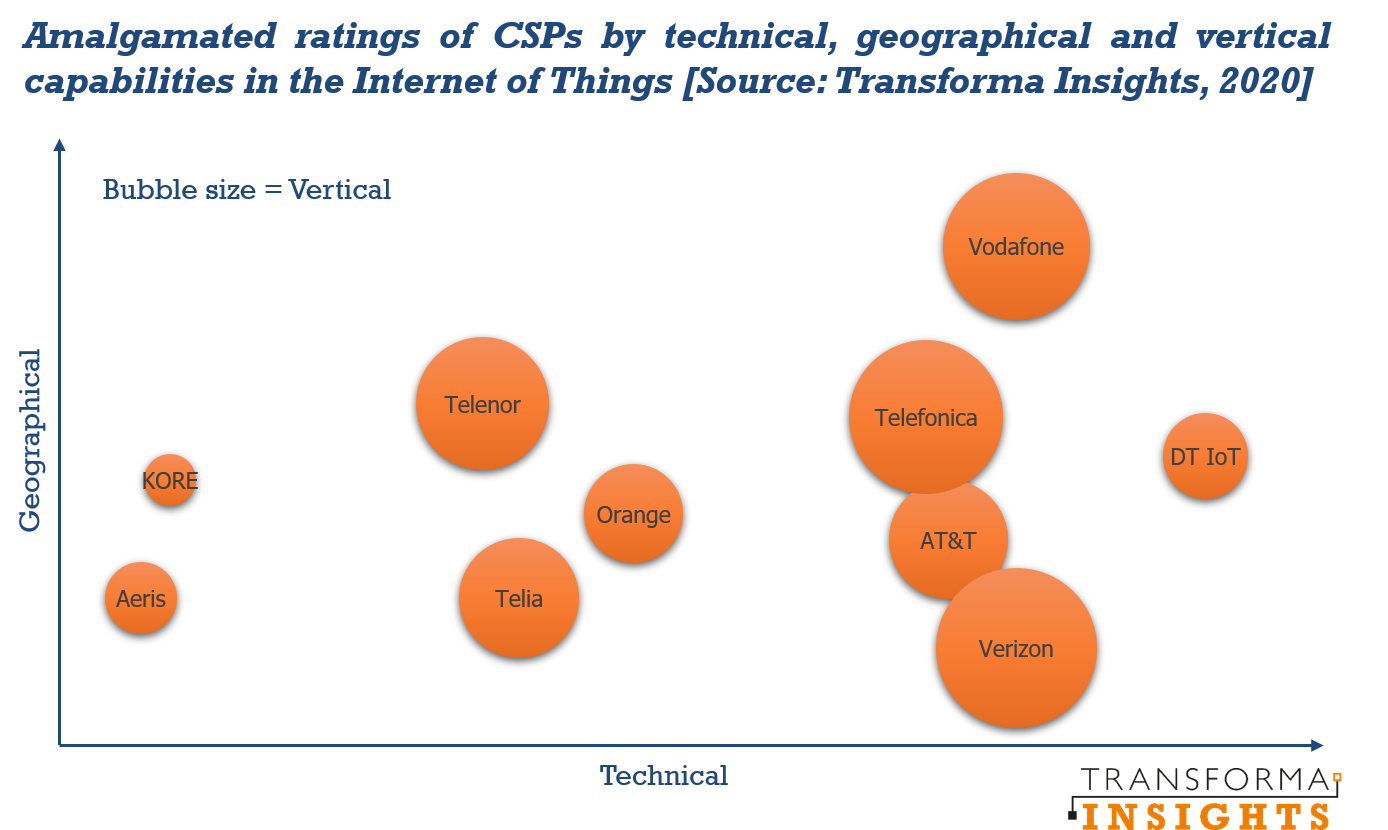 [This blog post was originally published as a news article on IoT Business News]