Transforma Insights recently published a report 'Digital Transformation in the Healthcare Sector', providing our view of the key areas of change within the healthcare sector that are enabled by emerging digitally transformative technologies. This blog post examines some of the key themes.
8 key domains of change for healthcare
There are eight key ways in which disruptive new technologies such as Internet of Things and Artificial Intelligence are being used to enact digital transformation within the Healthcare industry, unlocking operational efficiencies through automation, monitoring and collaboration.
Connected Medicine Dispensers, including medicine dispensers used at home typically by the elderly to help administer the dispensing of medicines.

Remote Patient Monitoring encompasses connected devices used to monitor a patient's health status including vital signs (such as heart rate, oxygen level, blood sugar level), and detection of events such as patients falls, potentially alerting care teams in case of emergency.

Clinical Environment Patient Monitoring includes connected beds, enhanced ICU monitoring, and wearable patient tracking tags.

Patient Data Management includes digitally transformative solutions used for patient records management.

AI-based Diagnostic Solutions, including AI-based analysis of images (such as CT and MRI scans) to assist radiologists and doctors.

Surgical Robots, including robot-assisted systems to support surgeons performing minimally invasive surgeries.

3D Printing, including the construction of prosthetics, joints and dental implants using additive manufacturing technologies.

Asset Monitoring includes tracking and monitoring solutions to safeguard hospital assets (equipment and supplies) and prevent theft and misuse.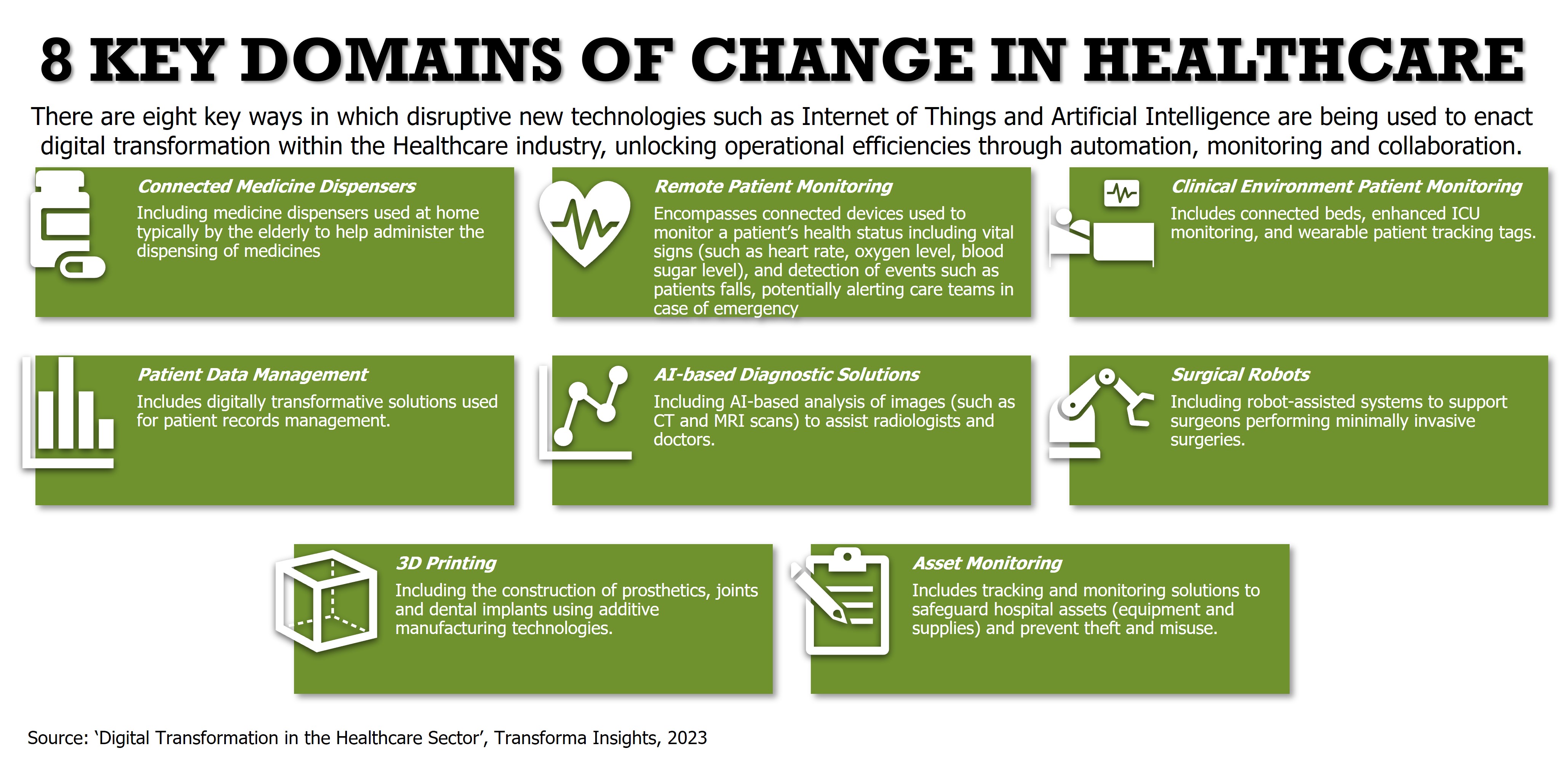 Transformation driven by Artificial Intelligence (AI)
The findings of the report were based on wide-ranging analysis of digital transformation in the healthcare sector, including analysis of Case Studies included in Transforma Insights' Best Practice & Vendor Selection Database. This database includes hundreds of case studies that collectively illustrate how new emerging technologies can impact enterprises in all sectors. At the time of writing, the database included 925 case studies in total, 51 of which are in the Healthcare sector.
Unusually, it is AI that emerges as the most impactful enabling technology, associated with all of the key domains of change identified in our report other than 3D Printing. This underlines how heathcare differs from many other industrial sectors, given the investments already made into high-tech equipment (such as MRI and CT scanners, and so on), the complexity of many tasks in healthcare, and the fact that every patient is unique.
IoT is also a significant enabling technology, supported by Hyperconnectivity, and with many of the most impactful domains of change adopting some form of Data Sharing between different parties.
In large part, digital transformation in healthcare is characterised by AI-enabled Assisted Decision Making, IoT-enabled Personal Monitoring & Tracking and a range of other Use Cases enabled by both IoT and AI including Quantified Self, Precision Specialist Robots, and augmented reality.
The majority of case studies that we have identified in the healthcare sector have both a significant Process Efficiency impact (i.e. they are internal changes related to making operations more efficient) and also a significant Value Proposition impact (i.e. they have an impact on the products and services that an enterprise offers to the market). Again, this is slightly unusual, since digital transformation in most other industry verticals tends to be more tightly focussed on process efficiency.
About the report
'Digital Transformation in the Healthcare Sector' is intended to provide an outsider's view of some of the key areas of change within the healthcare sector that are enabled by emerging digitally transformative technologies. From a practitioner's perspective, the document highlights new and emerging aspects of change that can be expected to impact the industry in the next few years. From the perspective of potential vendors to the manufacturing industry, it highlights key emerging areas of opportunity to sell new products, services, and solutions to the manufacturing industry. The report is available to subscribers to the Transforma Insights Advisory Service.