Embracing IoT and other Digital Transformation technologies, particularly in the most sophisticated ways bringing the most significant impact, is about much more than just technology. Adopters must give ample consideration to the commercial and operational implications of deployment, and make the appropriate changes within their organisations. It is usually harder to change organisational working practices and business models than it is to adopt new technologies.
In our map of the Digital Transformation landscape (which incorporates IoT and other transformational technologies), we identify seven areas within the enterprise will be affected by new disruptive technologies (IoT, AI etc.) and the various use cases facilitated by them.
These areas are:
Process
Unless you're doing something very wrong, IoT creates new processes of some sort. At the very least it creates a stream (or trickle) of data from remote assets that has to be gathered, stored and used in some way. At the most extreme it necessitates a complete overhaul of how an organisation operates.
Business Model
The various use cases that live under the IoT banner represent a spectrum of implications for organisations' business models. In some cases, it's a simple streamlining of existing processes, for instance automated meter reading which saves a utility from having to send someone to read the meter manually, or a port which can make substantial savings by relatively marginal individual gains in more efficient container handling. In other cases, it completely transforms the organisation and how it operates.
Finance
New business models often mean changing mechanisms and conventions for payments. Connected car services, for instance, provide an ongoing revenue stream for the car manufacturer, which is a great novelty*. In others it represents a shift from selling a piece of hardware, such as TOMRA's potato sorting machine, to charging on a recurring basis for potato-sorting-as-a-service. The latter business model has implications for the amount of debt on the balance sheet, with the seller no longer receiving a huge chunk of cash up front. There are ways of managing that, of course, but it certainly demands some consideration.
People
With the adoption of new technologies comes the additional requirement to have internal resources capable of managing them. While suppliers will help with the heavy lifting of implementation, there is still an underlying requirement for someone internally within the organisation to be able to work with the new technology. Demand for in-house data scientists, for instance, is booming.
Partners
Most organisations are going through a process to become more IT-centric. As Marc Andreesen, co-founder of Netscape, put it: "software is eating the world". Every company is an IT company now. For most organisations this means working with a wide range of partners rather than, heaven forbid, create every aspect of their new capabilities in-house. Managing those partners becomes a task in itself.
Systems
It almost goes without saying that new IoT capabilities introduce new systems, including device management, data analytics and much more. These new systems need to be implemented, run and integrated with existing systems such as enterprise resource planning (ERP) and customer relationship management (CRM).
Culture
Notwithstanding the practical changes required of systems and skills, there is also the potential need for a change in culture within the organisation. Shifting from selling products to selling services, or harnessing a wide range of additional company data requires a culture shift to become more services- or IT-focused.
(And we must not forget Change Management)
In addition to these seven, Change Management is not so much an area in its own right, but it certainly requires attention., so could be considered an eighth. The idea that the transformations implicit in the areas outlined in the bullets above will happen without substantial effort is hopeful, to say the least. What is needed is a formal change management process with dedicated assets.
It is a well worn trope that the hardest part of Digital Transformation is the internal process and organisational changes. But it is nevertheless true. Any company serious about rolling out IoT needs a formal change management process in place with ample C-level leadership and consideration of the areas quoted above. Transforma Insights and the tools it provides can help. Why not try out our services through a free 'Essential' subscription. Find out more on our Overview page.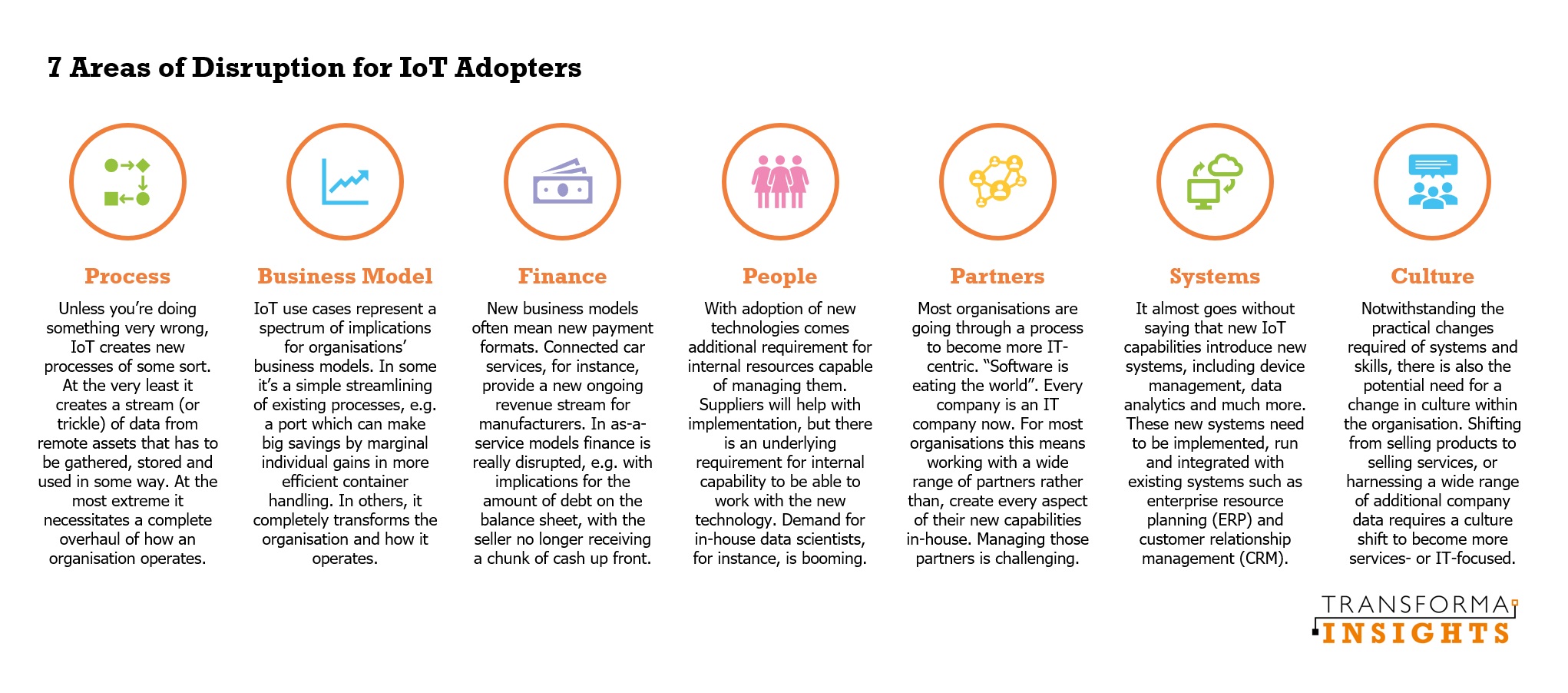 *The Chairman of one major car manufacturer reputedly has a framed receipt on his wall showing the first client's payment for his company's connected car service, this being the first time the car manufacturer had ever sold anything directly to a client, rather than through its dealer network.