Every quarter the Transforma Insights team tracks how many cellular IoT connections are reported by the mobile network operators (MNOs) around the world. This is part of our extensive work looking at the strategies and capabilities of communications service providers in IoT, for instance our annual CSP IoT Peer Benchmarking report.
At the end of Q1 2023 we estimate that the top 37 operator groups around the world (which must account for close to 99% of cellular-based IoT connections) recorded a total of 2.4 billion connections, up from 2.24 billion at the end of Q4 2022. That's a 7.3% growth in the quarter. That compares to a 9.5% growth in Q4 and a 3.1% growth for the equivalent quarter in 2022. The year-on-year growth in the year to 31 March 2023 was 38%, compared to just 17% for the year to 31 March 2022.
As of 31 March 2023, the top performing operators with a steady year-on-year growth are China Mobile (61%), Telia (41%), NTT (33%), KDDI (31%), China Unicom (29%) and SK Telecom (28%). Most operators score somewhere between 12% and 28% growth.
Over the last three quarters, IoT connection growth has remained steady with an average growth of 9% per quarter; from 2.04 billion connections in Q3 2022, to 2.23 billion in Q4 2022, and 2.4 billion in Q1 2023, there has been a consistent increase.
Globally, the quarter-on-quarter growth seen in the last three quarters has returned world growth to the 8-10% per quarter levels not seen since pre-pandemic in 2019. However, it should be noted that this has been very much a China phenomenon. Its growth dropped sharply during 2020, whereas outside of China growth rates have been fairly consistent throughout the pandemic period. That trend is illustrated in the chart below.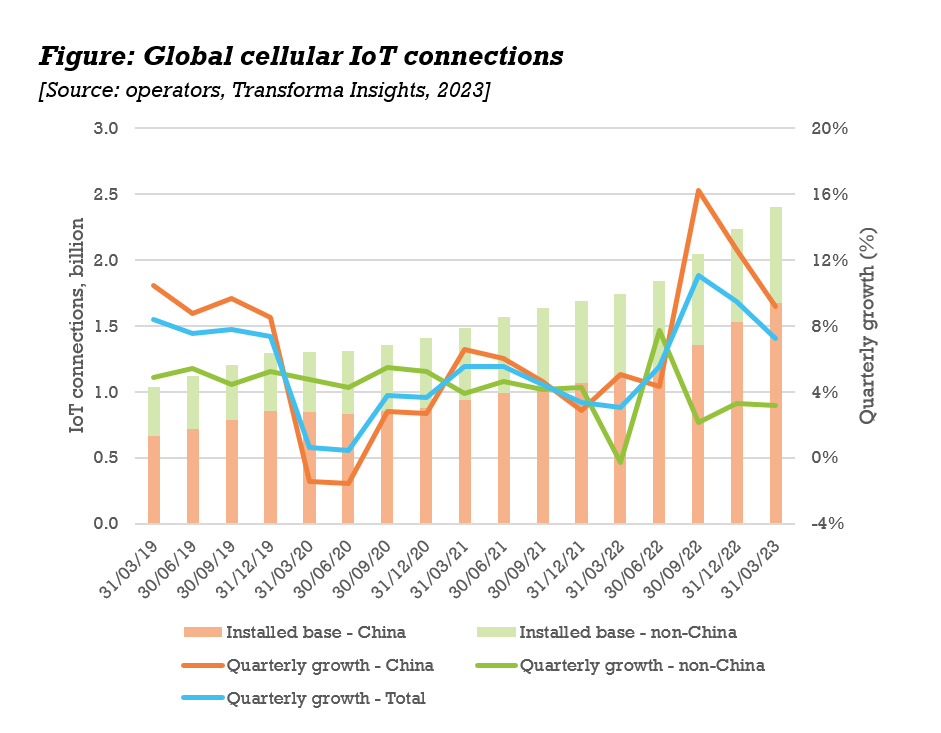 As discussed previously, we review and revise the numbers from the operators to try to align them to our view of what counts as an IoT connection. As a result we temper the Chinese figures, but they nevertheless account for two-thirds of the global market. We still advise treating the figures with some caution as there are likely still some reasons for considering that the numbers may be over-counting the reality of active devices on the ground. Devices used for initial bootstrapping, for instance, would count towards a total but would not be active for long. For more details on our perspectives on the Chinese Communications Service Provider IoT landscape, see our recent report 'Chinese Communications Service Provider (CSP) IoT Peer Benchmarking' (April, 2023).