The idea that the challenge of Permanent Roaming has been solved in recent years is overly optimistic. It continues to represent a threat to the success of multi-country IoT projects that rely on cellular connectivity. Transforma Insights recently published a Position Paper on the subject entitled 'Using permanent roaming for your Internet of Things deployment risks huge costs and continuity-of-service problems'. Matt Hatton explores what it is and why it might be a problem for you.
What is Permanent Roaming?
During the 2010s many regulators, for instance in Brazil, China, India and Turkey, introduced, or more rigorously enforced, rules that prohibited permanent roaming. The regulations prohibited devices that are registered in another country from existing permanently in a roaming state within the market. Sometimes the rules were explicitly against permanent roaming and in other cases were based on local registration requirements or tax obligations. The regulators are often motivated to protect the local market and enforce local rules with which a roaming connection may not comply, e.g. lawful intercept. Besides this, roaming was never envisaged to include a foreign device permanently being in a state of roaming. There were also commercial equivalents, particularly in the US and Canada, where the operators themselves prohibited their roaming partners from having devices permanently roaming on their networks.
Why is it a problem?
Permanent Roaming is a problem for two reasons: Firstly, unless the connectivity that underpins your application is compliant with the regulations or commercial rules from host operators, your device will probably be disconnected without any prior warning. This will have very serious implications for continuity of service and customer satisfaction. It can also mean significant additional cost, including that of reconnecting disconnected devices, legal fees and potentially a hike in access charges.
The second reason why it is a problem is because roaming is widely relied on for providing connectivity to IoT devices. In the most extreme cases 50% of cellular IoT connections in a country might be connected using 'roaming' (even though they mostly never move). Relying on roaming is the simplest way for a connectivity provider to offer global coverage. There's a very good chance that your IoT solution relies on roaming.
Who does it affect?
It potentially affects everyone who uses cellular connectivity to connect their IoT devices. In particular it affects customers that have their devices deployed in multiple territories. If you're limited to a single country the chances are that your partner operator or MVNO will use an appropriate approach. If you have a device estate deployed across multiple countries, however, it's important to check that your supplier is meeting their obligations to support your connections in an appropriate way.
Where will it cause problems?
The rules about permanent roaming vary dramatically between countries (as illustrated on the map below). In some there are explicit rules either prohibiting permanent roaming itself (for example Brazil, China, Turkey) or implicitly doing so through requirements for connectivity to be provided by a locally registered supplier (e.g. Middle East). In others (e.g. Australia, US) the rules are set by the operators themselves, which may choose to allow or prohibit permanent depending on their relationship with the provider of your connectivity.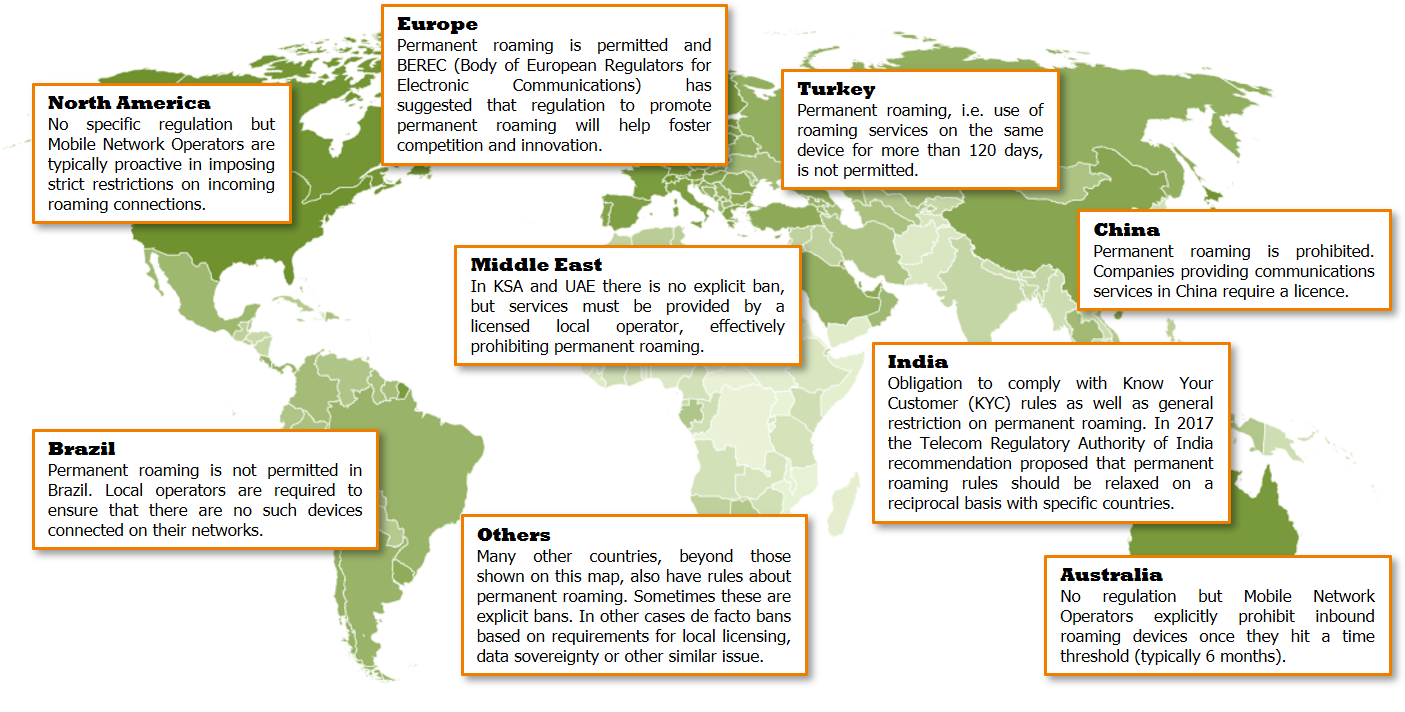 What should you do about it?
Your connections must be compliant with the laws of the market and the rules of the host network operators. The simplest way of doing this is to contract directly with a local operator which runs its own network. If you need to connect in multiple territories you can opt for a multi-IMSI approach, which sees the SIM card on your device having multiple profiles from multiple different operators. The most recently available solution is eSIM. This can proactively update the SIM profile on your device to select a local profile, or other appropriate one. This can guarantee connectivity as if it were a local SIM.
Most importantly, however, you should speak to whoever provides your connectivity to check that your are confident that they provide a connectivity solution that is compliant with the local rules.
To learn more, you can download the Position Paper which digs into all of these topics in more detail.