New Transforma Insights reports covering one of the twelve pillars of Digital Transformation show that the number of Edge Computing devices will increase from 2.7 billion to 7.8 billion between 2020 and 2030, driven largely by the incorporation of on-board edge capabilities in IoT devices.
Transforma Insights today published a new set of forecasts for Edge Computing, including a diverse range of applications that exist to decentralise processing (away from cloud infrastructure). The forecasts consider two main types of edge device:
Edge-Enabled Devices ('Connected Things') – Including a range of consumer applications (such as Smart Speakers, and Televisions), connected vehicles, and enterprise applications (such as Precision Specialist Robots). To qualify as an Edge-Enabled Device, a connected thing must either contain significant on-board processing and interact with the cloud OR contain on-board processing that is responsive to cloud.

Campus Edge – Including Edge Gateways (located at the boundary of corporate networks, functionally adjacent to the cloud), and Distributed Edge (generic edge computing devices distributed within campus environments).
Focussing first on Edge-Enabled Devices, representing 7.7 billion of the 7.8 billion total Edge Computing devices in 2030, the largest markets will be Greater China, Europe, and North America. By 2030, these markets respectively will account for 27%, 24%, and 23% of all Edge-Enabled Devices worldwide. As a proportion of all IoT devices ('Connected Things'), Edge-Enabled Devices will vary between 28.8% (2020) and 27.7% (2030). The uptick in the edge enabled share of IoT devices in 2020-21 is due to increased sales of connected televisions during Covid-related lockdowns (purchases which will have been accelerated from 2022-23).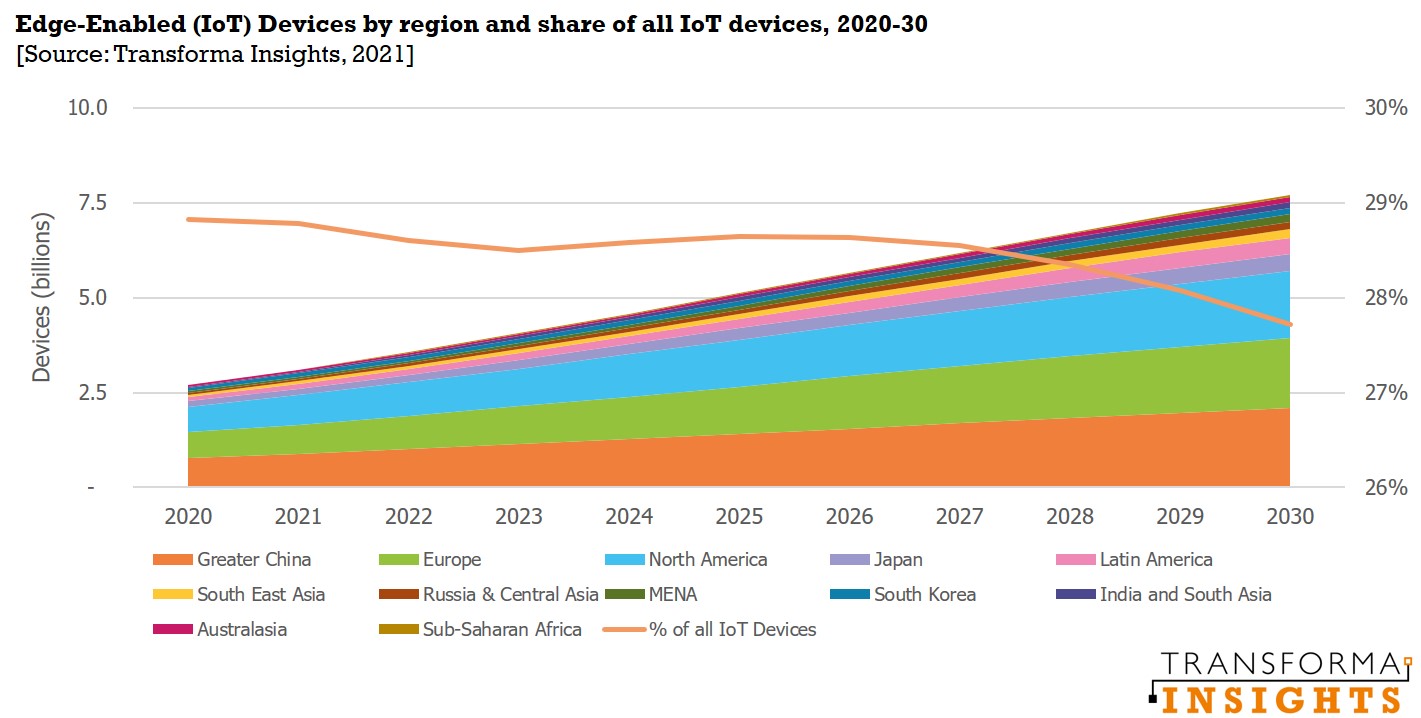 Campus Edge is comprised of two main components: Edge Gateways and Distributed Edge. Edge Gateways are typically located at the interface between a local network and a wide area network and often work in unison with cloud applications. Distributed Edge can be deployed either to manage data flows within a local campus environment or to 'edge enable' brownfield equipment. The market for Campus Edge will grow to approaching 100 million devices by 2030, a 4.8-fold increase compared to 2020. The Campus Edge market will be dominated by Manufacturing (accounting for 78% of devices in 2030), with Human Health (15%) also significant. Other verticals will account for 7% of devices in 2030 between them.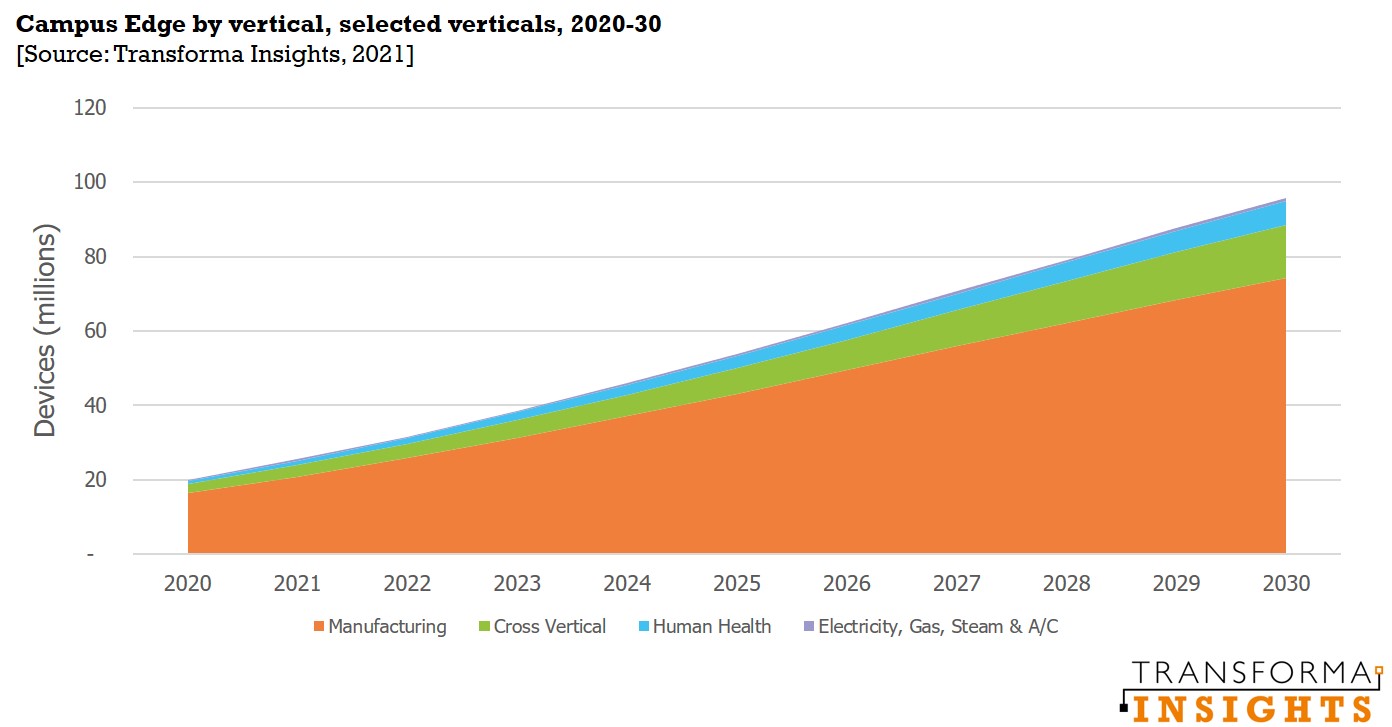 Commenting on the findings, author Jim Morrish said: "The number of smart (edge enabled) IoT devices in the market is growing quickly. We should expect a corresponding focus on the development of more complex, flexible, and user-focussed applications associated with these smart devices."
Morrish comments: "Campus Edge markets will gain increasing scale, with the manufacturing sector particularly driving the adoption of Distributed Edge. Edge platform capabilities will become increasingly important for vendors, particularly in the manufacturing vertical."
The forecasts are included in the report 'Edge Computing: 7.8 billion devices including 100 million gateways and 'Distributed Edge' locations by 2030'. In parallel we also updated our 'Edge Computing Technology Insight Report' which examines qualitative aspects of market development.
About the Reports
The reports can be accessed as part of a subscription to Transforma Insights Advisory Service. The first, 'Edge Computing: 7.8 billion devices including 100 million gateways and 'Distributed Edge' locations by 2030' examines the scale of the market opportunity associated with diverse edge solutions. The second, an Edge Computing Technology Insight Report, discusses the overall market for edge computing technologies including key market trends, vendor landscape, and analysis of historic deployments. Edge Computing is one of the twelve technology families that Transforma Insights considers in our coverage of Digital Transformation.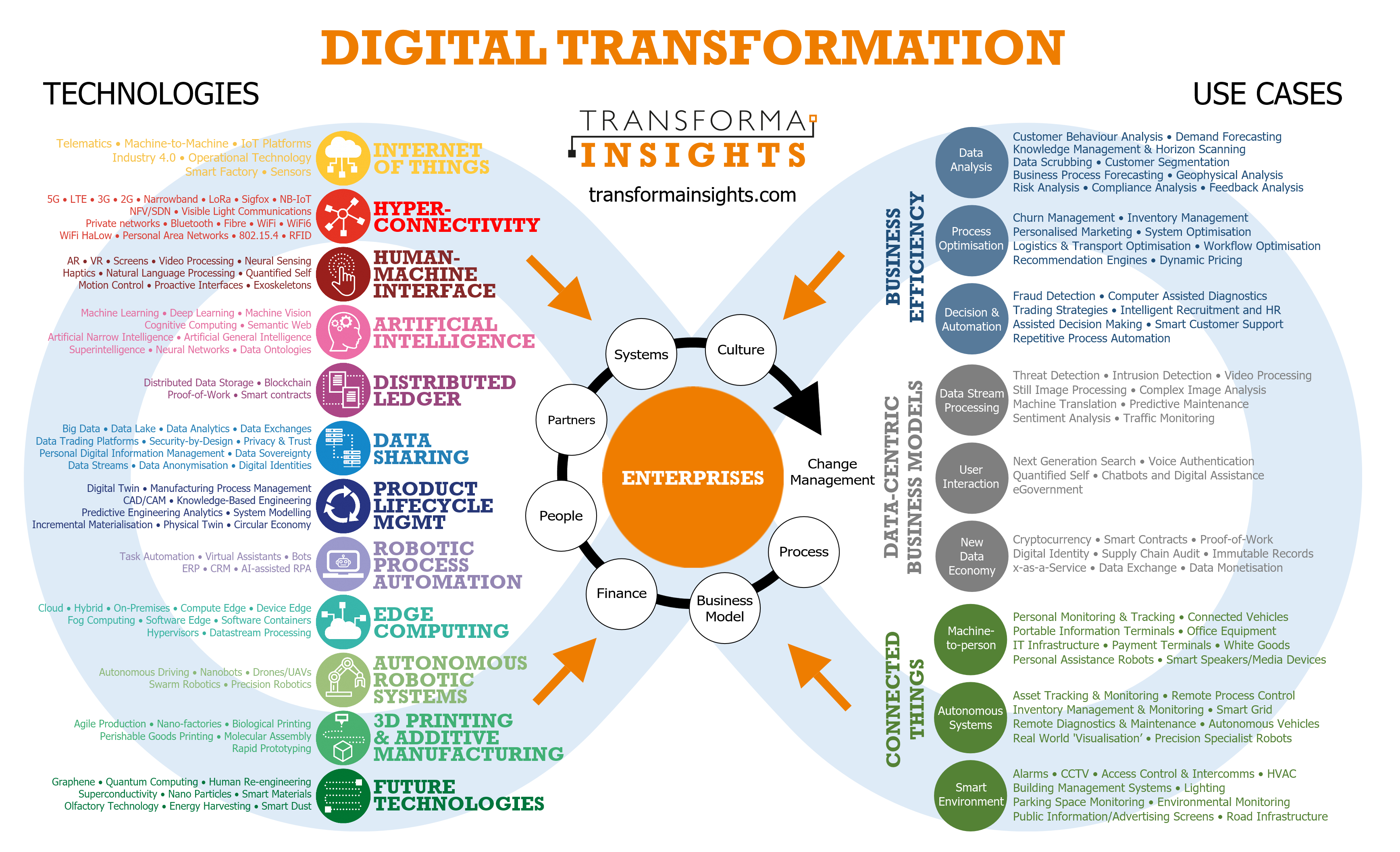 The focus is on quantitative analysis, examining numbers of revenue generating units (RGUs), connections, technology splits and revenue, including examination of which verticals will dominate, and analysis of geographical distribution. This report provides summary charts of the granular forecasts within the Transforma Insights TAM Forecast Database.
The TAM Forecast Database includes our IoT 'Connected Things' Forecast, which covers the period 2019 to 2030 for Revenue Generating Units (RGUs), connected devices, annual shipments and revenue across 20 use cases, 69 application groups (of which Unmanned Aquatic & Aerial Vehicles is one), 20 vertical sectors and 198 countries. Device and shipment forecasts include technology splits between cellular (2G, 3G, 4G, 5G), LPWA (5G mMTC and non-mMTC), satellite, short-range and other. Revenue splits between hardware (module) and recurring (connectivity and service wrap).
Our main IoT forecast provides splits based on highest embedded technology. Additionally our 'hyperconnectivity' forecasts provide forecasts for all embedded technology to illustrate all technologies supported by any given use case or application. Further details from the press release in January 2021.
About Transforma Insights
Transforma Insights is a leading research firm focused on the world of Digital Transformation (DX). Led by seasoned technology industry analysts we provide advice, recommendations and decision support tools for organisations seeking to understand how new technologies will change the markets in which they operate.
For more information about Transforma Insights, please see our website transformainsights.com or contact us at enquiries@transformainsights.com. Follow us on Twitter: @transformatweet.