The latest report from industry analyst firm Transforma Insights presents its annual snapshot of the status of the IoT market worldwide.
Transforma Insights has today published its report 'Global IoT Forecast Report, 2022-2032' which provides an annual snapshot of the status of the global Internet of Things market. The report draws on Transforma Insights' extensive application-by-application analysis of the market contained within the IoT Forecast Database and associated reports. Key findings are discussed in a webinar 'Are we nearly there yet? Annual update on Transforma Insights' IoT market forecasts' available for viewing with a (free) login to Transforma Insights website.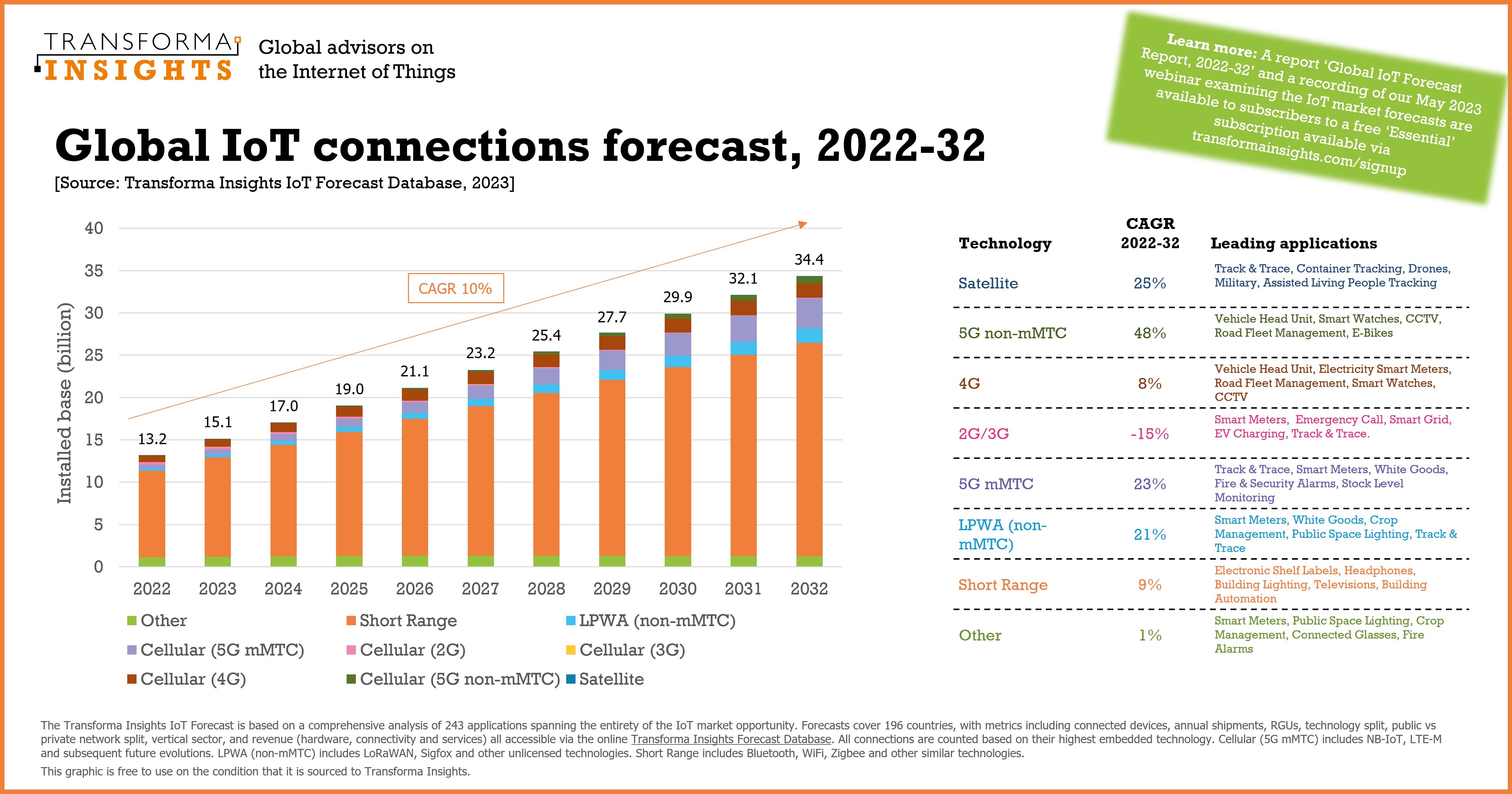 The key highlights are:
At the end of 2022 there were 13.2 billion active IoT devices, a figure which will grow to 34.4 billion in 2032, a compound annual growth rate (CAGR) of 10%.

Short range technologies will dominate connections, accounting for 74% in 2032, a slight reduction compared to the 78% it accounts for today. Cellular connections will grow from 1.5 billion connections in 2022 to 6.9 billion in 2032, growing market share from 11.6% to 17.7%.

5G connectivity technologies (including mMTC) are expected to replace 2G, and increasingly 4G. 2G connections will fall from 20% of total cellular connections in 2022 to 1% in 2032, with 3G already non-existent. Meanwhile, the 4G share will fall from 50% to 28%. During the same period 5G non-mMTC connections will increase from 1% to 14%, with 5G mMTC connections increasing from 28% (mostly in China) to 57%.

Low Power Wide Area (LPWA) connectivity technologies (including 5G mMTC and licence-exempt equivalents) are expected to dominate wide area wireless connections by mid-2025, driven by adoption to support Smart Grid, Asset Tracking & Monitoring, Building Safety & Security and a range of other applications.

In revenue terms, the total IoT market (defined as including connectivity modules, value added connectivity, and core associated applications) in 2022 was worth USD263 billion, a figure which will rise to USD767 billion in 2032. Value Added Connectivity will account for 10.8% of spend in 2032, with the connectivity modules accounting for a further 4.2%.

In 2032 the consumer sector will account for 61% of all connections. Of the enterprise segment in 2032, 30% of devices will be accounted for by 'cross-vertical' use cases such as generic track-and-trace, office equipment and fleet vehicles, 26% by utilities, most prominently smart meters, 22% by retail & wholesale (predominantly electronic shelf labels and payment processing devices), 8% by government, 4% by transport & storage, and 2% each for agriculture, forestry & fishing, finance & insurance, and manufacturing.

The single biggest use case is Consumer Internet & Media devices, accounting for 27% of all devices in 2032. The next largest is Smart Grid, including smart meters, representing 11% of connections.

Geographically, Greater China, Europe, and North America dominate the count of IoT connections, accounting for 29%, 22% and 21% respectively of the total IoT market in 2032.
Commenting on the findings, Principal Analyst Matt Arnott said: "The IoT market continues to develop largely as we expect, although with some interesting new dynamics. Connected vehicle sales in Europe and North America, for example, remain depressed post Covid whilst sales have returned to trend outside those markets. The traditional markets for smart metering, Europe, Greater China, and North America, will also soon be eclipsed by adoption in emerging markets such as South East Asia and Latin America. One thing that is becoming ever more clear is that the future for IoT as a whole will be dominated by Low Power Wide Area connectivity technologies, implying a need for associated low-cost supporting infrastructures."
About the report
This report provides a snapshot of the state of the IoT market in 2022 and forecasts to 2032. It is compiled based on data extracted from the Transforma Insights IoT Forecast Database., specifically the IoT 'Connected Things' forecasts. The forecasts are constantly updated and cover 256 applications across 21 vertical sectors and 196 countries.
The report comprises analysis of connections and revenues including splits by geography, technology, vertical sector and use case/application. This includes analysis of cellular connections and generation splits (2G, 3G, 4G and 5G), LPWA connections, public vs private network splits and many more. It also includes tables containing high level data. For a full set of data, subscribers should go to the IoT Forecast Database.
The report also provides details of methodology, segmentation and definitions which will be useful to anyone using the forecasts.
If you have questions concerning the methodology, either general or specific to a particular application or vertical sector, don't hesitate to contact our analysts via enquiries@transformainsights.com.
About Transforma Insights
Transforma Insights is a leading research firm focused on the world of Digital Transformation (DX). Led by seasoned technology industry analysts we provide advice, recommendations and decision support tools for organisations seeking to understand how new technologies will change the markets in which they operate.
For more information about Transforma Insights, please see our website transformainsights.com or contact us at enquiries@transformainsights.com. Follow us on Twitter: @transformatweet.