Transforma Insights has further expanded its ultra-granular IoT forecasts to include connectivity technology splits providing insights into how the opportunity for cellular and LPWA networks will evolve over the next decade.
Transforma Insights today published a 'Global IoT Forecast Report, 2020-2030' including analysis of key aspects of the market for IoT connectivity. The forecasts presented are based on an extensive and highly granular research methodology, which involves analysing 460 combinations of IoT applications and vertical markets across each of 196 countries. The forecast demonstrates the impact of some significant changes that are occurring in how IoT devices are connected, for instance the arrival of 5G, the opportunity for private networks and the competition between licensed and unlicensed LPWA technologies.
LPWA and massive Machine-Type Communications
Probably the biggest single change that will happen in IoT connectivity in the next decade is the arrival, at scale, of Low Power Wide Area (LPWA) connections. Transforma Insights predicts 4 billion LPWA connections in 2030 (up from 330 million at the end of 2020). There is a lot of diversity within those figures. Almost two-thirds will be accounted for by 5G mMTC (massive Machine-Type Communications), the new terminology covering cellular LPWA technologies NB-IoT and LTE-M, which operate in licensed spectrum. The remaining one-third will be technologies such as LoRaWAN and Sigfox that operate in licence-exempt spectrum.
The mMTC devices are predominantly (67%) connected via public networks run by network operators. The overwhelming majority of the 33% connected via private networks are accounted for by a limited number of smart metering deployments. In contrast, the 1.3 billion non-mMTC LPWA devices are much more evenly split, with 47% connected via public networks and 53% by private.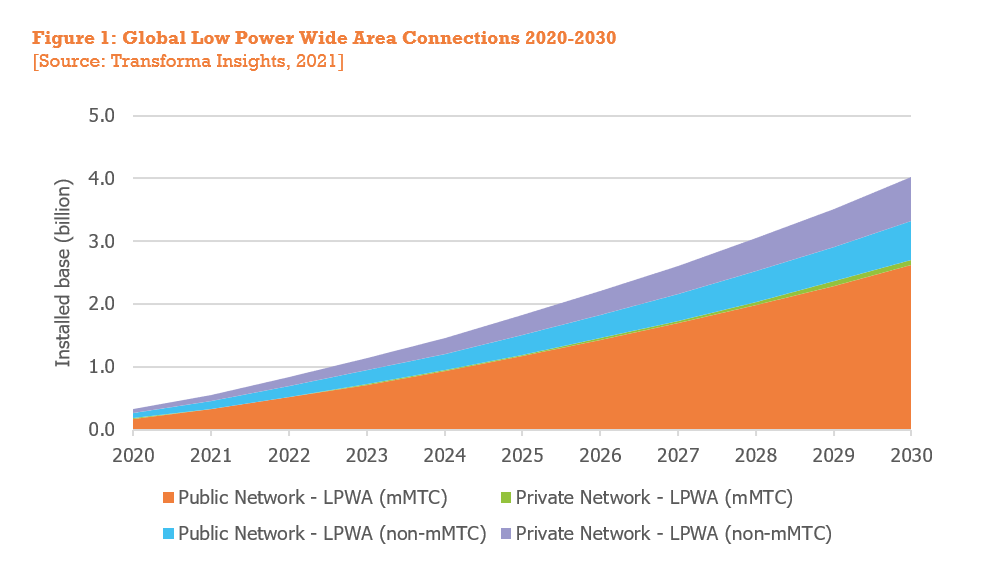 Today China is the main driving force behind global LPWA connections. At the end of 2020 it represented 55% of the global total. Over time the rest of the world catches up; by 2030 China's share will have fallen to one-third of all LPWA.
Founding Partner Jim Morrish commented "Our year-end figure for global LPWA connections in 2020 is 50% higher than it was in 2019, and it is good to see the potential for LPWA technologies beginning to become a reality. Together these technologies are very well suited to a wide range of IoT scenarios where high bandwidth and low latency communications are not required."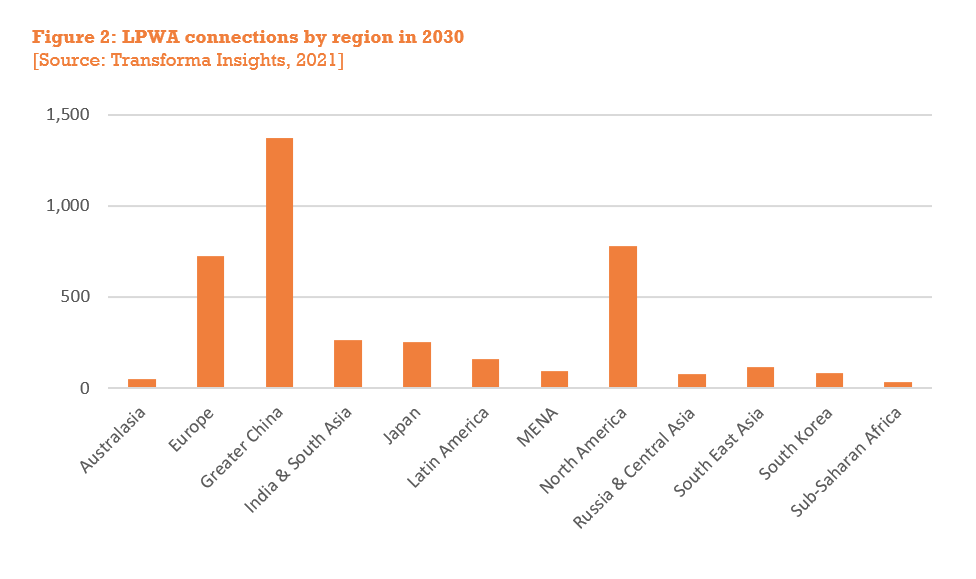 A future characterised by 4G and LPWA, with emerging 5G
Another big question mark in IoT connectivity is the extent to which 5G takes a role. Excluding the mMTC technologies which are now officially part of "5G", but which more naturally sit under the LPWA banner, the forecast shows 468 million 'full' 5G IoT connections at the end of 2030. This amounts to 20% of all (non-mMTC) cellular connections. In terms of annual shipments in 2030, however, it is much more significant. Of the 298 million (non-mMTC) cellular devices that we expect to ship in 2030, 129 million (43%) of them will be 5G. The remaining 201 million will be 4G/LTE.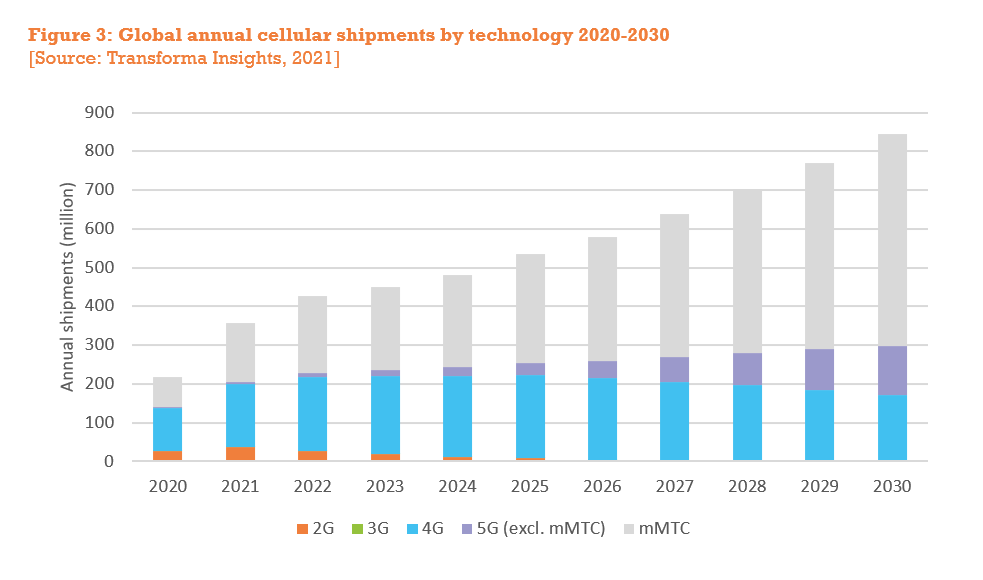 The single biggest application for 5G (non-mMTC) is in vehicle head units, which accounts for 47% of all such IoT shipments in 2030. Automotive manufacturers are quite keen on 5G, not least as a way of ensuring that the vehicle connectivity is future-proofed. The next biggest application is CCTV, accounting for 8%, reflecting how fragmented is the market for 5G (non-mMTC) beyond vehicle head units. Commenting on the findings, Founding Partner Matt Hatton said: "There will be demand for 5G simply because it will be available and the best option for future-proofing deployments. However, there are very few truly high-volume 5G applications outside of those that will be supported by mMTC."
As is clear from Figure 4, LTE remains the work-horse of cellular IoT throughout the forecast period. It is also interesting to note that shipments of devices where 2G or 3G are the highest embedded technology will have stopped by 2029. Principal Analyst Matt Arnott comments: "We have seen a lot of different approaches to 2G and 3G switch off, which will continue into the next decade. As these networks disappear, so we will see more interest in LTE-M as the natural successor technology."
Private networks growing in importance
Another noticeable trend over the next ten years is the growth in the use of private networks using cellular technologies. Private networks are, of course, already in widespread use with short range technologies such as WiFi and Zigbee. What is new is the use of private networks using wide area technologies such as 4G and 5G. At the end of 2020 approaching 3 million cellular IoT device sales were destined to be connected to private cellular networks, a figure which grows to 49 million in 2030.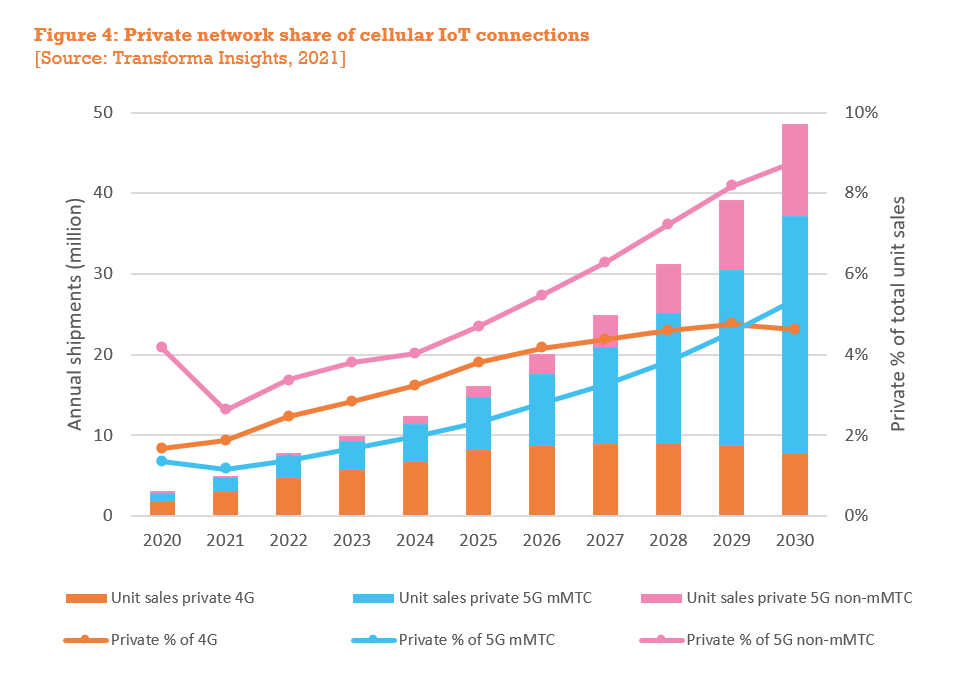 About the IoT Forecast
The forecasts presented here are taken from Transforma Insights' Total Addressable Market (TAM) Forecast Database. The TAM Forecasts provide our quantitative view of the market opportunity associated with Digital Transformation and all of the associated technologies.
The IoT Connected Things forecasts presented are based on an extensive and highly granular research methodology, which involves analysing 460 combinations of application and vertical across each of 196 countries.
The TAM Forecast Database presents forecasts from 2020 to 2030 for Revenue Generating Units (RGUs), connected devices, annual shipments and revenue across 20 use cases, 69 application groups, 20 vertical sectors and 198 countries. Device and shipment forecasts include technology splits between cellular (2G, 3G, 4G, 5G), LPWA (5G mMTC and non-mMTC), satellite, short-range and other. Revenue splits between hardware module and recurring (connectivity and service wrap).
Find out more about Transforma Insights research.
New Forecast Highlights page
Transforma Insights' new Forecast Highlights page, features regularly updated summary forecasts from our Connected Things (IoT) forecast database, available to anyone.
This page includes selected highlights from our IoT forecasts. The figures are regularly updated and are a live view of the forecast information contained in our Connected Things (IoT) forecast database. The figures available on this page are free to use on the condition that they are sourced to Transforma Insights.
About Transforma Insights
Transforma Insights is a leading research firm focused on the world of Digital Transformation (DX). Led by seasoned technology industry analysts we provide advice, recommendations and decision support tools for organisations seeking to understand how new technologies will change the markets in which they operate.
For more information about Transforma Insights, please see our website transformainsights.com or contact us at enquiries@transformainsights.com. Follow us on Twitter: @transformatweet.