Leading IoT industry analyst firm publishes the first of its Transition Topic Position Papers, looking at how an evolving toolset and the changing economics of supporting IoT connectivity is transforming the Connectivity Management Platform market landscape.
Transforma Insights has today published its free Transition Topic Position Paper, sponsored by floLIVE, on the topic of 'Connectivity Management Platforms'. The Connectivity Management Platform (CMP) is one of the key underlying pieces of middleware that Mobile Network Operators (MNOs) and Mobile Virtual Network Operators (MVNOs) use to manage connections, handling activation/deactivation, billing, analytics, reporting and various other functions. This part of IoT is going through a period of pronounced transition, as highlighted in the report.
The key findings of the report are:
CMP functionality is evolving and has become much more differentiated. Most notably there is a distinction between 'Thin CMP' offerings, which feature little more than SIM management, and the 'Thick CMP', which includes a much broader range of connectivity-related functionality including core network, eSIM management and connectivity orchestration.

Many IoT connectivity providers are being more proactive in reviewing their CMP strategy, due primarily to concerns over unit economics and how to address low margin connections with scalable solutions incorporating low-touch on-boarding and management.

Established vendors in the space are also going through some pronounced changes, reflecting the economics of delivering CMPs. Ericsson took the radical approach of divesting its loss-making IoT Accelerator platform in December 2022, while Cisco has been evolving its offering, adding additional features and a tiered offering but also increasing prices to reflect the reality of the cost of managing a CMP.

New, more scalable, cloud-based offerings have become available, with a rich set of features, delivered in a more financially viable way, to provide a greater degree of competition to the established players.
Commenting on the report, author Matt Hatton said: "If we look back 3-5 years the Connectivity Management Platform (CMP) space was relatively stable. Functionality was well-established and the market landscape was well defined. This has changed and will change further in the coming few years. We are currently in a period of transition with ownership, functionality, market structure and buying behaviour all in a period of flux. Hence why the CMP space was the first we considered for our Transition Topics. Ultimately, 3-5 years from now we expect there to be a 'new normal' in CMPs based on a more pluralistic market structure, with a wider range of, in many cases very feature-rich, platforms."
floLIVE's CEO Nir Shalom, says: "Over the last few years, we've witnessed an evolution for OEMs and global enterprises. They have become more knowledgeable over market dynamics, their business needs and the technical and operational barriers in their journey towards achieving a globally connected business. Many MNOs have come to the understanding that a shift in mindset and in their approach to connectivity is necessary in order to continue supporting the growing needs of these educated and aware customers. With its modern, cloud-native approach, floLIVE is best placed to address this exciting market as it faces a major transition, and as OEMs and enterprises demand greater visibility and control. We strongly believe that floLIVE's unique hyperlocal global network is the right solution, at the right time."
Following the release of the Position Paper, and to complement that report, Transforma Insights and floLIVE will run a free one-hour 'Virtual Briefing' to discuss the findings of the report and the evolution happening in the CMP landscape. Details are below.
About the Position Paper
The Transforma Insights Position Paper, sponsored by floLIVE, looks at the key changes that have happened in the Connectivity Management Platform market in recent years, examines the functionality that is now required of CMPs, identifies the roles and capabilities of the different players in the CMP landscape (including specifying the functionality delivered by 'Thin' and 'Thick' CMPs) and offers some recommendations to MNOs and MVNOs about their strategy relating to CMPs.
The report is free to download here: Transition Topic Position Paper: Connectivity Management Platforms.
Subscribers to the Transforma Insights Advisory Service can access the full report upon which the Position Paper is based, here: IoT Connectivity Management Platform (CMP) market landscape. This report includes further analysis of the market including profiles of 16 vendors. It is available here: IoT Connectivity Management Platform (CMP) market landscape.
If you have questions concerning the report, don't hesitate to contact our analysts via enquiries@transformainsights.com.
Join us for a Virtual Briefing on 16th May
To complement the Position Paper, Transforma Insights and Transition Topic sponsor floLIVE will deliver a free live webinar on the 16th May 'The future of IoT Connectivity Management Platforms in an era of transition'. It considers:
Key market trends, including the expanding range of CMPs, frustration with established vendors, new differentiation mechanisms, and the commercial drive for finding new more cost-effective ways to address IoT connectivity.

Features and functionality of CMPs, and particularly looking at the ways in which the types of functionality being delivered has expanded to include core networks, eSIM/remote SIM provisioning, advanced analytics, and (potentially controversially) managed connectivity itself.

Market segmentation drawing a distinction between the different types of CMP, including 'Thick' CMP with rich value-added services, MNO and MVNO Connectivity Platforms, and Connectivity Abstraction Platforms.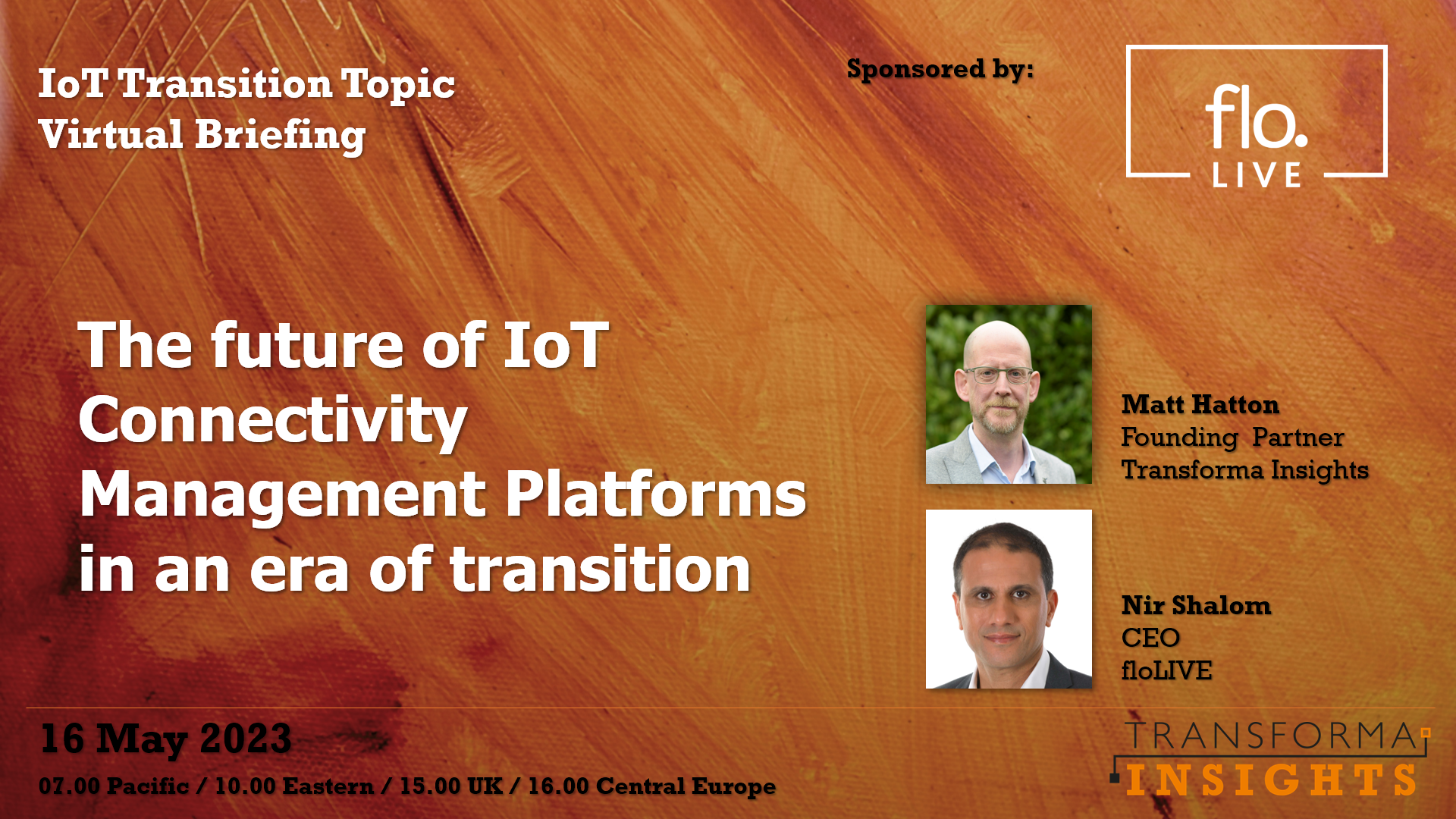 The webinar will feature Matt Hatton, Founding Partner of Transforma Insights, and Nir Shalom, CEO of floLIVE.
The webinar will happen at 07.00 Pacific / 10.00 Eastern / 15.00 UK / 16.00 Central Europe.
Register here.
About Transition Topics
Transforma Insights has identified a series of aspects of the Internet of Things that are going through a period of fundamental transformation. These IoT 'Transition Topics' are the subject of Position Paper reports and Virtual Briefings identifying the key aspects of change and how organisations should position themselves to be best placed to realise the opportunities generated.
About Transforma Insights
Transforma Insights is a leading research firm focused on the world of Digital Transformation (DX). Led by seasoned technology industry analysts we provide advice, recommendations and decision support tools for organisations seeking to understand how new technologies will change the markets in which they operate.
For more information about Transforma Insights, please see our website transformainsights.com or contact us at enquiries@transformainsights.com. Follow us on Twitter: @transformatweet.
About floLIVE
floLIVE operates the first and largest hyperlocal global, data network of its kind!
With a global carrier library based on an array of interconnected local core mobile networks, we provide centrally managed local connectivity for any device, anywhere.
Global means no limits on where you do business; local means low latency, high performance, and full compliance.
Our network has been designed to comply with the emergence of privacy acts, data regulations and roaming restrictions.
Best of all, we provide direct access to our network, that lets you control your connectivity as if you were the carrier. Monitor your devices, access real-time network events and usage, switch operators remotely, and troubleshoot failures ahead of time, so your devices never miss a beat. For more information, visit www.flolive.net.