Transforma Insights has today unveiled the 2022 update of its Hyperscaler Digital Transformation Peer Benchmarking report, which sees Microsoft maintain its lead over AWS and Google.
Microsoft is the overall leading Hyperscaler in its ability to address enterprise requirements for Digital Transformation. It takes the lead in the majority of the technology areas, including IoT, Artificial Intelligence and Human Machine Interface. AWS is just behind overall but has some specific strengths in Distributed Ledger, Edge Computing and Autonomous Robotic Systems (through its parent company, Amazon). Google trails some distance behind those two in third place.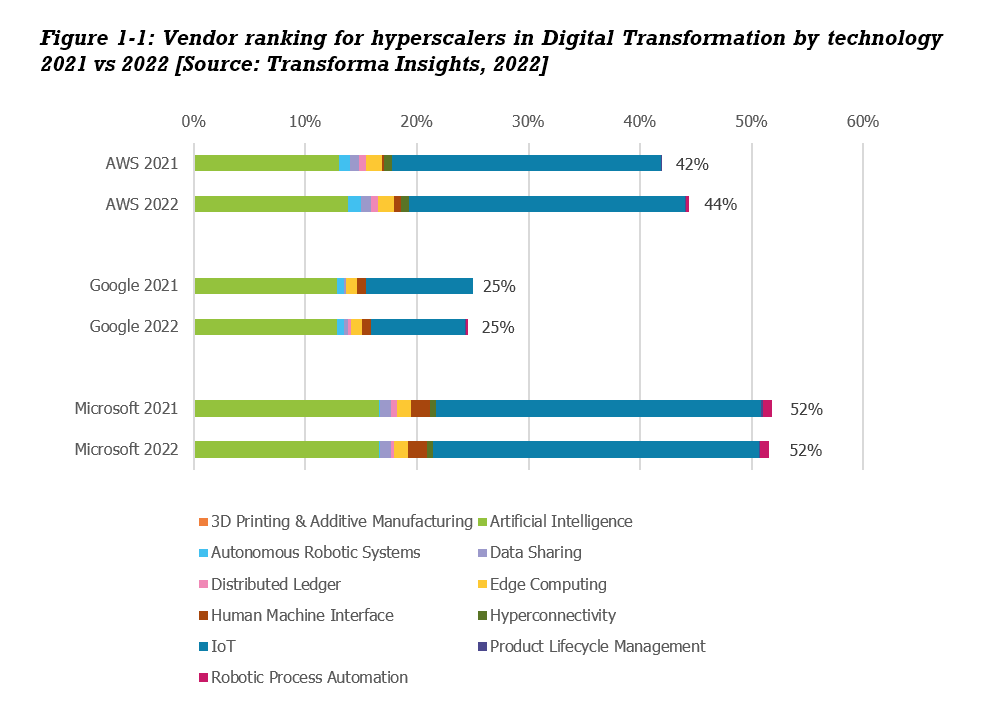 Using its universal rating system for vendors in Digital Transformation, Transforma Insights has analysed these three hyperscalers in their ability to address enterprise requirements for functional capabilities (e.g. hardware, software, systems integration) across eleven technology families (e.g. Artificial Intelligence, Internet of Things). For each of a total of 92 combinations of function and technology the companies are rated for whether their capabilities are 'Emerging', 'Significant' or 'Market Leading' (or 'None').
The message for enterprise adopters is that Microsoft overall is the lead vendor to support a Digital Transformation, but that hides quite a bit of diversity. For early adopters looking for cutting-edge solutions, AWS is generally a step or two ahead of Microsoft. However, when it comes to breadth of offering and mass-market delivery, Microsoft is the clear lead. Google has some particular niche capabilities, and is often favoured by developers, particularly in AI, although it seems unable to translate that into mass market adoption.
About the report
This report provides a benchmarking of a set of technology vendors in their capabilities in delivering enterprise digital transformation, using a framework that Transforma Insights has developed to assess the capabilities of every supplier involved with Digital Transformation.
The bulk of the report provides our assessment of the capabilities of each of the vendors for each of the eleven technology families and between 5 and 14 functions per technology family. This includes hardware, software, services, consulting and various other elements. This section was compiled based on extensive desk research and interviews with and written feedback from the vendors. The section includes an explanation of the rating system (based on 'Emerging', 'Significant' or 'Market Leading' capabilities) and tabulated notes on our views on each of the vendors for each of the technology families. The section include recommendations to enterprises on which vendor would be best placed to support them for different functions within the particular technology family.
Based on the rating of each vendor for each function in each technology family we are then able to rank the vendors, by technology, by role and overall for Digital Transformation. For the purposes of ranking the vendors, we apply a weighting for each function and for the eleven technology families relative to each other. The latter is based on the expected investment in that technology family over the next decade . These weightings allow us to score the overall capabilities of the vendors for Digital Transformation as a whole.
As well as the ratings, there are a number of broader intangible factors, such as how easy the company is to work with, the extent of its channels and the ability to deliver products and services in other adjacent areas.
Subscribers to the Transforma Insights Advisory Service can access the report here: Hyperscaler Digital Transformation Peer Benchmarking 2022.