neXt Curve and Transforma Insights, two leading technology research firms, announce strategic partnership to offer Essential Validated Insights to senior management teams, drawing on both companies' formidable respective strengths.
The strategic partnership combines the strengths and experience of three seasoned analysts who now own and run world-leading technology advisory firms Transforma Insights and neXt Curve.
The world of enterprise digital transformation is a complicated place and the Essential Validated Insights provided by the new partnership will help business and technology leaders to avoid costly mistakes as part of an enterprise digital transformation journey and to be overall better informed about the latest developments in technology, regulations, and best practices. Together neXt Curve and Transforma Insights will provide an objective, independent, outside-in perspective to challenge and support senior management teams across both end-user and vendor communities.
The collaboration will provide enterprises with access to neXt Curve's established 'high-touch' advisory services, alongside Transforma Insights world-leading subscription research proposition.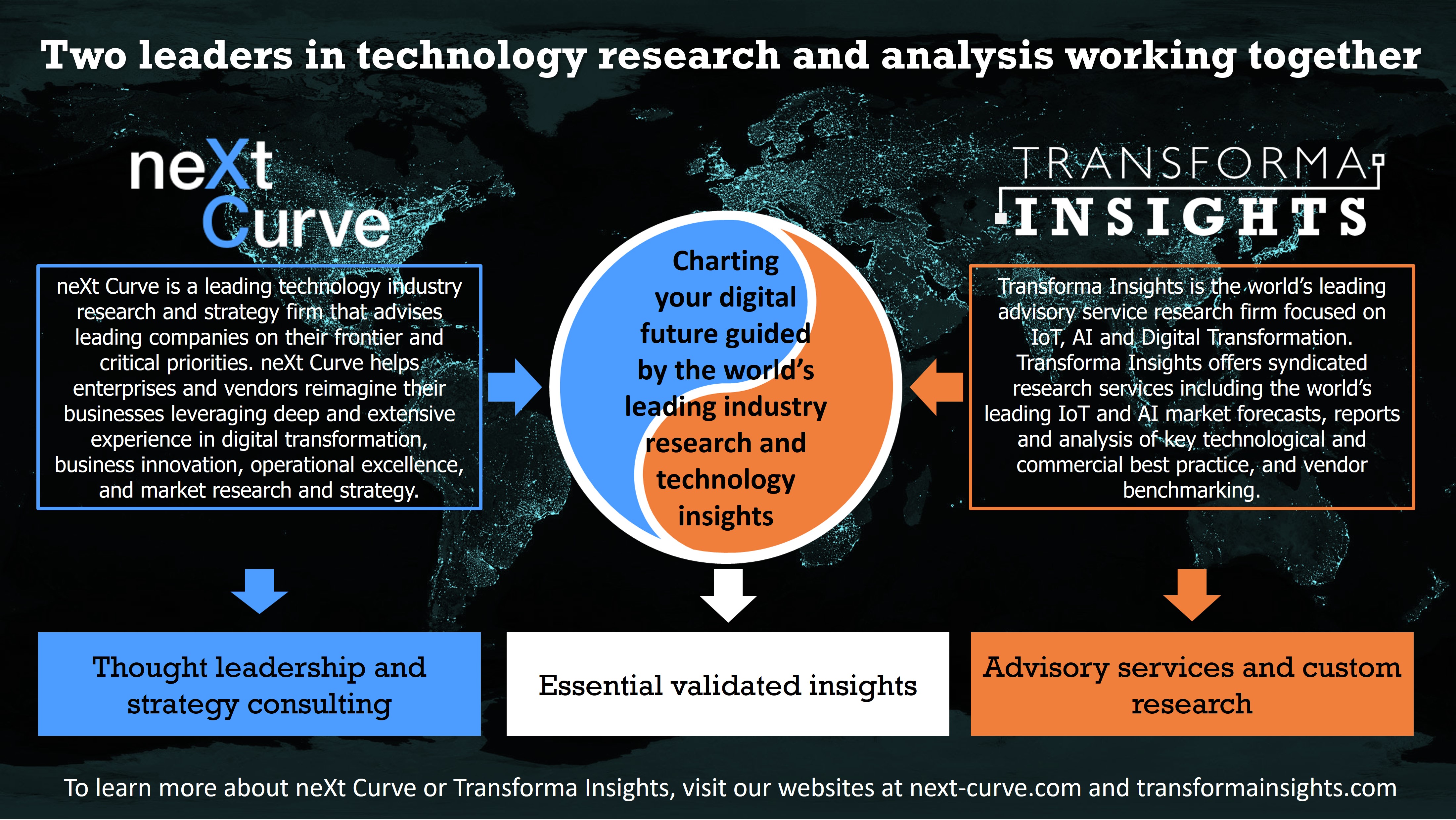 Commenting on the announcement, Matt Hatton, Founding Partner at Transforma Insights, said "We are very excited to announce this partnership, predicated on providing Essential Validated Insights to organisations engaged in enterprise digital transformation. The combined strengths of the two organisations will, I am sure, be world-beating".
Leonard Lee, Executive Analyst and Founder of neXt Curve, added "With Transforma Insights, Matt and Jim have established another great brand in the world of digital transformation, following their successes with Machina Research. Our partnership is a truly astonishing fit. I look forward to applying Transforma Insights' world-leading research to inform and underpin the insights that neXt Curve provides for our clients".
Jim Morrish, Founding Partner at Transforma Insights, commented "It's clear that there are significant synergies between Transforma Insights and neXt Curve, not least our respective geographic strengths and complementary value propositions. We look forward to a fruitful partnership, extending over many years."
Background:
neXt Curve is a leading technology industry research and strategy firm that advises leading companies on their frontier and critical priorities. neXt Curve helps enterprises and vendors reimagine and reinvent their businesses leveraging deep and extensive experience in digital transformation, business innovation, operational excellence, and market research and strategy.

Transforma Insights is the world's leading advisory service research firm focused on IoT, AI and Digital Transformation. Transforma Insights offers syndicated research services including the world's leading IoT and AI market forecasts, reports and analysis of key technological and commercial best practice, vendor benchmarking, and regulatory environments for digital transformation.

neXt Curve and Transforma Insights, in collaboration. The two organisations will combine their strengths to offer high-touch, tailored advice to senior management teams driving enterprise digital transformation, underpinned by world-leading research. Transforma Insights will gain capabilities to provide long-term high-touch support to clients, whilst neXt Curve will benefit from access to a world-leading research platform to better inform clients.

neXt Curve and Transforma Insights, separately. This strategic cooperation will in no way impact the core client proposition of either organisation. Both organisations will continue to offer the same services to their respective established client bases. From the perspective of any existing clients of the two organisations, it will be "business as usual" albeit enhanced by the ability of the two companies to draw on a greater knowledge-pool.
All three principals engaged in the partnership have extensive roots in supporting digital transformation, each extending to over 30 years of advisory support. Before founding Transforma Insights in 2019, Matt Hatton and Jim Morrish founded Machina Research in 2011 growing this company to be a world-leading advisory firm in IoT before exiting via sale to Gartner. Leonard Lee, meanwhile, was a Managing Partner with Gartner before founding neXt Curve in 2017.
About Transforma Insights
Transforma Insights is a leading research firm focused on the world of Digital Transformation (DX). Led by seasoned technology industry analysts we provide advice, recommendations and decision support tools for organisations seeking to understand how new technologies will change the markets in which they operate.
For more information about Transforma Insights, please see our website transformainsights.com or contact us at enquiries@transformainsights.com. Follow us on Twitter: @transformatweet.
About neXt Curve
neXt Curve is boutique research advisory firm based in San Diego, CA that advises some of the leading companies across TMT (Technology, Media & Telecommunications) sectors on some of their most pressing and frontier priorities that are shaping the future of their enterprises. With access to an expansive network of industry and technology experts, neXt Curve develops and delivers uniquely impactful insights to leadership teams to help them navigate increasingly complex and challenging market and regulatory landscapes.
For more information about neXt Curve, please see our website www.next-curve.com or contact Leonard Lee at leonard.lee@next-curve.com. Follow neXt Curve on Twitter at @next_curve and on LinkedIn.