Transforma Insights' new Forecast Highlights page, features regularly updated summary forecasts from our Connected Things (IoT) forecast database, available to anyone.
Transforma Insights today announced that its IoT Forecast Highlights page is available for use, providing a valuable resource for anyone seeking data for a news article, business plan or pitch deck. The page provides a summary of Transforma Insights' Connected Things (IoT) forecast database, our granular and rigorously researched database of the opportunity associated with the Internet of Things. The figures are regularly updated and provide a live view of the forecast information. The charts and tables are free to use on condition they are sourced to Transforma Insights.
The Transforma Insights Connected Things (IoT) forecasts offer a highly granular analysis of the IoT market until 2030, including country-by-country (190+ countries) data for 69 Application Groups, technology splits, public/private network splits, and revenue. The Forecast Highlights page presents a summary.
Commenting on the launch, Matt Arnott, lead analyst for Transforma Insights' Forecasts said: "We're delighted to make this resource available to the Internet of Things community. The IoT is evolving very rapidly with many key emerging new themes and it's critical to have the best information at your fingertips. The new page provides a top-level summary of some of the key themes in IoT at the moment". 
The newly available forecasts include the following: 
Forecasts for the total number of connections, which we expect to grow from 9.4 billion in 2020 to 27.8 billion in 2030.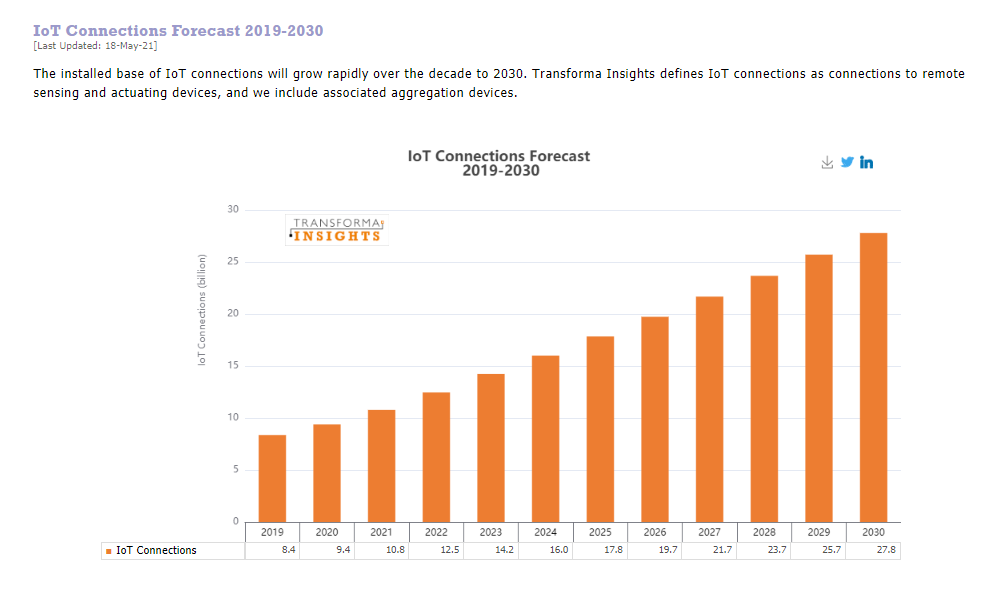 Forecasts by region (based on summing our country-level forecasts). According to our numbers, China will be the biggest IoT region in 2030 with 8 billion connections, followed by Europe and North America. Consumer connections will dominate.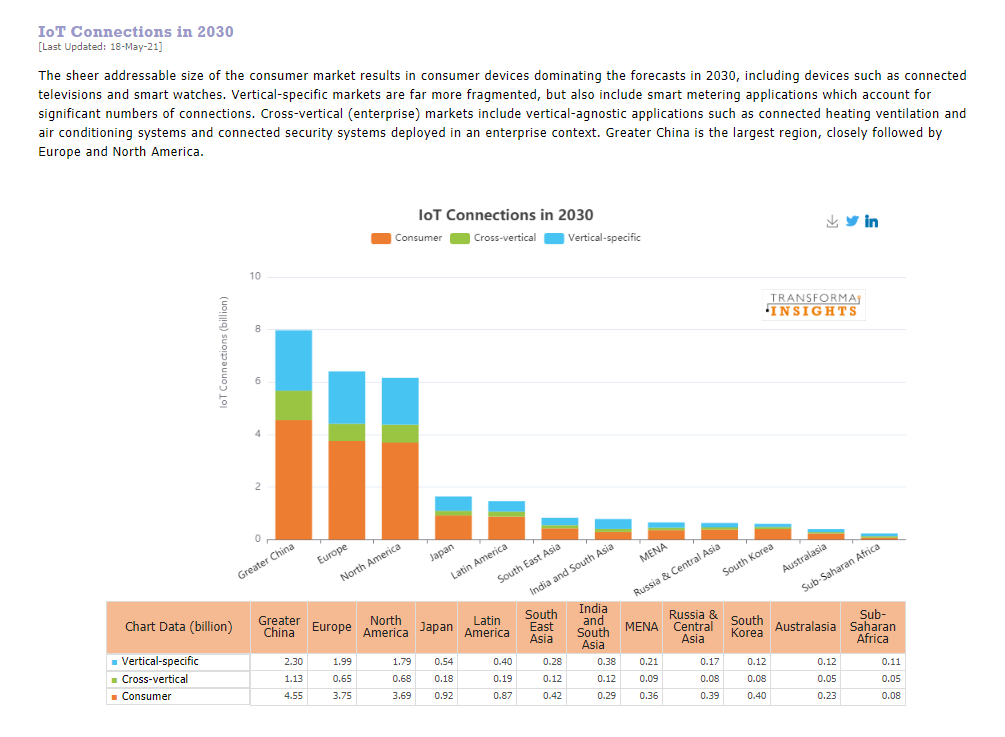 Revenue Forecasts, showing the size of the different vertical sectors that make use of IoT. As shown, Government, Retail & Wholesale and Transportation & Storage sectors will represent the greatest IoT revenue opportunities.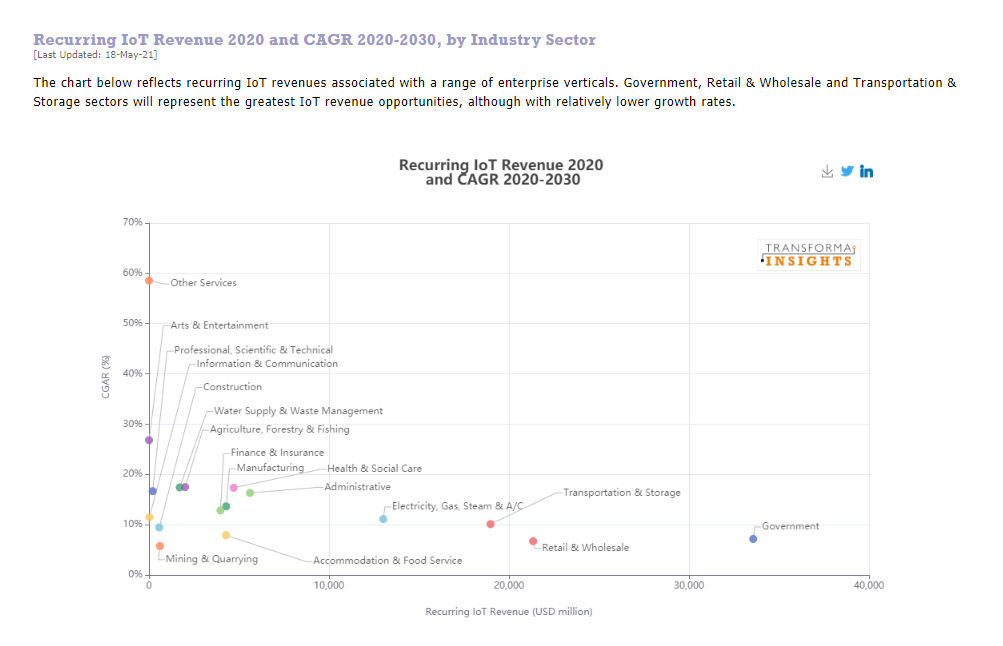 Other charts on the page include those relating to technology splits between cellular generations, the growth in private network IoT device shipments, and numbers of connections to Low Power Wide Area (LPWA) networks. 
Commenting on the findings, Community Manager Eileen Fisher said: "This resource reinforces that Transforma Insights has the market leading IoT forecasts. We expect it will prove to be a useful and valued resource for everyone involved in IoT".
Visit the Forecast Highlights page.
About the Forecasts
The Forecast Highlights page uses data taken from Transforma Insights' Total Addressable Market (TAM) Forecast Database. The TAM Forecasts provide our quantitative view of the market opportunity associated with Digital Transformation and all the associated technologies.
The IoT Connected Things forecasts are based on an extensive and highly granular research methodology, which involves analysing over 300 combinations of application and vertical across 196 countries.
The TAM Forecast Database presents forecasts from 2019 to 2030 for revenue generating units (RGUs), connected devices, annual shipments and revenue across 20 use cases, 69 application groups, 20 vertical sectors and 196 countries. Device and shipment forecasts include technology splits between cellular (2G, 3G, 4G, 5G), LPWA (5G mMTC and non-mMTC), satellite, short-range and other, as well as between public and private networks. Revenue splits between hardware (module) and recurring (connectivity and service wrap).