Transforma Insights today published its Product Lifecycle Management Technology Insight Report examining technologies, market dynamics, use cases and best practice in this critical technology field.
Product Lifecycle Management (PLM) is extending rapidly from the traditional bounds of Concept and Design stages for a product, and into downstream Realisation and Service stages. Particularly impactful will be the increasing adoption of x-as-a-service concepts, which will unlock economic value and transform maintenance functions and secondary markets for a wide range of assets.
New and emerging concepts for PLM include: AR/VR interfaces to design systems to speed product concept and design; IoT and data sharing to extend PLM concepts into live service phases; AI to support pre-emptive maintenance, and; physics-based modelling to simulate how products will behave in real-world environments.
Commenting on the report, author Jim Morrish said: "Whilst it has been with us for some time, PLM will be significantly enhanced in combination with a host of other digital transformation technologies, including AR/VR, AI, IoT, Edge Computing and many more. The concept of x-as-a-service is truly transformative, and is already disrupting some manufacturing sectors. It will soon also disrupt the worlds of finance, insurance, and also secondary markets for assets and components within those assets."
This Technology Insight Report provides an overview of Next-Generation PLM, a key technology in the wider Digital Transformation space. It describes the overall market dynamics for Next-Generation PLM, including market size and development trajectory, use cases, best practices, and recent market developments. The report explores the vendor landscape for PLM, innovative players, vendor selection criteria, and highlights opportunities and risks for end users.
The report also includes an analysis of the key solution characteristics of relevant case studies contained in Transforma Insights' Best Practice & Vendor Selection database, including payback time, process efficiency and value proposition impact, and a range of technology-specific characteristics.
About the Technology Insight Reports
Transforma Insights divides the Digital Transformation world into twelve technology families: Artificial Intelligence, Autonomous Robotic Systems, Data Sharing, Distributed Ledger, Future Technologies, Human Machine Interface, Hyperconnectivity, Internet of Things, Product Lifecycle Management and Robotic Process Automation, as illustrated below.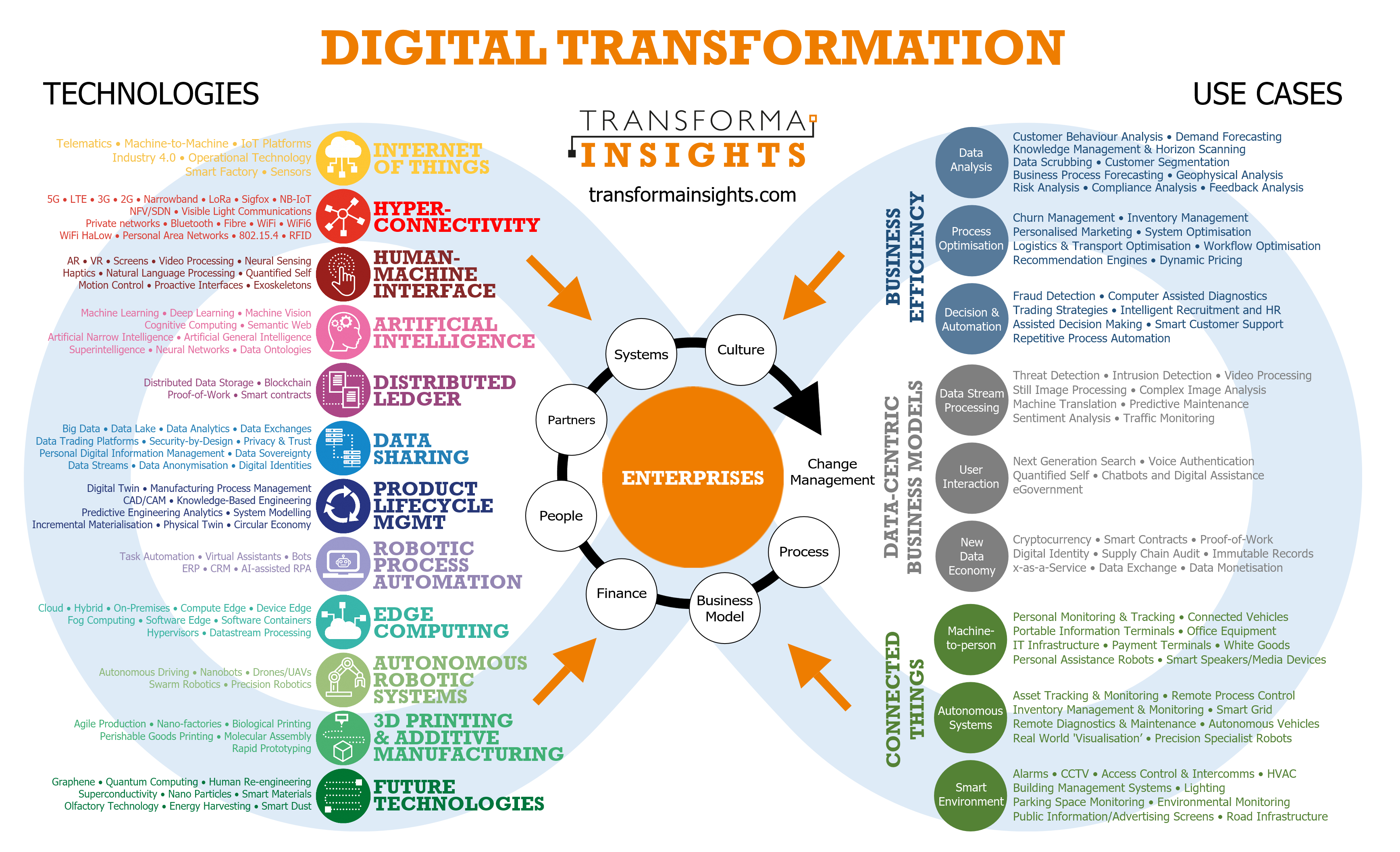 In each report we analyse the current technology picture, future evolution roadmap, recent market developments, use cases, best practice, market forecasts, key vendors, vendor selection and opportunities & risks. The reports are updated annually.The reports are available as part of a subscription to Transforma Insights' Advisory Service via either a Prime or a Corporate subscription. For more details see the Overview of our Research Services.
About Transforma Insights
Transforma Insights is a leading research firm focused on the world of Digital Transformation (DX). Led by seasoned technology industry analysts we provide advice, recommendations and decision support tools for organisations seeking to understand how new technologies will change the markets in which they operate.
For more information about Transforma Insights, please see our website transformainsights.com or contact us. Follow us on Twitter: @transformatweet.