Transforma Insights today published its Artificial Intelligence Technology Insight Report examining technologies, market dynamics, use cases and best practice in this cutting edge technology field.
Artificial Intelligence (AI) is one of the most innovative and potentially transformational areas of technology today. Developments in the field, aimed at imitating and even exceeding human intelligence, promise to revolutionise numerous fields within enterprises of all kinds. Current implementations of Machine Learning (ML) are only scratching the surface of what can be achieved. Financial, healthcare, legal and security applications are bursting onto the market, while the use of natural language processing (NLP) is permeating into everyday life courtesy of bots and digital assistants. The promise of AI in terms of efficiency savings is enormous.
However, progress is uncertain. The long term evolution of AI since the 1950s has been stop-start. Thanks to unprecedented access to cheap compute power we are currently in the middle of a boom, as major technology vendors seek to exploit the recent advances in Deep Learning. But a new AI Winter may be just around the corner. Add to that challenges with regulation and potential backlash over AI bias, and the route to profitable use of AI is not guaranteed.
Commenting on the findings, author Matt Hatton said: "AI is perhaps THE great unknown in the world of digital transformation. The technology is mind-blowing and the potential use cases are seemingly endless. What is noteworthy is that AI has thus far been focused predominantly on automating relatively mundane tasks rather than fulfilling its manifest destiny to change the world."
This Technology Insight Report provides an overview of Artificial Intelligence technologies, including Machine Learning, Deep Learning and all the associated algorithms and platforms. It describes the overall market dynamics for AI technologies, including market size and development trajectory, use cases, best practices, and recent market developments. The report explores the vendor landscape for AI, innovative players, vendor selection criteria, and highlights opportunities and risks for end users.
The report also includes an analysis of the key solution characteristics of relevant case studies contained in Transforma Insights' Best Practice & Vendor Selection database, including payback time, process efficiency and value proposition impact, and a range of technology-specific characteristics.
About the Technology Insight Reports
Transforma Insights divides the Digital Transformation world into twelve technology families: Artificial Intelligence, Autonomous Robotic Systems, Data Sharing, Distributed Ledger, Future Technologies, Human Machine Interface, Hyperconnectivity, Internet of Things, Product Lifecycle Management and Robotic Process Automation, as illustrated below.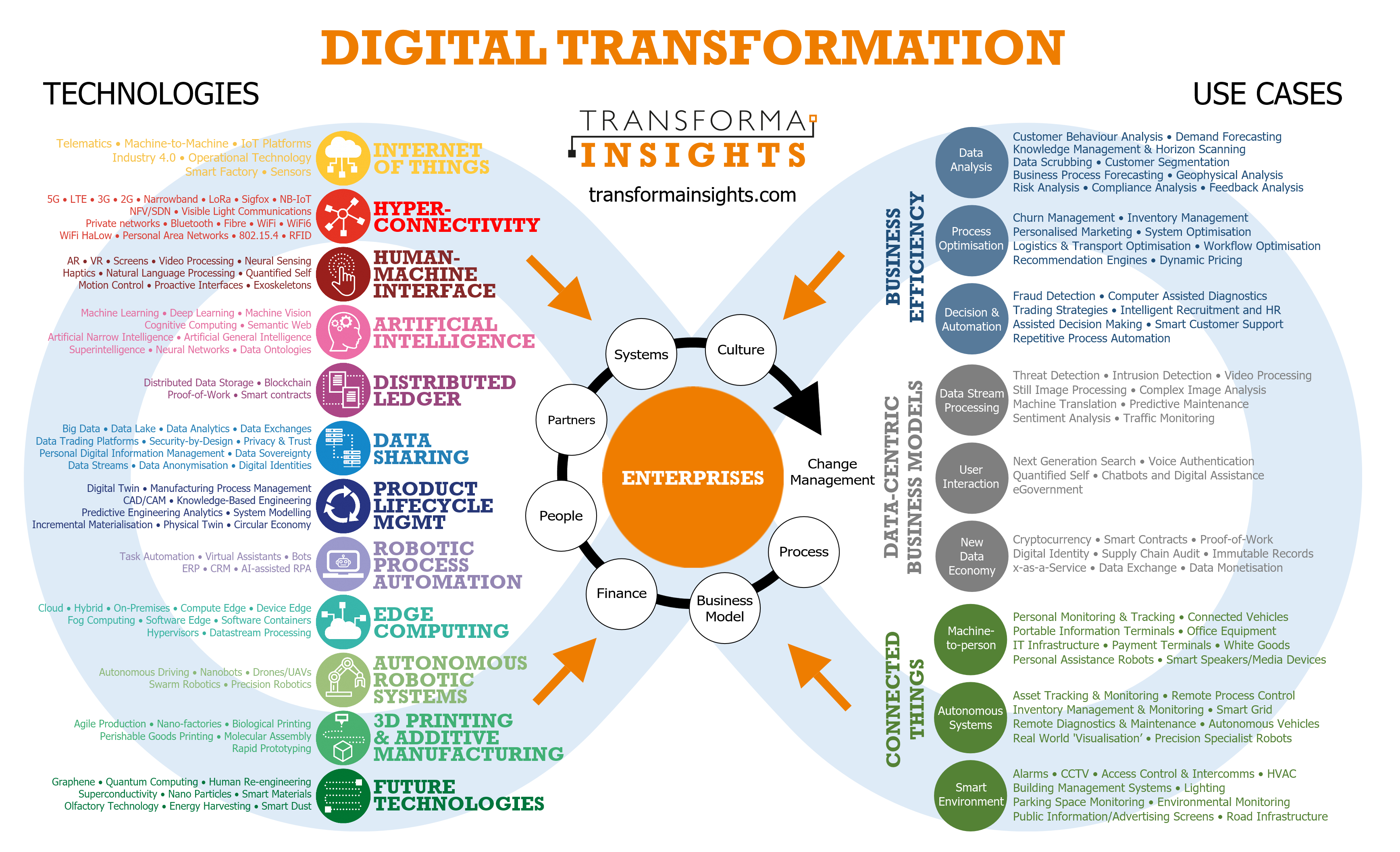 In each report we analyse the current technology picture, future evolution roadmap, recent market developments, use cases, best practice, market forecasts, key vendors, vendor selection and opportunities & risks. The reports are updated annually.
The reports are available as part of a subscription to Transforma Insights' Advisory Service via either a Prime or a Corporate subscription. For more details visit our
About Transforma Insights
Transforma Insights is a leading research firm focused on the world of Digital Transformation (DX). Led by seasoned technology industry analysts we provide advice, recommendations and decision support tools for organisations seeking to understand how new technologies will change the markets in which they operate.
For more information about Transforma Insights, please see our website transformainsights.com or contact us. Follow us on Twitter: @transformatweet.