Which IoT projects should you implement and how can you ensure your IoT project is successful? A webinar from Transforma Insights will answer exactly that question, based on extensive research of real-world deployments.
Transforma Insights has partnered with the Industrial Internet Consortium to run a webinar looking at the experiences that organisations have had with their real world IoT deployments. Based on detailed analysis of hundreds of IoT implementations around the world, Jim Morrish and Matt Hatton will share insights on:
Which IoT projects are quickest to deploy and fastest to pay back?

Which deployments have the greatest business risk impact and transformational potential?

What are the characteristics of successful IoT deployments, including technology choices, application architecture and profile of the field assets?
Armed with this information you will be able to make informed decisions on what IoT projects to choose and how to deploy them.
The starting point for the Transforma Insights analysis is the solution characteristics used in the IIC's Project Explorer (project analysis) tool. Over 200 projects have been assessed against those solution characteristics, allowing our analysts to derive meaningful trends to help feed decision making. The presenters will also highlight how the IIC's Project Explorer tool can be used by project managers to analyse the complexity of any planned project, and link to IIC assets that can support successful project execution.
What about other technologies? The presenters will also discuss the extent to which IoT technologies are deployed alongside other Digital Transformation (DX) technologies such as AI, Distributed Ledger and Edge Computing. This section will draw on analysis of an additional 400 case studies that span the entirety of DX.
This webinar is being delivered as part of the IIC's Journal of Innovation 2020 Virtual Edition.
The webinar will take place on the 27th May at 08.00 Pacific / 11.00 Eastern / 16.00 UK / 17.00 Europe.
Register here: https://www.brighttalk.com/webcast/14645/408613 [REPLAY ALSO AVAILABLE]
All case study information and analysis of DX implementations is drawn from Transforma Insights' Best Practice and Vendor Selection database, available to clients via our website.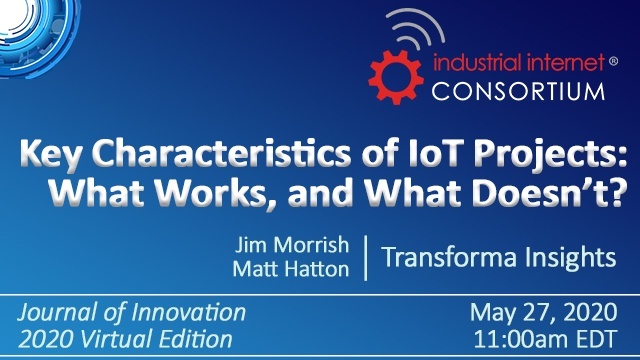 About Transforma Insights
Transforma Insights is a leading research firm focused on the world of Digital Transformation (DX). Led by seasoned technology industry analysts we provide advice, recommendations and decision support tools for organisations seeking to understand how new technologies will change the markets in which they operate.
For more information about Transforma Insights, please see our website transformainsights.com or contact us at enquiries@transformainsights.com. Follow us on Twitter: @transformatweet.