According to the United Nations, the share of the world's population that is aged over 65 is expected to increase from 10% in 2021 to 16.7% in 2050. And the number of people aged over 80 will surge from 155 million in 2021 to 459 million by 2050. This changing population demography is encouraging technology companies to bring innovative solutions for the elderly, to enable them to live independently.
In this blog post we draw on some of the research from our recent report 'Assisted Living: 160 million connected devices by 2032, supporting elder care' to provide some perspectives on the use of IoT to support an aging population.
Challenges faced by elderly people while living independently
Elderly people, especially those living independently, face many challenges in the form of age-related diseases, such as dementia, Alzheimer's, and hearing loss. According to the US Census Bureau, almost 33% (or 14 million) senior people live alone.
One challenge they face is forgetting to take prescribed medicines at the scheduled time, resulting in non-adherence to medical prescriptions. Non-adherence to proper medication can result in an unnecessary increase in healthcare expenditure due to avoidable doctor visits and hospitalisations and worse clinical results. For instance, in the US, medical non-adherence accounts for almost 10% of all hospitalisations, causing 125,000 deaths and costing the economy between USD100 and USD300 billion in terms of healthcare expenditure. Also, according to the Centers for Disease Control and Prevention, in 2017, in the USA, almost 50% of chronic patients were medically non-adherent.
Another issue faced by elderly people suffering from dementia and Alzheimer's is that they tend to wander off and forget their way back home. According to the US Population Reference Bureau, in 2019, around 3% 70-74 year olds had dementia, while the equivalent figures for those aged 85-89, and 90 and above, were 22% and 33%, respectively. These diseases can affect a person's memory making it difficult for them to remember familiar places. It is a concern for family members to keep an eye on them due to the fear of them getting lost in the streets.
Further to these, the frail older population bears the brunt of succumbing to both physical and mental trauma due to weak body movements. Elderly people (65 and above) have a greater risk of falling, which can lead to serious injuries, such as fractured bones and head injuries. According to the Global Falls Innovation Report, globally every year, 646,000 people aged 65 and above die from falls. Those living independently are less likely to be able to summon help quickly in the event of a fall and may be at serious risk.
Connected devices provide a helping hand
A plethora of companies now offer elderly-focused IoT-based solutions catering to different needs. For instance, connected medicine dispensers can solve the problem of non-medicine adherence as these devices these devices can highlight the appropriate pill tray and send audio and visual reminders to alert patients ensure to take medicines at the scheduled time. Also, the use of these devices can help caregivers and family members to remotely monitor a patient's activities and receive alerts via email or text messages in case medicines are not taken on time.
Further, elderly tracking devices are looking to overcome the problems faced by elderly especially people with dementia and Alzheimer's. Using wearable monitoring devices can help family members and carers to monitor patients and provide immediate assistance during emergencies. These devices offer a geo-fence feature to alert carers when move out of a pre-defined area. The use of these devices can be immensely helpful for developed economies facing limited availability of nursing staff to manage a larger elderly population.
Alarm systems are also gaining prominence in elderly care services due to a multitude of benefits to both users and caregivers. Family members of older adults living independently are always worried about their loved ones' whereabouts. These devices come to their rescue by immediately connecting with caregivers and sharing their current locations. Connected alarm systems help in providing instant alerts, either to 911 or to a provider of alarm system provider's emergency call centre. Most of the alarm systems are equipped with fall detection technology consisting of motion sensors to continuously monitor a user's movement to detect falls.
Assisted living facilities reaping the benefits of IoT
Senior care communities are also leveraging connected devices for better management of elderly people. Smart devices provide multiple benefits to track a resident's activity to caregivers. For instance, connected devices placed in assisted living or nursing care facilities provide precise location of residents (which room they are in) and real-time visibility. Staff can restrict elderly movement within a facility by creating geo-fenced locations.
Companies in the field
There are several companies providing technology enabled solutions to bridge the divide between dependent and independent elderly ageing. The benefits of such solutions could be in the form of medicine adherence, tracking of their movements, monitoring fall detection, and alerting family members and caregivers during emergency. Against this backdrop, we have pulled together a small list of companies which are providing IoT product offerings across Connected Medicine Dispensers, Assisted Living People Tracking Devices, Alarm Systems & Living Solutions, and Comprehensive Living Solutions.
Connected Medicine Dispensers. Can send instant alerts for dosage and provide automated medicine refill.

Assisted Living People Tracking Devices. Tracking devices for the elderly provide round-the-clock monitoring assistance. Family members can also use a geofenced perimeter to receive a notification if the elderly person breaches the set perimeter.

Alarm Systems & Living Solutions. Alarms and assisted living solutions for the elderly offer emergency assistance by sharing real-time alerts to alarm system support centres or emergency services.

Comprehensive Living Solutions. Comprehensive, multi-device assisted living solutions for patients that need significant day-to-day support. Residential care facilities use connected devices to monitor the activities of residents.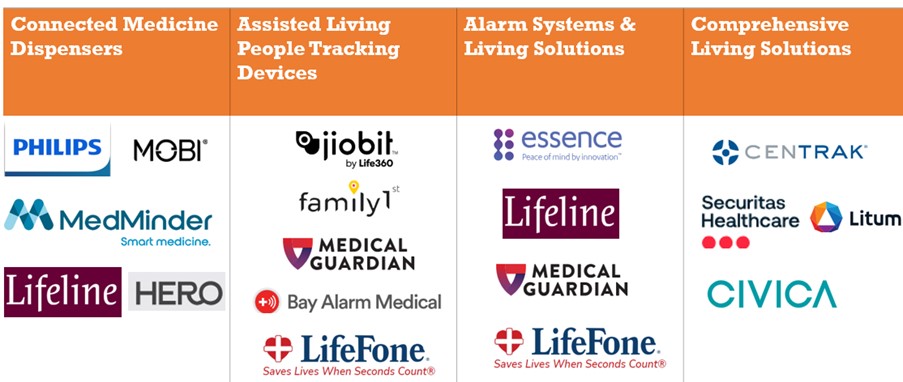 In conclusion: using IoT to embrace the challenges of aging
Ageing is inevitable and most people eventually experience this phase in life. Therefore, it is crucial to embrace the challenges that come with ageing and move forward by adopting cost-effective and value-driven technological solutions. The adoption of digital technological solutions is becoming the need of the hour as the some of the developed economies are grappling with the challenge of nursing staff shortage (further exacerbated by the tight working schedules) to provide personalised care for the elderly people. This has paved the way for providers of assisted living solutions to tackle the problem faced by aged population in their day-to-day lives.