Transforma Insights' recent report, 'What is Multi-access Edge Computing (MEC) and what are its key applications?' provides a background on MEC as a technology and examines its potential use cases and applications from an enterprise perspective. It considers the MEC ETSI standard, types of MEC interface and also identifies the reasons behind its growing popularity. Additionally, it provides details on strategic collaborations of various global telcos in the MEC space, and the emerging themes and verticals have also been defined.
This blog defines MEC, discusses some of the prominent use-cases as established by ETSI (the European standards body for telecommunication), and the increasing dominance of Private MEC across different industry verticals.
What is MEC?
Multi-access Edge Computing (MEC) is an evolution of the concept of cloud computing. By definition, Mobile Edge Computing, which quickly evolved as Multi-access Edge Computing, is a type of edge computing that extends storage and computing capabilities to the edge of the network. In comparison to edge computing (where computing takes place at edge devices or gateways), computing in MEC takes place at base stations, network aggregation points, or central offices within the telecommunications network. MEC is an implementation platform to the wider concept of edge computing. MEC allows processing to take place at the network aggregation site or at the edge, thereby reducing latency associated with round trips to cloud services via the core network.
For many potential applications, particularly real-time applications such as data and video analytics, gaming, AR/VR and location tracking, the dependence on a central server hundreds of kilometres away will often reduce the effectiveness of the services. This paves the way to the concept of Multi-Access Edge Computing, where the storage and processing is done locally, significantly reducing the round-trip time.
MEC specifications as per the ETSI
The MEC initiative is an industry specification within the European Telecommunication Standards Institute (ETSI). This body has defined the network architecture concept for MEC deployments at the edge of the network. Since MEC architectures have been proposed only recently, there are a very few applications that have adopted the architecture. Some of the early use cases, dating back as far as 2015, include location tracking, distributed content, and Domain Name System (DNS) caching.
Some of the other prominent MEC use cases that have been envisaged by the ETSI are autonomous vehicles, virtual and augmented reality, remote diagnostics and maintenance, content delivery, real-time drone detection, video analytics, cloud and multiplayer gaming, and smart city applications.
Types of MEC
MEC can be broadly classified into two types based on its applications: Public and Private MEC as illustrated by the image below.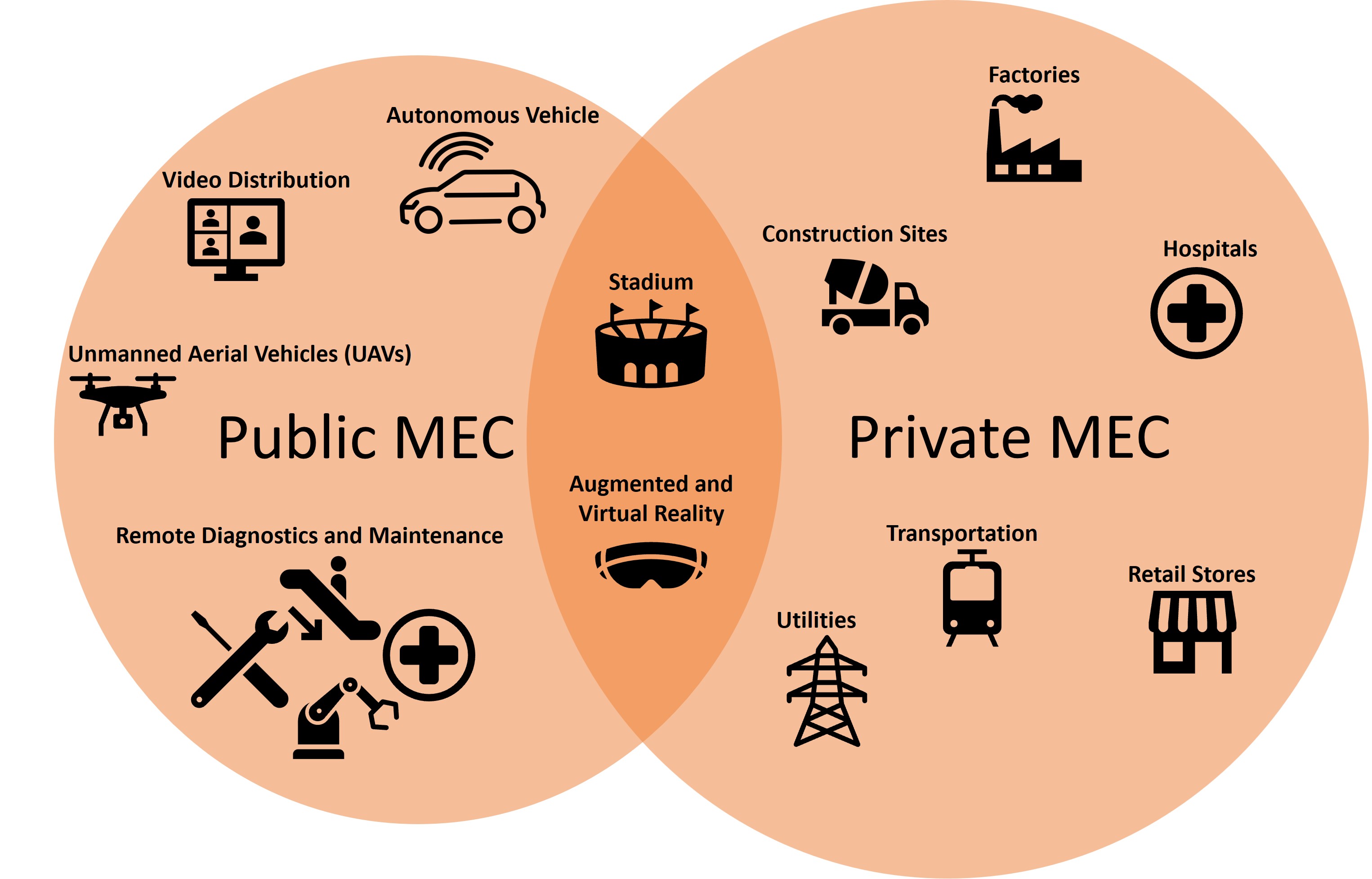 Public MEC is mostly applicable across deployments that have broad geographic coverages and time-sensitive applications with need for ultra-low latency such as public safety, healthcare, and autonomous vehicles. Private MEC has on-premise edge infrastructure and RAN installation. The use of MEC in conjunction with private 5G deployments creates a dedicated computing platform for an enterprise and is more suited for large-scale manufacturing and infrastructure spaces such as factories, warehouses, and college campuses. Although not mentioned above, there is a third type of MEC, 'Hybrid', which is a combination of Public and Private MEC supporting different environments, devices, and applications. For more information on private network deployments, see 'Mobile private network (MPN) state of the union' (October, 2022).
Partnerships between CSPs and Hyperscalers
During the last four years, the ICT industry has seen a lot of collaborations between CSPs and Hyperscalers such as AWS, Microsoft, and Google as the quickest and easiest way to provide MEC. Hyperscalers have introduced dedicated edge products such as Wavelength from AWS, Azure Edge Zones from Microsoft, and Anthos from Google Cloud. The launch of edge products, and embedding their software stack into operators' have increased the demand for partnerships with hyperscalers for MEC deployment. Some of the early benefits of such collaborations are easy deployment of MEC services, faster service time to market, and enhanced scalability.
Some of the popular MEC and Hyperscaler collaborations to have taken place during the last three years include Orange and Dell, AT&T and Google, Verizon and AWS, Verizon and IBM, Orange and Google, and Telefonica and Google. In the report we examine dozens of these collaborations.
Conclusion: Private MEC is the early bird
In the overall industry, there are several use-cases (some of which have been mentioned above) where CSPs make use of Hyperscaler edge capabilities to support, build, and promote MEC across the market.
Private Networks will frequently have a requirement for local MEC to serve the fixed locations, accommodate applications that require extremely low latency, provide enhanced data security and control, and also serve as a dedicate resource for an organisation to support onsite analytics and AI applications. Private MEC is an early bird, this segment is witnessing a lot of enterprise-specific deployments and applications.
Most real-life MEC examples and deployments that have actually scaled are related to private MEC. Private MEC is easier to manage, as it requires local processing and goes in hand with the mobile private network. On the contrary, public MEC seems to be more theoretical (with a lot of trial and test programs) enabling use cases such as smart transportation, virtual stadiums, UAVs, and remote diagnostics and maintenance. Deployments still remains limited when compared to private MEC; and the opportunity will take several years to realise.