This week Transforma Insights published our 'Connected Car Overview, 2020-2030' report, which provides a summary of our view across all of the various connected vehicle applications. We will also shortly unveil a new Forecast Insight Report on Vehicle Head Units. This blog post provides a summary of both pieces of research.
In total the connected car space will grow to 2.5 billion connections by 2030. The single most important Application Group within the space is Vehicle Head Units, i.e. the factory fit telematics unit. Our soon-to-be-published report on the subject will show 1.8 billion connected vehicles in 2030. In addition to this our Connected Car Overview report takes a more holistic view of the market and includes a further 0.7 billion aftermarket devices as part of its figures.
Connected car is one of the most significant groups of Applications within our IoT forecasts, representing 28% of cellular connections at the end of 2021, falling only slightly to 26% in 2030. As a sector with a large number of mobile, high bandwidth cellular connections it's perhaps unsurprising that Connected Car contributes 23% to overall IoT spend in 2030, despite having less than an 8% share of all IoT devices.
The automotive sector will be particularly important for 5G. Over 58% of 5G 'non-mMTC' (i.e. excluding the Low Power Wide Area technologies) connections in 2030 will be found in connected cars. Even so, there will be more newly shipped 4G connected car devices than 5G in 2030 as shown in the chart below, which was borrowed from our Connected Cars Overview report.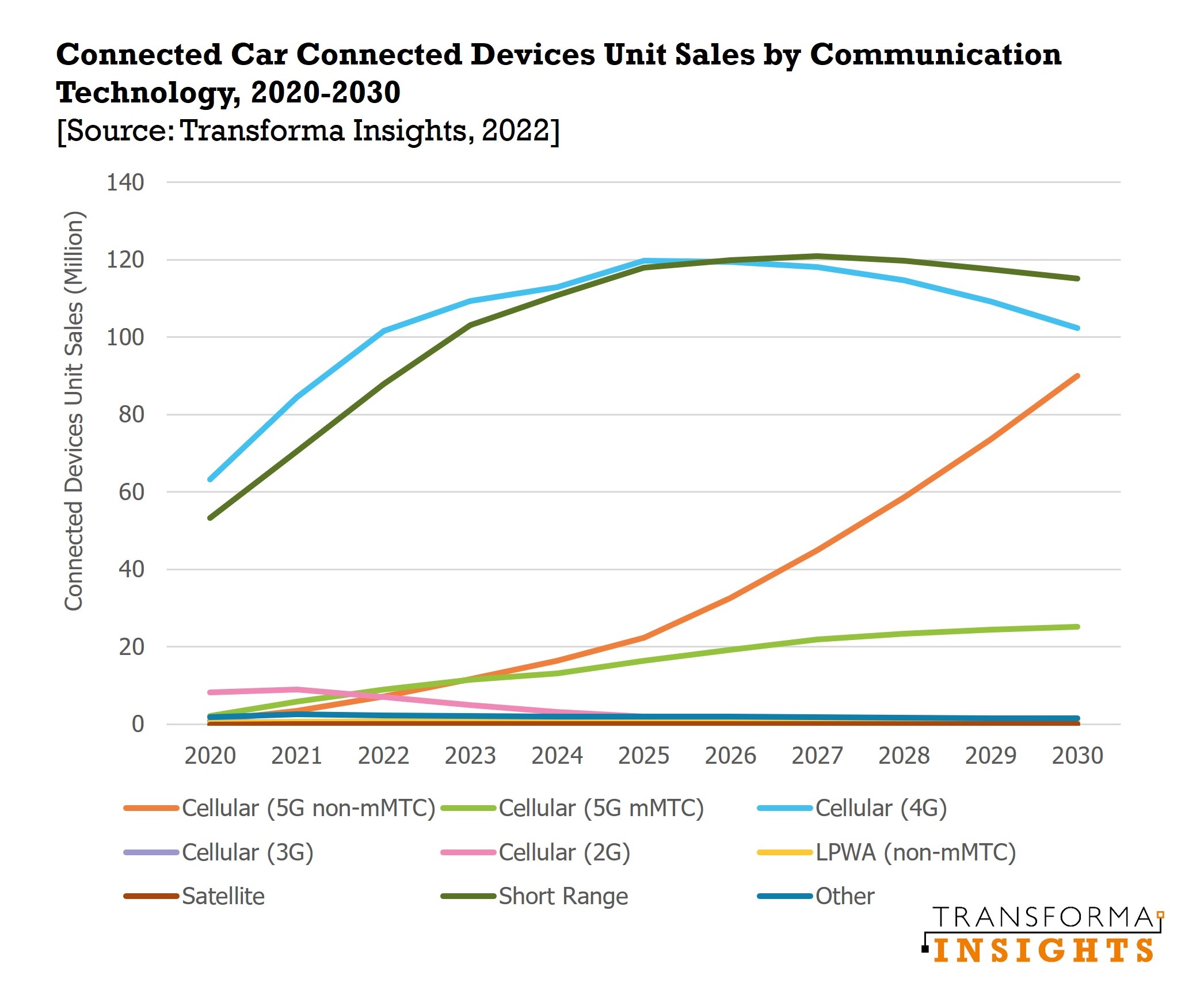 Of course, whilst connected cars are important for 5G, it is becoming increasingly likely that 5G will become equally important for the automotive space. Although IoT in the automotive space is now a fairly well understood and mature market, 5G URLLC has a crucial role in supporting vehicle-to-vehicle (V2V) and vehicle-to-everything (V2X) communication. These technologies are likely to play an expanding role in enhanced safety features in all vehicles, and will be vital for the successful operation of autonomous vehicles in the future. This will eventually become a driving force behind the adoption of 5G in new vehicles. However, long model cycles, as well as the lower module costs and greater network coverage of 4G will prevent 5G from becoming the foremost cellular technology used in connected cars until beyond 2030.
However, the total number of connected devices and the types of communication technology they will use is only half the story in the connected car space. As part of our overview of connected cars we have included a breakdown of the various additional services in the sector. Many applications will not require an incremental connection and will exist purely as an application hosted on the Vehicle Head Unit. An OEM-provided infotainment solution would be an example of this. In these instances an additional Revenue Generating Unit (RGU) is counted to account for the additional revenue opportunity. In 2030 there will be 2.2 RGUs per connected car device. Readers of the Vehicle Head Unit Forecast Insight Report will be able to read through an overview of the various strategies that OEMs are using to monetise these additional services.
Much more detailed discussions of the evolving dynamics and how they affect these figures can be found in the documents mentioned previously. As always, the data shown in these documents is at a relatively high level when compared to the extreme granularity of our forecasts, and anyone interested in discovering more about how the connected car market is developing by country, sector, or application can find out more using our TAM Forecast Database.