In recent weeks there has been some speculation that Vodafone is planning to spin out its IoT business. This is a recurring issue for Communications Service Providers: to what extent should your IoT business unit be independent from the main parent company? This is the subject of a recently published report from Transforma Insights 'How much autonomy should Communications Service Providers give to their IoT business units?'. In this blog post we draw on some of the findings of that report to examine the approach of various operators to devolution and the extent to which there is an optimum level of independence.
Over the last decade or so we have seen a plethora of different approaches to the degree of independence afforded to an IoT business unit. Back in the dim and distant past, there was effectively no such thing as a separate BU, and IoT (back then thought of generally as 'machine-to-machine') was generally a wholesale business supporting MVNOs or involved the sale of undifferentiated SIM cards using regular tariffs. As such there was no IoT (or M2M) business unit, let alone an independent one. Over the course of the last 15 years, as CSPs became more focused on the IoT opportunity they have collectively built up dedicated IoT capabilities across sales, propositions, marketing and engineering. This is generally a one-way street of growing sophistication of the offering, adding value and being better able to directly address the growing opportunity. All of the major CSPs went through a process of establishing some form of IoT business unit covering these areas.
In some cases, CSPs have gone even further, establishing business units with separate P&L, and even independent legal entities. These elements of devolution of responsibility from the main business to the IoT business unit (or similar) have so far come with diminishing returns in terms of clear demonstrable benefit.
This is best illustrated by the fact that CSPs often change direction on the subsidiarity of these higher level functions. Whereas there are very few examples of CSPs moving responsibility for the basic technical and commercial functions back into the main business, there are several examples where CSPs have changed strategies about higher level independence, such as Tele2, Telenor and Deutsche Telekom. None of these strategic adjustments can be considered as wrong or bad. They just reflect a changing commercial reality or a change in operator strategy. They do, however, point to the fact that the benefit accruing from those higher levels of independence don't result in an overwhelming benefit for the IoT unit.
The chart below illustrates our attempt to categorise the various approaches by CSPs, determined by the elements of the IoT value proposition that might be addressed by an IoT unit. At the left hand end of the spectrum there is the 'Wholesale' approach, whereby there is really no specifically IoT-related team, all the way through to 'Independent' whereby the organisation is completely separate of the parent CSP, even to the extent of handling sourcing its own connectivity.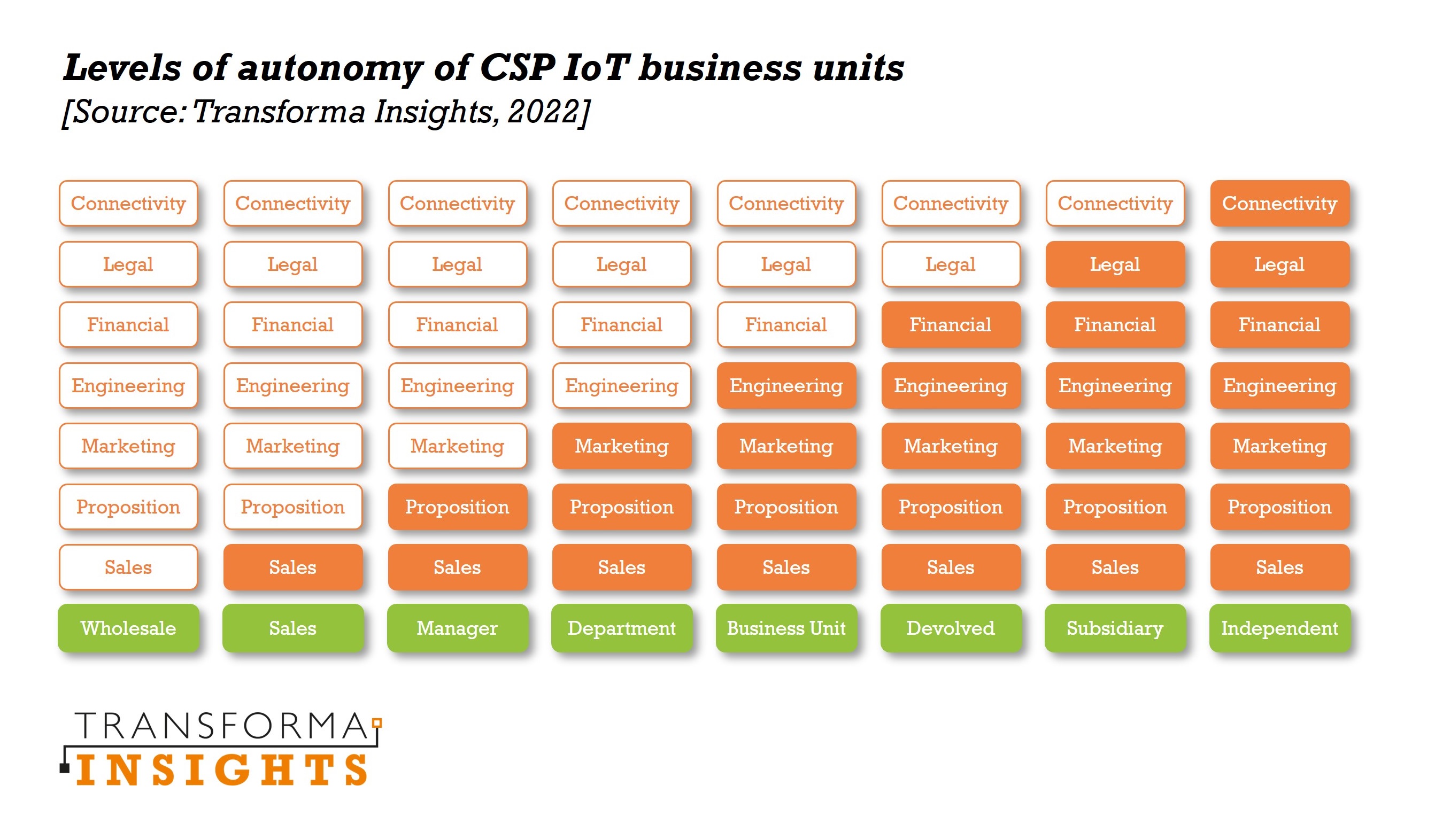 The eight approaches are examined in more detail in the report.
It should be noted that this progression path will not necessarily apply to every CSP, but it provides a good framework for understanding the approximately relative levels of sophistication of each of them.
The majority of the players in the 'Independent' category, i.e. at the most devolved end of the spectrum are MVNOs which have been acquired (wholly or in part) by MNOs, such as 1NCE, Soracom and Transatel. We might also include JT IoT in there, despite the fact that it is no longer owned by JT (formerly Jersey Telecom).
The move to become an independent entity may allow greater flexibility in who the IoT unit procures connectivity from, as noted above. However, it also potentially removes a safety net of having the ability to negotiate with other MNOs as a peer rather than as an MVNO. Having the ability to fall back onto a reciprocal set of arrangements, mostly in the form of roaming agreements, is a valuable asset. Effectively, by giving up that link, the MNO is opting to become an MVNO. Being just another MVNO leaves the IoT unit vulnerable. Any spin off of an IoT unit needs very robust arrangements in place for long-term access to the parent company's roaming agreements, and the ability to negotiate with other MNOs on behalf of the parent on issues relating the IoT-related data access. For instance, it makes more sense for the IoT unit to handle negotiation of NB-IoT roaming agreements than for the parent company. Other considerations include the potential for deprioritisation of IoT-specific network investments by the parent, and the increasing complexity of relationships between the IoT unit and the parent company for lead sharing or co-bidding.
On the question of the optimum strategy for Vodafone, or indeed for any CSP, there is a clear a demonstrable benefit of some degree of devolution of power to an IoT unit, up to around the level of 'Business Unit' or 'Devolved'. After that the benefit becomes much more difficult to quantify.
The other consideration is: what's in it for the CSP? There's an opportunity to divest an asset, of course, but the optimum time to do that would have been 6 months ago when revenue multiples for IoT connectivity providers was riding high at up to 5x, well above the market norm. Today, however, VC funds are rather tighter with the purse strings. That ship may have sailed. If it's a more strategic objective, then it would be a strange approach to give up a key differentiator (i.e. owning the network) in a market where there are so many undifferentiated offers.
These points, and many others, are considered in depth in the report 'How much autonomy should Communications Service Providers give to their IoT business units?' (subscription required).