Forging new partnerships is a necessary step for digital transformation
According to the Dell's Digital Transformation Index 2020, "too few technology partners" is a common hurdle faced by companies on a path to successful digital transformation. This theme of selecting vendors is the subject of our forthcoming webinar 'How to choose a Digital Transformation Service Provider (DXSP)'. The webinar will help companies understand the best process for selecting a technology partner and will provide insight on companies that are leading in the various aspects of supporting digital transformation, both technological (e.g. AI, distributed ledger, IoT and RPA) and functional (e.g. hardware, software and systems integration). The webinar is based on the extensive research undertaken for our recent 'Digital Transformation Service Provider (DXSP) Peer Benchmarking 2021' report, published in July 2021.
The leading digital transformation service providers in IoT
In this blog post, we deep dive into one technology area, the Internet of Things, and provide insight on which companies are leading in IoT based on multiple parameters including software (device management, application enablement, business rules), hardware (specialised hardware, integrated solutions) and services (application development, system integration, project management, field services). The IoT market is becoming crowded, with many vendors offering same capabilities and functionalities. It is critical for adopters to analyse solutions carefully to find the best fit as per their requirement.
Overall (as illustrated in the graphic below, taken from the report), IBM leads in Internet of Things capabilities, followed by TCS, Accenture, SAP, and Fujitsu. Alongside IBM, Fujitsu and SAP have the broadest range of offerings in IoT, across application enablement, device management, application management and system integration. The offerings of TCS and Accenture are more inclined towards system integration and project management.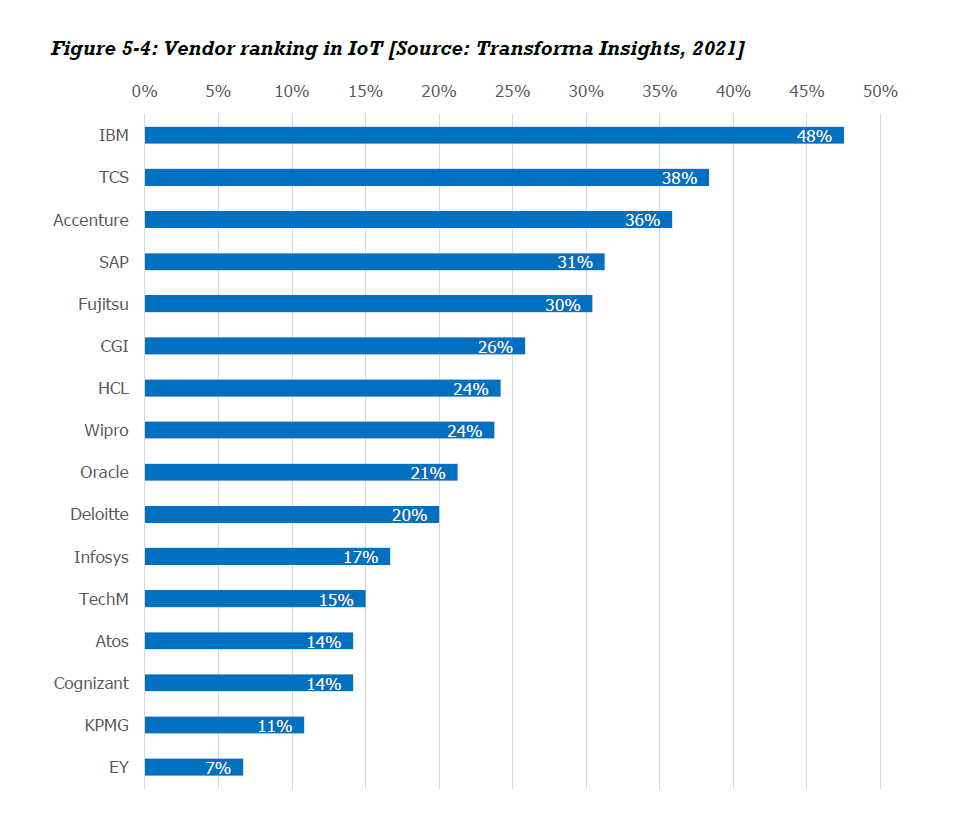 Most of the system integration and consulting companies have built vertical solutions to target specific industries, as this considerably reduces time to market and time to deploy, and because IoT requirements differ by industries. Top IoT vertical markets for the vendors analysed in our report include smart city, smart home, industrials, transport and logistics, oil and gas, and healthcare.
Some DXSPs are stronger in software, some in services
In IoT software, and particularly software platforms, IBM is the front runner. Through its 'Watson IoT' software platform it has offerings across all the relevant areas, including application enablement, device management, business rules engine and analytics. The platform is also appreciated for an intuitive user interface, technical support service and responsiveness. A reasonably clear ranking emerges in IoT software behind IBM, led by SAP Cloud Platform and Oracle IoT Cloud. IBM's sweet spot in IoT is the provision of sophisticated leading edge IoT solutions that are integrated with other emerging technologies such as AI and distributed ledger, and for the largest and most sophisticated companies worldwide. Oracle and SAP's IoT platforms particularly have strong predictive and prescriptive analytics, and data management features.
Turning to services, Accenture, TCS and Deloitte have well-developed capabilities in IoT system integration and project management. Accenture has a strong IoT partner ecosystem, and its strategy includes acquiring niche IoT and related domain expertise to complement its evolving capabilities, including the recent acquisition of Nytec, Mindtribe, Pillar Technologies and Altitite to strengthen systems integration capabilities. TCS offers a comprehensive portfolio of IoT services spanning across strategy, consulting, and system integration services. It has 19 labs across the globe for developing IoT-specific development and solutions. 
Very few DXSP's have capabilities in hardware. Out of the vendors we analysed, Fujitsu has significant capabilities in edge hardware, device hardware (e.g., Bluetooth modules, beacons, mesh sensor units), IoT related hardware (e.g., IoT solution hardware and gateways, wearables). 
To find out more about how to select the best DXSP for your organisation across all Digital Transformation technologies, maximise your opportunities and minimise your risks, join us on 28 September.