AI winters
The world of Artificial Intelligence talks about going through 'AI Winters'; we're probably on the cusp of the third. Could the current doldrums that IoT finds itself in be described as The First IoT Winter?
The idea of the AI winter is well established in the Artificial Intelligence community. There have been two so far, in the 1970s and the mid-80s to mid-90s. They are preceded by periods of great technological progress, which founders when progress slows, awaiting the next break-through, typically triggered by the next big technology break-through. For instance, the arrival of Deep Learning pulled AI out of its last winter.
Did IoT go through its own winter?
The IoT is currently going through its own First IoT Winter. Until around 2015 there had been accelerating progress, from SCADA systems in the 1990s through M2M and telematics in the 2000s to the early days of IoT between 2010 and 2015. Those 5 years were characterised by a number of developments, most prominently around platforms and networks. IoT platforms such as Thingworx, Cumulocity, Jasper, Plat.One and many others providing a much simpler environment for developing IoT apps and managing devices, amongst other things. New network technologies also came to the fore, including LoRa, Sigfox and Weightless. At the same time existing network operators implemented systems to allow for more efficient onboarding to allow cheaper data plans.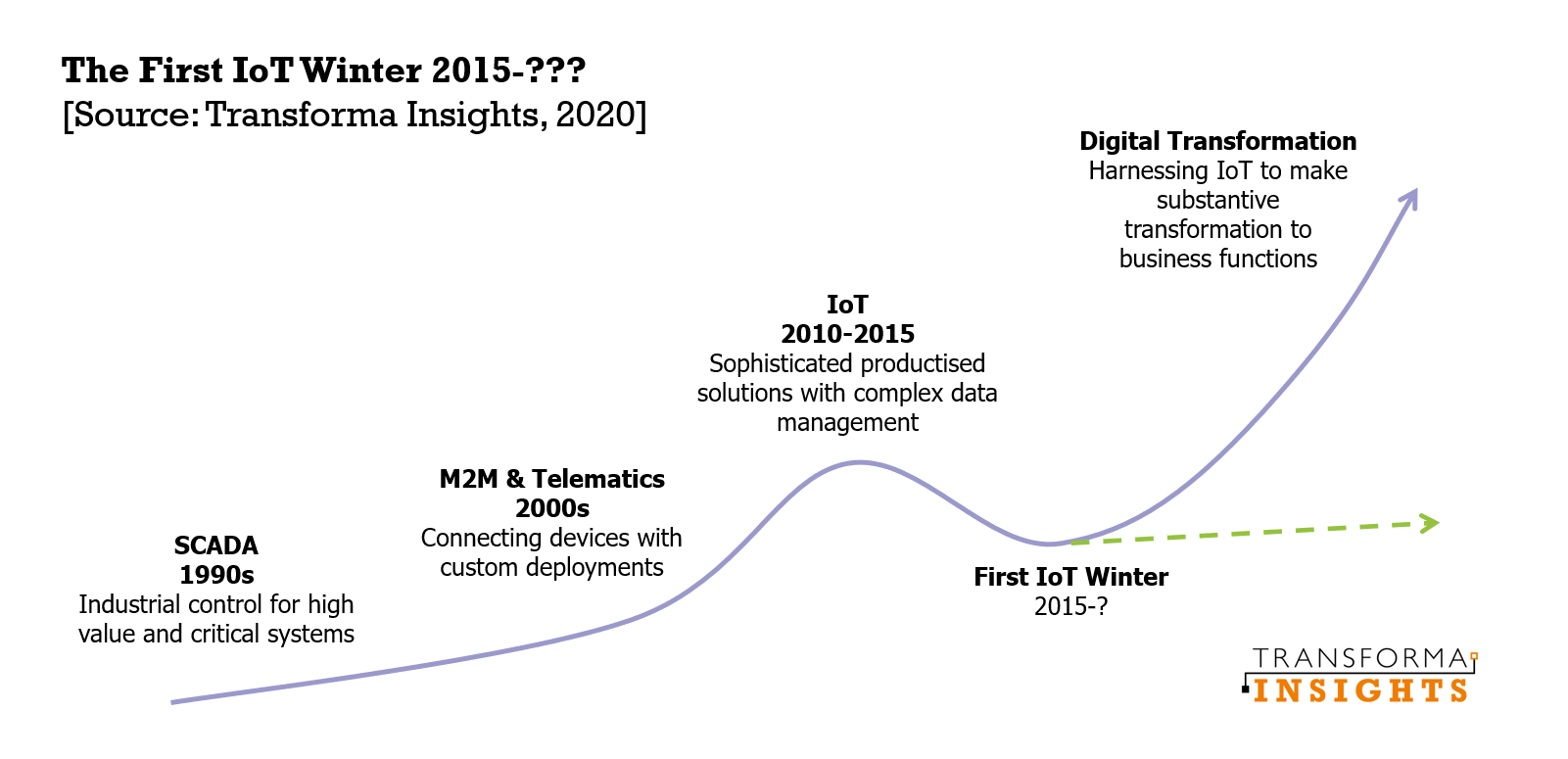 Since 2015, however, there has been something of a plateau. Technology developments have been relatively scarce. Progress has been made on a lot of issues, but nothing as fundamental as what had been seen in the preceding 5 years. Some progress has been made on issues relating to data management, for instance data exchanges, but nothing that changes the game as much as what happened immediately before. I recently published a book called 'The Internet of Things Myth' with fellow IoT industry veteran William Webb, which lifts the lid on what has been going wrong that prevented the anticipated growth during the 2010s. The simple answer is: a lot. We're not going to summarise all of the elements here. Later blogposts will dig into some of the relevant areas. To summarise though: errors were made in product development and user experience, technology became unnecessarily fragmented and fraught with maturity issues, vendors were more interested in extending their position in the value chain and building company valuation than in delivering value, and enterprises found IoT adoption was harder than it looked and so shied away from more transformational opportunities, favouring use cases offering simple incremental benefits.
Incidentally, the latter point is well supported by research from Transforma Insights published last week few projects, either in IoT or in most other Digital Transformation technology areas, had a significant impact on the enterprise's external products. The vast majority focused on internal organisational processes.
Enterprise demand and maturity is key
What can be done to move out of the First IoT Winter? This is a topic we will come back to time and again. But to paraphrase George Orwell: "Hope lies with the enterprises". Enterprises, being sufficiently confident in the technology, must take the decision to wholeheartedly embrace IoT and the significant organisational and process changes implicit in doing so. Inertia is a tough nut to crack, but suppliers need to help by focusing on delivering value, ensuring clients have confidence in products, and driving out unnecessary complexity. There's also a big need for companies to act as the glue to stick the whole thing together, as discussed in a previous blog post.