Covid-19 disruption will last for years
As we build our IoT market forecasts at Transforma Insights, the arrival of Covid-19 has caused massive disruption and triggered wider economic and societal changes. Predicting the future has never been harder. In this blog post we look particularly at the automotive sector which is both a major IoT sector and uniquely disrupted by Covid-19.
The propagation of Covid-19 and the human tragedy that has followed in its wake has already brought irrevocable change to the lives of billions in the first months of 2020. The upheaval of the past few months is unlikely to reverse anytime soon – the strange new world we inhabit is expected to persist for the months to come. Beyond the impact the pandemic will bring to society, industry too will face an unprecedented environment over the next few years. To survive, companies need to understand how the market will change as a result.
Over the past six months, Transforma Insights has been populating a forecast that explores the market opportunity for IoT across all industry verticals and use cases. As part of that work, we have had to immediately revise our assumptions based on the arrival of Covid-19. In this blog post I explore some of the likely repercussions for just one sector, automotive.
Covid-19 impacts sales of connected vehicles
The Automotive sector represents a huge portion of the total IoT opportunity, as it's responsible for an enormous number of mobile, high bandwidth connections. In recent years, the Automotive industry has demonstrated a great potential for change, spurred on by the vast sums ringfenced for R&D budgets by manufacturers in the space – a coalition of players from the European Automotive industry recently reported annual R&D investments of EUR57.4bn. However, the recent rapid growth and progress of IoT within the Automotive space is unlikely to sustain through 2020.
Shown below, is Transforma Insights' view on how the market for manufacturer installed connected cars will develop in the coming years. As can be seen, despite years of growth, 2020 and 2021 will witness a reduction in the total number of connected vehicles sold when compared to 2019.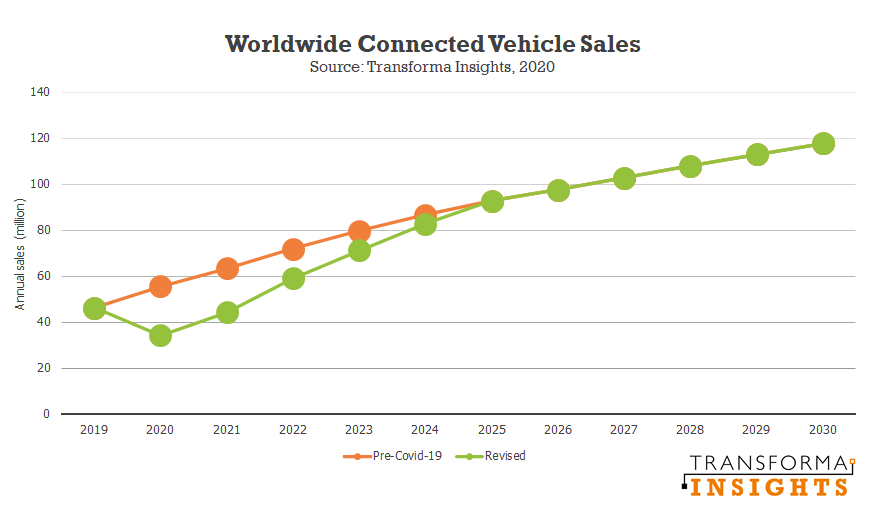 Automotive production shutdowns
The immediate consequence of Covid-19 for the Automotive sector has been a complete production shutdown in many countries. In Europe, all major manufacturers have suspended production, halting the completion of 60,000 vehicles per day. Many manufacturers have diverted dormant facilities to address the need for ventilators and personal protective equipment, as well as making their extensive fleets available for use by charities, healthcare providers and those delivering vital goods. When the decision is made to restart production, it will still be many months before full capacity is reached. An industry built on the foundations of lean manufacturing and global supply chain interdependence is uniquely fragile in the current environment. Any unilateral effort to maintain or resume production will be thwarted by disruption to the global supply chain that supports the industry. Several manufacturers, including GM and PSA were already forced to resort to airlifting parts out of China in late February in attempts to keep factories from stalling. Automotive production will continue to be affected as long as Covid-19 inhibits the population and output of any major economy.
From a demand perspective, restrictions on the movement and activities of the general populace have already caused drastic reductions in the number of vehicles sold in 2020 and vendors cannot rely on historic data to predict the future market. For the first half of February, Chinese vehicle registrations fell by 90% year-on-year. Europe has followed this trend and despite lockdown measures being implemented in mid-March, monthly registrations in the UK fell by 44%, Spain 69%, France 72% and Italy by 85%. In the likely event that 2020 will continue to see dealerships closed to consumers and disruption to fleet collections and deliveries then lower monthly registrations can be expected throughout the year. Fleet operators are unlikely to be seeking new contracts whilst unable to utilise the fleets they do have, and efforts will be made to shrink inventory where possible.
Covid-19 impacts in non-automotive markets
This extraordinary disruption will spread to all industries in many economies across the globe: already the US unemployment rate has increased from 3.5% in February to 10% in April, and a further consequence of Covid-19 may well be a global recession. This will stifle any resurgent automotive demand as the dust begins to settle following the pandemic. If the budgets of consumers, businesses and governments are reduced not only will they buy fewer cars, but those that are made can be expected to tend towards less expensive vehicles. Purchasers will be less willing to opt for more expensive vehicle specifications and service subscriptions that support the various IoT applications hosted on a vehicle. Despite this, the general push for fleet-wide connectivity from manufacturers will result in a higher percentage of vehicles sold to have an OEM installed connection. It should also be noted that a recession will not affect every country equally – our forecast predicts how purchasing habits in some countries will be curtailed more than others. For example, nations with proportionally large tourism, recreation and hospitality industries are likely to see the earliest and most severe downturn.
Covid-19 impact to IoT forecasts
How does this affect our forecast in the long term? In the short and medium term the growth of IoT in the automotive space from a supply perspective will be hindered by the lack of vehicles rolling out of factories. Furthermore, the long-term legacy of the pandemic will further impede expansion. As automotive revenues drop, development projects are likely to fall to a lower priority as capital is needed elsewhere to maintain continued operation. The implementation of OEM-fitted IoT hardware will be delayed as model cycles and updates are pushed back. IoT will have to compete for a share of a diminishing R&D budget against electrification initiatives. Large portions of current automotive R&D spend in recent years have been devoted to the electrification of manufacturers' ranges – if budgets shrink then emissions reduction is likely to command an even greater percentage of development focus as manufacturers seek to adhere to increasingly stringent targets.
Outside of fluctuations in supply and demand, Covid-19 will have more indirect consequences. Recent years have seen greater levels of collaboration between vehicle manufacturers as the costs of introducing new concepts and vehicles to market continue to increase. Toyota and BMW have recently joined forces to launch a shared model in order to cut down on development costs, and multiple joint ventures, such as Japanese automaker backed Monet, exist to explore the future of mobility. Further collaboration between the world's largest automotive players is likely to accelerate should revenues be squeezed as manufacturers look to share costs. This could see a future where greater interoperability of vehicles is commonplace and the connected car offerings of the different marques no longer exist as silos, encouraging the application development community. Previously, fleet owners would typically opt for a uniform aftermarket solution provider for their heterogenous vehicle fleet to minimise the difficulty of operating with different datasets, software and platforms and we may see further acceleration away from this approach should OEMs move to greater levels of collaboration. Another secondary consequence is the likelihood that many governments will look to spur on ailing economies through investment in public infrastructure projects. The Chinese government recently announced a spate of infrastructure investments as a direct response to the economic impact of Covid-19. At the top of the list for investment was 5G infrastructure. Should other countries follow suit and 5G network coverage undergo rapid expansion then the integration of 5G into vehicles may be similarly accelerated to take advantage of new capabilities offered. In turn, the greater adoption of 5G may result in faster growth for autonomous driving and V2X capabilities.
Another traditional area of investment to provide economic stimulus is public transport. In theory better public transport connections will reduce reliance on personal means of transport and further reduce demand for vehicles. Some of the most enduring images of early 2020 have been of densely packed commuters, crammed into public transport systems whilst a global pandemic envelops the world around them. One of the legacies of Covid-19 may well be a wish for greater personal space. Should investment in public transport not alleviate this issue, consumers may opt to use personal vehicles to travel. Of course, the other side of this coin is that more people are now working from home than ever before, should home working become a more attractive solution the need for commuting will fall and with it the demand for vehicles in general.
Conflicting trends in automotive markets
The coming years were already shaping up to be crucial in how the future of mobility will play out. One idealised end goal of mobility evolution has often been described as a world with a significantly smaller number of high-utilisation shared vehicles autonomously providing for the transport needs of the population at large. For many, there is a belief that the first steps towards this goal had already been taken. But in an era of social distancing, a reliance on shared assets and increased public contact seems an anachronism.
Of course, all of our forecasts take all of these factors and more into account, balancing them and blending them into our view on the market. In the coming months as the response and short-term consequences of Covid-19 crystallise we'll be constantly iterating our forecast to reflect market conditions. For now, what we can predict with most certainty is that the industry won't look like it did before. Covid-19 has significantly disrupted the world both physically and economically, and companies need to adapt their strategy based on where the new IoT opportunities lie.