Ahead of the Internet of Manufacturing conference, Transforma Insights partnered with organisers Internet of Business to conduct a survey of enterprises and their approaches to, and perspectives on, IoT deployment. Unlike most surveys we opted to ask open-ended questions, with free-text spaces. By doing so we hoped to understand what was really dominating the thinking of companies as they roll out IoT.
Over 80% of companies active in IoT
The good news is that over 80% of companies have already been active in IoT. This correlates nicely with some of Transforma Research's previous work. Almost every company has dipped a toe in the water of IoT.
We also asked about the nature of the deployments. Given that the respondent base was skewed towards the manufacturing sector it is unsurprising that of 55% of the organisations that have already deployed are focused predominantly on OT and traditional industrial deployments. The remaining 45% can be considered to be more IT- or cloud-focused, with an emphasis on data management.
Motivations for deployment of IoT
Asked about their main motivations for deploying IoT, the respondents fell clearly into two camps. Over 50% are focused on improving the customer experience, while almost 40% are using IoT as a way to reduce costs. This is the first surprise in the results. Historically the focus of the majority of IoT has been on cost savings. This is perhaps a reflection of the audience being more proactive than might be the case for IoT users in general.
Figure 1: Implementations and motivations in IoT [Source: Transforma Insights and Internet of Business Survey, 2020]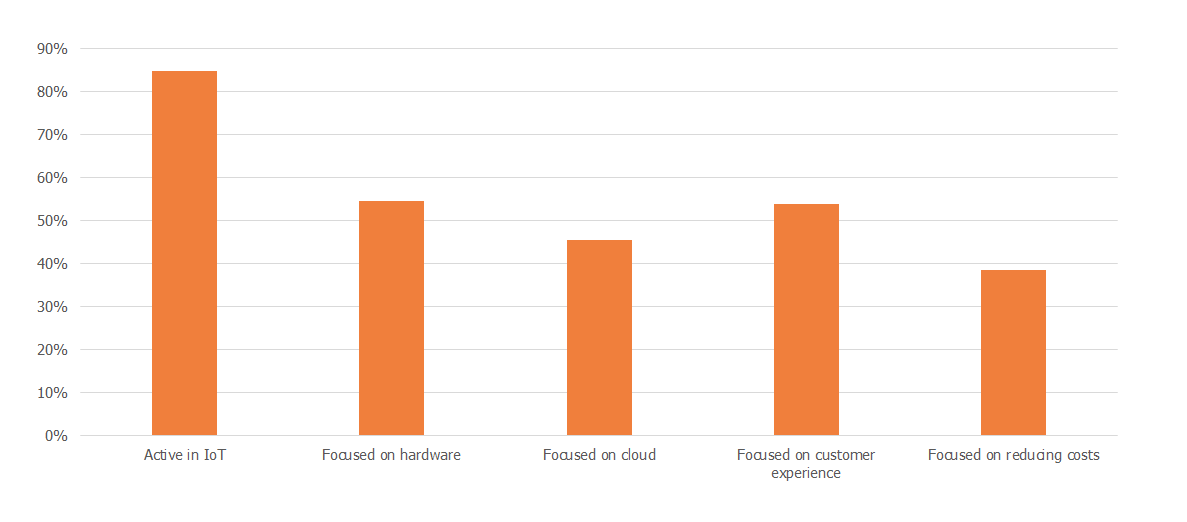 Main barriers: finance and internal organisation
It wouldn't be an IoT survey if we didn't ask about what our respondents thought were the main barriers to rolling out IoT. Two categories dominate, as illustrated in Figure 2, below.
The first relates to finance. Almost half of respondents quoted challenges with quantifying the ROI and the overall costs of projects. According to some research recently undertaken by Transforma Insights, typical IoT projects have an ROI of just 18 months. Either respondents have already exhausted the low-hanging fruit of IoT or vendors need to do a better job communicating the benefit or perhaps supporting with financing.
The second relates to internal organisation, e.g. levels of understanding amongst senior executives, the ability to get buy-in for projects and the ability to actually push through projects within the organisation. This is very common. Typically it is internal factors that are the biggest hurdle to overcome, particularly as IoT deployments become more complex and transformational. The fact that this does not register as more significant is illustrative that respondents have, in large part, yet to move beyond justifying the ROI of relatively simple projects.
Figure 2: Main barriers to IoT adoption [Source: Transforma Insights and Internet of Business survey, 2020]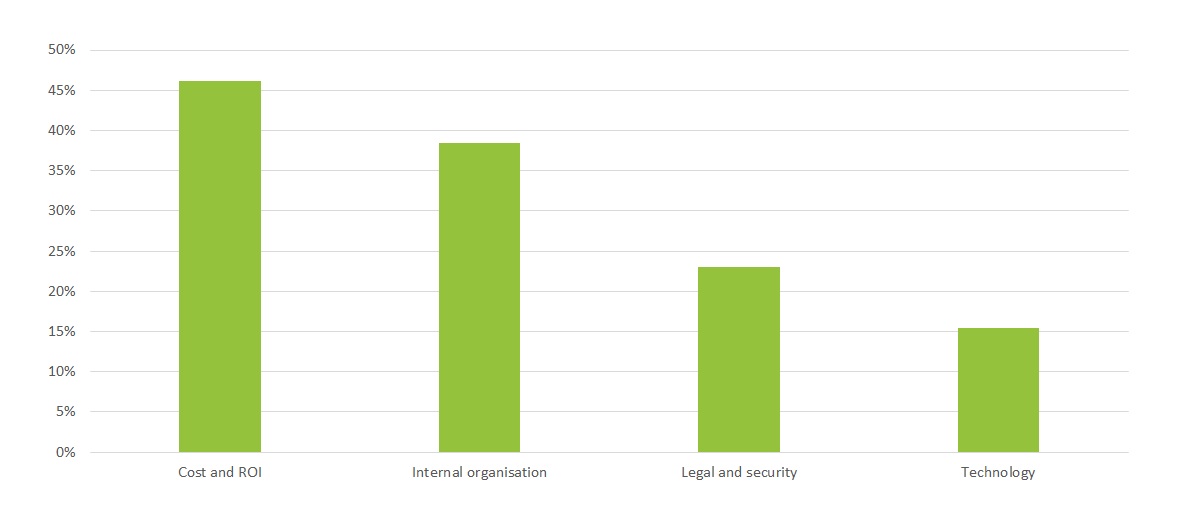 IoT deployment needs a structured approach
A major part of the challenge of rolling out IoT relates to responsibility. It is all too easy to have a scatter-gun approach to IoT projects, running proofs-of-concept and deploying simple applications without thinking strategically in terms of what the overall company plan is for IoT. We asked our respondents to state which parts of the organization make major decisions over IoT projects. Responsibility was surprisingly fragmented. The most common single response was that ownership of IoT was spread across multiple parts of the business. For those who were more specific, 30% noted that it was existing IT, engineering and R&D capabilities that were in charge. 15% mentioned specific technology or digital transformation business units. In less than 10% of cases do respondents state that the CEO is responsible. This is slightly worrying as one of the emerging themes from much of the work that Transforma Insights does is the need for enterprises to have strong C-level leadership driving IoT. The lack of that points, again, to deployments being focused on easy wins.
Which vendors? Microsoft, AWS, IBM, Nokia and Tata rate high
The survey also asked about which vendors would be top of the respondent's list to contact when thinking of deploying a new IoT project. Responses were diverse, but Microsoft scored highest, with other usual suspects of AWS, IBM and Nokia and systems integrators including Tata Consulting Services.
Conferences are top source of information (as were analysts)
Our final question related to how the respondents keep up to date with the latest technology trends. Horizon-scanning is critical in IoT, with new transformational developments happening regularly. Keeping pace with the latest developments is critical. The single most commonly quoted source was conferences, which we're sure will delight our friends at the Internet of Business! It was noticeable that there were a lot of different sources mentioned. The other most commonly chosen were professional networks, websites and fora, and analysts. Other significant mentions were for trade press, trade bodies (such as GSMA or IEEE) and vendors.
The results of this survey and much more research that has been undertaken by Transforma Insights on the IoT market will be shared with the attendees of the Internet of Manufacturing Midwest conference on September 14-16, 2020 at the Renaissance Hotel, Chicago, IL.