Turbulence in IoT markets
As shown in our recently published IoT TAM forecasts, between 2019 and 2030 IoT revenue will grow from USD465 billion to more than USD1.5 trillion. This figure suggests an extended period of growth that conceals a period of great turbulence in the earliest years of our forecast. Understandably, whilst being far from the only influencing factor, the turmoil caused by global response to the Covid-19 pandemic plays a significant part in these fluctuations.
The indelible impression of Covid-19
Falling infection rates have prompted countries around the globe to begin to ease lockdown measures imposed over the last few months, hoping to reinvigorate stagnating economies and limit disruption to the lives of their citizens. It remains to be seen whether this represents the first step taken on a return to normality or, as critics have argued, a lack of caution that will cause an early return to harsher restrictions. Nonetheless, Covid-19 has already left an indelible impression across all industries. As I mentioned during a previous blogpost on the difficulties of forecasting in the current environment, the scale of the potential effects of Covid-19 only manifested themselves halfway through Transforma Insights' exercise to create our IoT forecasts. Although the timing has resulted in radical changes to the forecast during its creation, it has also given us the opportunity to present our view of how such a significant global event will affect the IoT market from the forecast's first release and advise our clients accordingly. Below is a chart showing the revenue growth across the 20 use cases of our forecast during its early years – when the impacts of Covid-19 will be most keenly felt.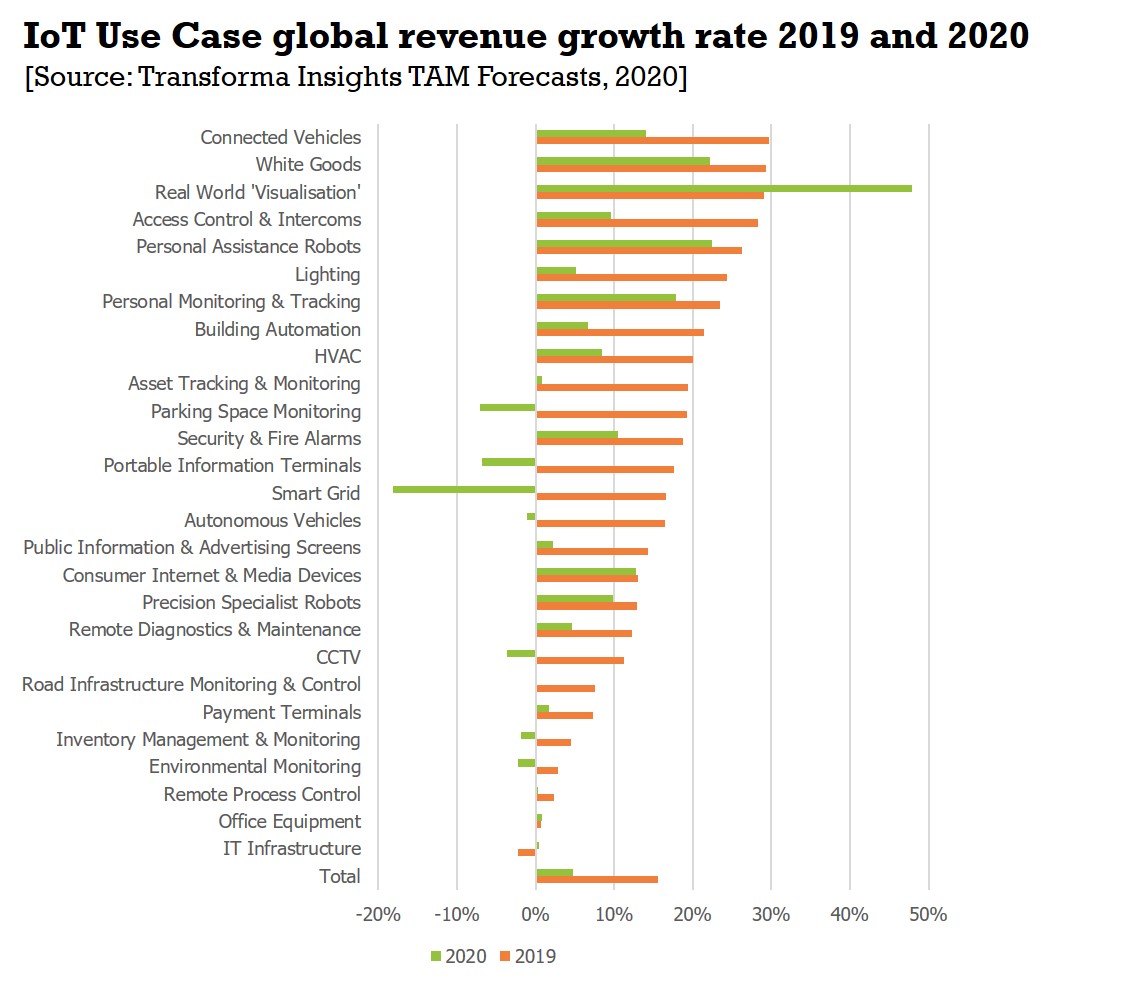 Lockdown disruption for businesses
The disruption caused by the blanket shutdown of business premises is likely to have the most severe effects on many use cases. Unused commercial space will limit any intentions to spend on Building Automation, HVAC, Lighting and building security use cases. Building Automation revenue growth will fall from 21% in 2019 to just 7% in 2020. A shutdown of retail, accommodation and food service establishments will drastically reduce spend on Payment Terminals, Parking Space Monitoring and Public Information & Advertising Screens. Demand disruption is compounded by supply constraints due to supply chain disruption and lower levels of production in manufacturing facilities, but also deployment issues. Social distancing measures and restrictions on working outside the home have limited the number of on-site installations that can occur.
Delays for smart metering
Although critical infrastructure projects will be less affected, Smart Grid revenue will be dramatically reduced due to these deployment constraints. Smart Meter installations will not be able to continue at the pace seen in previous years. 2020 was set to be a busy year for smart meter shipments; many countries should have been rushing to meet the European Union's deadline to reach 80% of households by 2020. These rollouts and others will only be delayed further as access to homes and places of business will continue to be limited throughout the year. The decline in smart meter shipment revenue is the primary contributor behind the dramatic change from 17% growth in Smart Grid revenue in 2019 to an 18% decline in 2020.
Vehicle sales and travel services particularly impacted
With the highest growth rate of all use cases in 2019 Connected Vehicles drops from 30% growth to 14% in 2020. Many of the factors that need to be considered in forecasting the automotive sector were explored in the previous blogpost linked above. Whilst that post focuses on the changing dynamics of car sales the Connected Vehicles Use Case incorporates many other applications with their own unique dynamics. The past few months have witnessed a huge drop in public transportation utilisation. Whilst quieter periods often invite the opportunity to cycle out aging vehicles for new stock, transport services such as London's TfL have reported 90% drops in revenue and received multi-billion dollar government bailouts to cover the deficit – news that's unlikely to prompt an acceleration of fleet replacement cycles. Similarly, the struggles of the air travel industry in an era of mandated quarantine periods has caused demand for new aircraft to dwindle. The growth of aftermarket automotive devices will also shrink as vehicles lie dormant on driveways and parking lots. Consumers will also be less likely to renew subscriptions to connected car services as the time spent in their vehicles falls significantly.
Home office equipment is on an upswing
However, not all use cases have shown a decrease in growth. The past few months have brought with them a beta test on a rather grand scale for remote working. Consequently, purchases of home office equipment have outweighed the drop in investment from the commercial sector. A requirement for remote working, the proliferation of video conferences, and an increase in the amount of time spent within the home has also prompted a growth in IT Infrastructure revenue through a demand for more routers and range extenders. Consumer Internet & Media Devices will also see strong support as consumers look to enrich their home media experience during lockdown. Nevertheless, growth will be slightly lower in 2020 than 2019 as a result of greater market maturity and tighter budgeting due to the economic effects of Covid-19. Social distancing measures will accelerate the growth of Real World 'Visualisation' as businesses look to encourage remote collaboration through AR headsets.
The pandemic isn't done yet!
Forecasting the effects of ongoing events is fraught with difficulty and market conditions will continue to fluctuate. We will be iterating upon our forecasts to ensure they show the most up-to-date view on how the pandemic's influence over the IoT market will be manifested. It's likely that there will be longer term societal impacts that won't be fully understood for quite some time. Where and how we live and work, how often we travel, our use of public transport, growth of urban areas, actions on climates change, and public health policy are all topics that will be under the spotlight for years to come as a result of Covid-19 and may see radical change as a result. Stay tuned for further posts exploring these long-term consequences, and the updates to our forecast that will occur as they become more apparent.
More information on the Transforma Insights IoT Forecasts can be found in this press release.