Our analysts were recently at both the Mobile World Congress and Embedded World events which are key ones for the IoT space. Across both events the key theme can be summed up in one word: transition. Across many different areas it is evolving from a relatively stable, established environment 3-5 years ago towards another equally stable state in another 3-5 years. Today, however, we are going through a period of change. Some industry watchers have categorised this period of transition as a down-turn in the fortunes of IoT, but we don't agree. It is a natural realisation of the appropriate way in which IoT should be delivered and a pivot towards that.
In this blog post we summarise some of the key IoT Transition Topics that we noted. More details of the Transition Topics are discussed in the report 'Mobile World Congress and Embedded World review: IoT is in a time of transition'.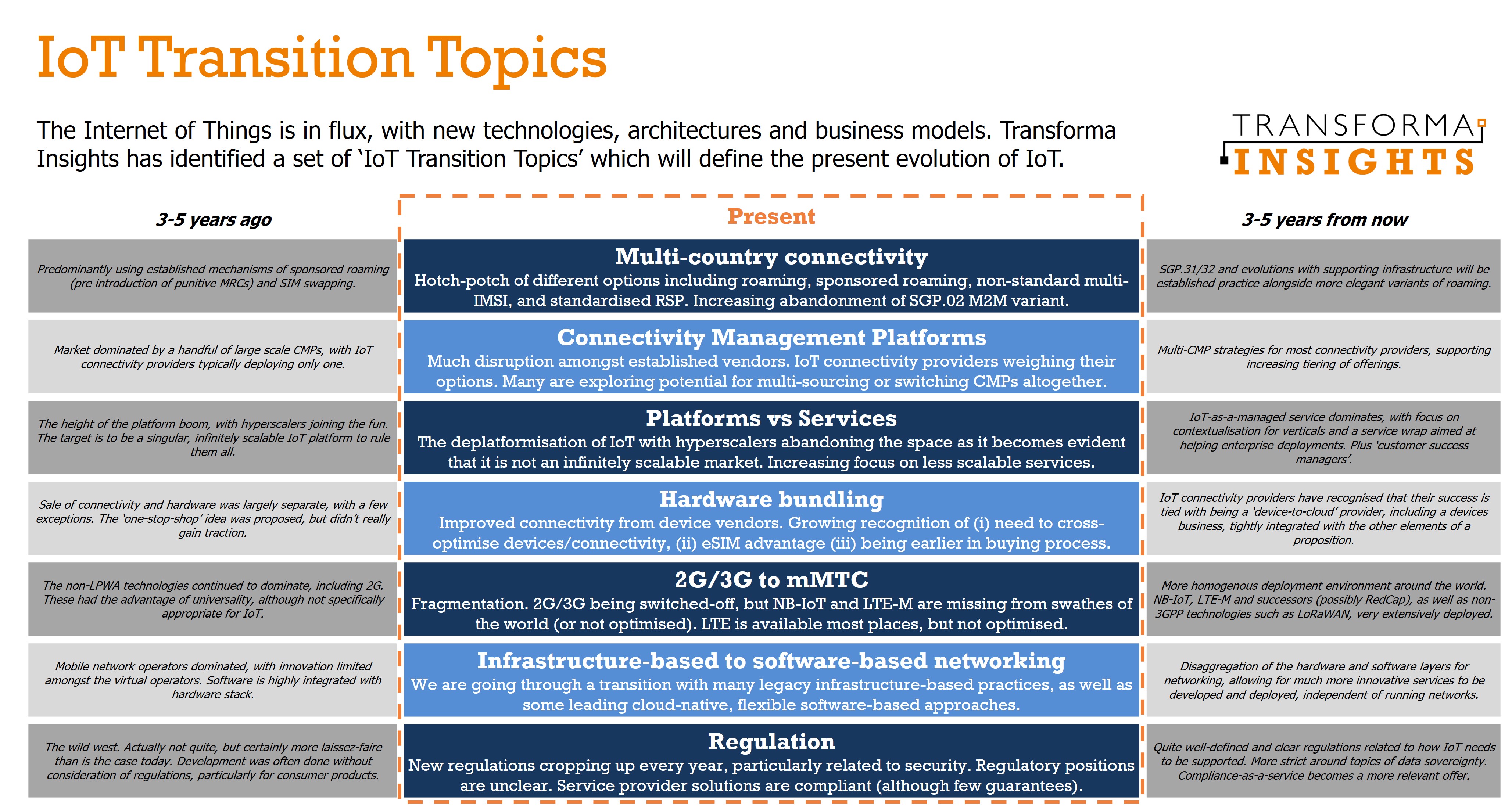 Multi-country connectivity
If we look back 3-5 years the way to support cellular connectivity in multiple territories was relatively well defined: switch out SIM cards, use roaming or rely on proprietary multi-IMSI solutions. If we look 3-5 years into the future we would expect there to be a steady-state of options including the use of SGP.31/32 IoT eSIM remote SIM provisioning (RSP), and probably some rather more refined and settled versions of permitted permanent roaming.
There was a significant disruption to the established order in 2020/2021 when some Mobile Network Operators (MNOs) started cracking down on the use of sponsored roaming on their networks. At around the same time, many MNOs became much more amenable to the idea of providing eSIM profiles, although, such arrangements remain patchy.
Additional to that has been the evolution of the technology landscape. For IoT devices, the SGP.02 M2M variant has been established, but has rapidly become seen as yesterday's technology as we await the SGP.31/32 IoT variant, although that won't really be available for use until well into 2024. So, we find ourselves in a period of flux.
Connectivity Management Platforms
The biggest piece of news in the IoT connectivity space for many years was announced in December: Aeris Communications would acquire the IoT capabilities of Ericsson, specifically IoT Accelerator (IoTA) and Connected Vehicle Cloud (CVC). Ericsson is one of the 'big two' in the Connectivity Management Platform (CMP) space, along with Cisco's Control Center. Much of the gossip at Mobile World Congress particularly was the impact expected in the CMP space.
There is a trend for Communications Service Providers (CSPs) to be more proactive in reviewing their CMP strategy, looking to diversify into using alternative platforms such as 1oT, floLIVE and Mavoco. In some cases they may want to find a replacement for existing main CMPs and in others they are looking for low-cost variants as a secondary platform. This approach is, in part, triggered by underlying requirements for CSPs to find low-touch on-boarding suitable for addressing the prepaid IoT connectivity segment.
Whereas the prevailing approach 3-5 years ago was to have a single CMP from either Cisco or Ericsson, there is currently a lot of examination of that approach by many CSPs. In 3-5 years we expect to see a much more diverse landscape with multiple platforms used for different customer types. A forthcoming report on the CMP landscape will further explore this evolving market.
Platforms vs services
This is probably the most nebulous of our IoT Transition Topics, but also possibly the most far-reaching. One of the key discussion topics in IoT recently has been the apparent exits of many of the biggest technology vendors from the IoT space. Companies such as Bosch, Google and IBM have shuttered some of their IoT products and it seems like Microsoft is not far behind. The products that have been closed tend to have a very similar profile: generic IoT platforms that were intended to be infinitely scalable to address the entirety of IoT. That, however, is not how IoT works.
It has become apparent that IoT is not about infinitely scalable platforms. It is actually about providing the services and support to assist enterprises in deploying it. Enterprises, for the most part, need their hand holding in some way in the deployment of their IoT projects. Ideally, this should be provided by a vendor with experience of delivering within the customer's sector. A related concept is that of 'Contextualisation', which we have talked about in a previous blog post: 'A new taxonomy for the Internet of Things'
Our perspective is that these hyperscalers and other major technology vendors have not 'quit IoT'. They're all still heavily involved in IoT, providing edge computing, consulting and, most prominently, the cloud functions in which IoT data is actually consumed, such as data lakes, digital twins and real-time processing. But they're not typically very good at the contextualisation part of IoT, and IoT is not really very horizontal. It's bought in a vertical way, and horizontal platforms don't necessarily address the needs of smart metering, fleet management, payment terminals or whatever the specific use case might be.
Whereas 3-5 years ago we were still at the peak of the IoT platform, today we are part way through the 'deplatformisation' of IoT (as discussed in the blog post '9 key themes for the Internet of Things in 2023') and the recognition of this being at heart a market consisting of hundreds of discrete sub-markets each requiring their own approach. Does that mean IoT is therefore inherently less scalable than hoped? Yes. But specialisation via a plethora of different vendors makes for an appropriately fragmented supplier ecosystem delivering better value.
Hardware bundling and strategies
Historically there was a relatively good distinction between hardware vendors and connectivity providers. That has evolved over the last couple of years with several major hardware vendors upgrading their connectivity offerings, most notably Quectel and Telit, to provide a more comprehensive offering combining connectivity and device.
Connectivity providers are also starting to get the message that perhaps there are benefits for them in being more involved with devices. The device is often the starting point for a development process, while choosing a connectivity provider might be one of the last things on the list for an adopter. Being involved in devices introduces a connectivity provider earlier in the development process. Another stimulus is the requirement for cross-optimisation of devices, connectivity, protocols, application, cloud and other IoT solution elements, something which has become even more pressing given the increasing use of more constrained (and IoT appropriate) technologies. Finally, the advent of eSIM/remote SIM provisioning, means that devices are increasingly shipping with a bootstrap IMSI already activated. This automatically provides the hardware vendor with an advantage in terms of addressing the customers' connectivity needs. It's not an overwhelming advantage, but it matters.
There are strong motivations for connectivity providers to have a better thought-out approach to devices. We explore this topic in more detail in the 'Communications Service Provider IoT Peer Benchmarking Report' (February, 2023), which includes a profile of Telit and its connectivity offering. A forthcoming report on 'Device-to-Cloud' strategies will address potential approaches to devices for non-device manufacturers.
2G/3G to mMTC
The time horizon on this one is a bit longer than the standard '3-5 years' considered in these Transition Topics. Mobile network operators (MNOs) around the world are going through a process of migrating from old legacy networks, specifically 2G and 3G, to newer more capable and efficient technologies in the form of 4G and 5G. In some countries, such as Australia, Japan and the United States this process has been under way for a decade or more. In Europe, in contrast, it is a relatively recent development, with the first migrations happening in just the last two years, but with almost all operators now setting roadmaps for switching off in the next decade.
As a result, the networks used to carry the IoT traffic are changing dramatically. New NB-IoT and LTE-M networks are being introduced and in a number of cases are seeing quite substantial adoption. This is another case of 'out with the old, in with the new', transitioning from 2G and 3G networks to NB-IoT and LTE-M networks. And while we transition there's still some areas that need attention. Global coverage isn't there yet, although growing, and roaming deals still need to be arranged. These are teething pains but the transition will ultimately result in the availability of much better technologies, more appropriate for IoT, as discussed in the recent Transforma Insights report (see 'New study examines the impact of 2G/3G switch-off on the Internet of Things').
Infrastructure-based to software-based networking
Another macro-theme in IoT connectivity today is the evolution from being focused on infrastructure to being focused on software. Network Function Virtualisation, the simplicity of building middleware platforms and spinning up core networks, the availability of cloud storage, and similar trends, have virtualised the provision of connectivity. Running an access network, as done by the Mobile Network Operators, is less and less critical to providing innovative connectivity services. As a result, the IoT MVNOs are increasingly assertive and doing interesting innovative things, as outlined in the 'Communications Service Provider IoT Peer Benchmarking Report'.
This doesn't mean that the MNOs, such as AT&T, Deutsche Telekom, NTT, Verizon and Vodafone should throw in the towel. Far from it. They remain the key players to beat. However, they are certainly looking over their shoulders at the MVNOs and also thinking about how they could harness some of the 'MVNO energy' in their own operations, in terms of being more cloud native, faster moving and reducing overheads.
This topic is extensively discussed in the report 'A new taxonomy for IoT reveals new roles and opportunities' (January, 2023).
Regulation
We see a changing regulatory environment emerging. Historically the regulations affecting IoT were often not specifically related to IoT, and not necessarily rigorously applied, where they existed at all. Today we are going through a period of the introduction of large amounts of regulation related to topics such as data sovereignty, know your customer and particularly security. In future we see a greater level of clarity around the regulations that apply to IoT, which will in most cases be much stricter. Some of today's approaches for multi-country support and associated architectures, as well as data management, used may not work in future.
Compliance will become a much more significant topic. Whereas today it might be enough for individual suppliers to provide a compliant solution we also see a future opportunity for compliance-as-a-service, which ensures that IoT connections and all their associated systems, are compliant with regulations, and relevant partner policies.
Others
These were not the only topics being discussed. Others included the emerging requirement to manage the orchestration of data storage and processing between cloud and edge, the growing importance of private networks but with much still to be resolved about commercial models, and the topic of sustainability, perhaps the ultimate 'transition' topic, related to transition to zero carbon.
This is a very interesting time to be involved in IoT with a constantly changing environment. One thing is for sure, it's never dull!