Transforma Insights' report, sponsored by Ericsson and Telia Company, looks at the implications for enterprise IoT deployments, identifying five potential enterprise approaches to addressing the process, and highlighting the costs and benefits of upgrading from 2G/3G to newer more capable technologies.
Transforma Insights has today unveiled a report '2G and 3G switch-off: what network evolution means for IoT' which details the implications of the network migration from 2G and 3G networks to 4G and 5G, a trend which has been seen in countries such as Australia, Japan and the US for a decade or more and is now rapidly accelerating in Europe.
Why is 2G/3G switch-off happening?
The migration process involves the 'refarming' of spectrum which was previously used for the older generations, for use with the new generations. There are several reasons why MNOs are going through this process. In some cases, there are regulatory requirements to do so. But in most cases, the drivers are that 4G and 5G network have much greater capabilities for delivering data services and make more efficient use of spectrum with lower operational overheads. This translates into better and cheaper experiences for customers as well as being more sustainable.
Implications vary depending on deployments
This process of sunsetting can have significant implications for organisations that have relied on these networks for their IoT deployments. The extent to which it will have an impact depends on a number of factors:
How critical are the IoT connections to your operation?

Have you already deployed the devices and what technology are they using?

Where are your devices deployed?

What is the lifespan of your devices and their natural replacement rate?

How easy is it to upgrade units?
Based on the answers to these questions, this White Paper identifies five possible implications for enterprises: no action necessary, roadmap change, accelerated roadmap change, accelerated replacement rate and proactive switch-out, as illustrated in the chart below.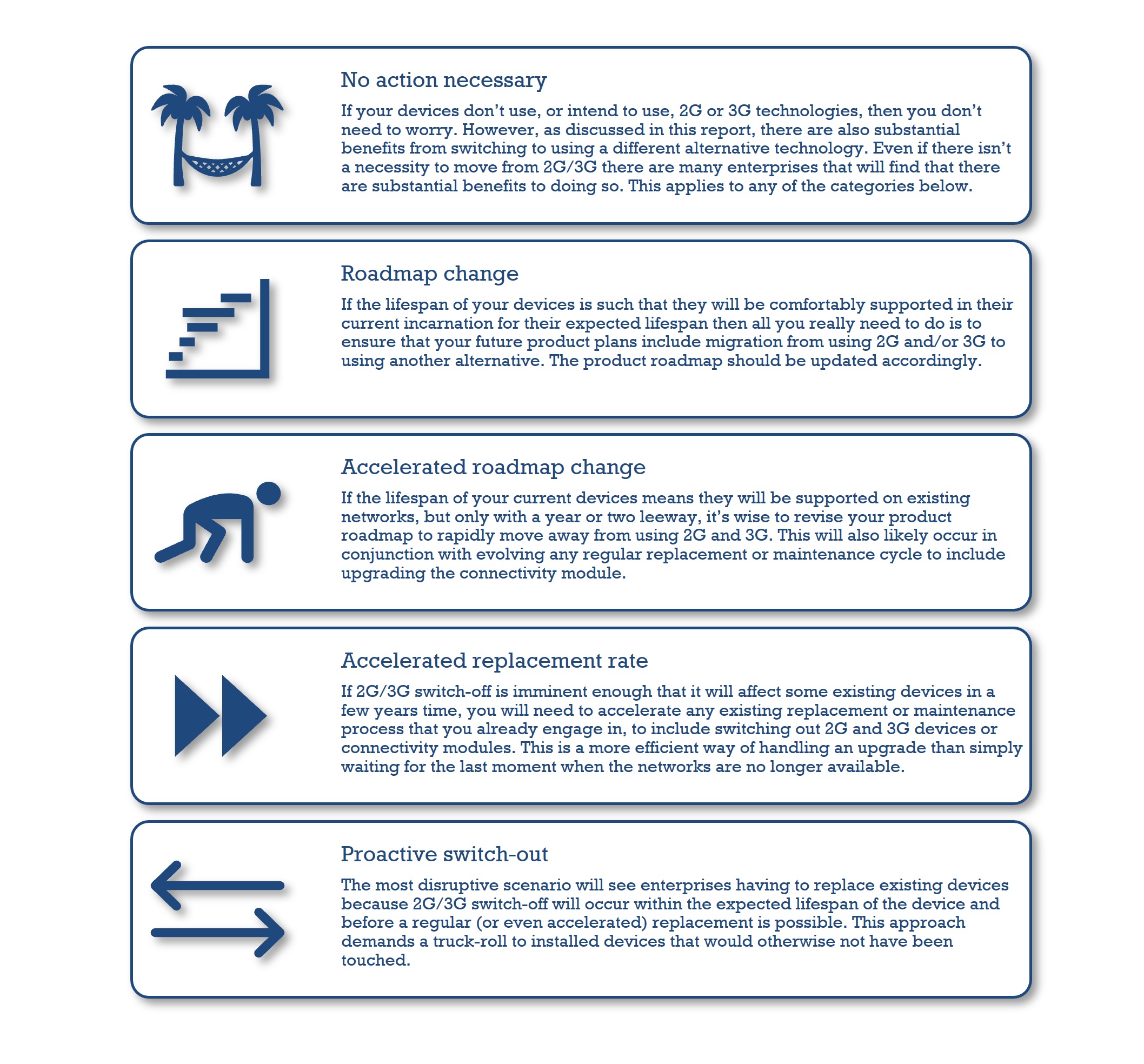 Costs, but also benefits, for enterprises
Depending on which of the possible scenarios applies, there are likely to be costs for any enterprise involved in the need to migrate to 4G or 5G. This will involve hardware replacement and the logistics costs implicit in any 'truck-roll' to replace old devices.
However, the report also identifies numerous ways in which enterprises can also benefit from the process of migrating to these newer generation technologies. For instance, the new NB-IoT and LTE-M technologies offer superior data throughput, reduced power consumption and improved coverage, and promise to be future-proof for decades. There are numerous other benefits, including the ability to upgrade the whole protocol stack, adopt new functionality such as eSIM, and introduce more management features. Beyond this, the upgrade will often allow access to cheaper tariffs. Overall, the new technologies are also more sustainable due to reduced power consumption from the devices, more efficient data delivery from 4G and 5G, and the reduced need for MNOs to continue to operate multiple networks.
Early and rigorous planning prevents problems
The report also includes two case studies focusing on technology choices and deployment challenges in IoT. These case studies demonstrate that there are strong potential benefits associated with upgrading technologies, but that comprehensive preparatory work, a rigorous testing phase and a capability to manage device deployments over-the-air were vital.
Commenting on the findings, author Matt Hatton said "The process of migrating from 2G and 3G to 4G or 5G, can seem intimidating. However, our recent survey of enterprises found that 60% had few, if any, problems with the process. With early action and a solid plan for the migration process, organisations have little to fear from 2G and 3G switch-off and potentially a lot to gain in terms of improved functionality, lower costs and more sustainable technology."
Which technology next?
The final section of the report looks at the technology options available for enterprises that have made the decision to upgrade their old 2G and 3G deployments. Technology options range from the 'Low Power Wide Area' (LPWA) technologies NB-IoT and LTE-M to ultra-high bandwidth 5G, plus several options in between, as illustrated in the chart below.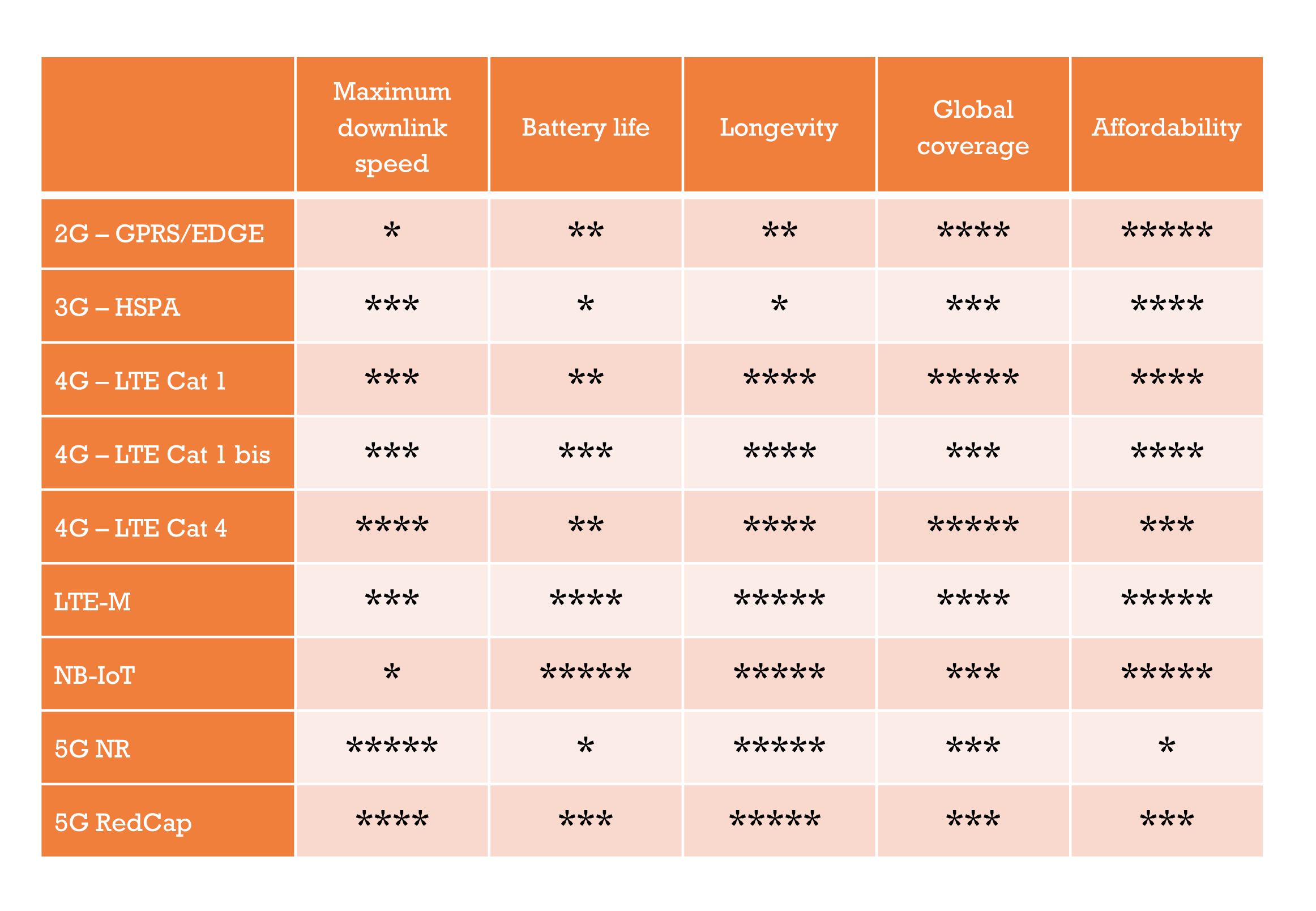 About the report
The White Paper provides analysis of the impact of 2G and 3G switch-off on the Internet of Things. The introductory sections explain the rationale amongst Mobile Network Operators for making these network changes, and a guide to where and when 2G and 3G sunsetting is occurring in the Nordic/Baltic region and beyond. The report goes on to examine how 2G and 3G switch-off will affect different organisations, as well as the potential costs and benefits. Then it examines the technology options that are available to organisations that are going through the upgrade from 2G/3G, including LTE, NB-IoT, LTE-M, and 5G. Finally, it offers a set of recommendations about how enterprises should act when considering upgrading from 2G/3G.
The White Paper also includes two case studies. The first is of the experience of smart lighting company Light Systems in the upgrade from 2G to new NB-IoT and LTE-M technologies. The other relates to automated meter reading upgrades in Sweden, and the key learnings and success factors in such a complex project.
This White Paper has been compiled by IoT industry analyst firm Transforma Insights, in collaboration with Telia Company and Ericsson.
If you have questions concerning the report, don't hesitate to contact our analysts via enquiries@transformainsights.com.
About Transforma Insights
Transforma Insights is a leading research firm focused on the world of Digital Transformation (DX). Led by seasoned technology industry analysts we provide advice, recommendations and decision support tools for organisations seeking to understand how new technologies will change the markets in which they operate.
For more information about Transforma Insights, please see our website transformainsights.com or contact us at enquiries@transformainsights.com. Follow us on Twitter: @transformatweet.