In February 2023 Transforma Insights published the latest iteration of its Communications Service Provider IoT Peer Benchmarking report, which analyses in detail the strategies of 23 major global providers of IoT connectivity. The press release for the report can be found here: 'Transforma Insights unveils analysis of which are the leading IoT connectivity providers' and a blog post 'Which Communications Service Providers are the leaders for IoT?' explores our ranking of the various providers. In doing such a deep dive into the operations and capabilities of these players we are exposed to unique perspectives on the key trends that dominate the IoT connectivity space.
As part of the report we present 24 key trends, shown in the chart below. A summary of these trends is presented in this post. These do not represent the entirety of the interesting activities occurring in the IoT connectivity space but are strongly illustrative of some of the recurring themes when considering the capabilities of each of the various operators.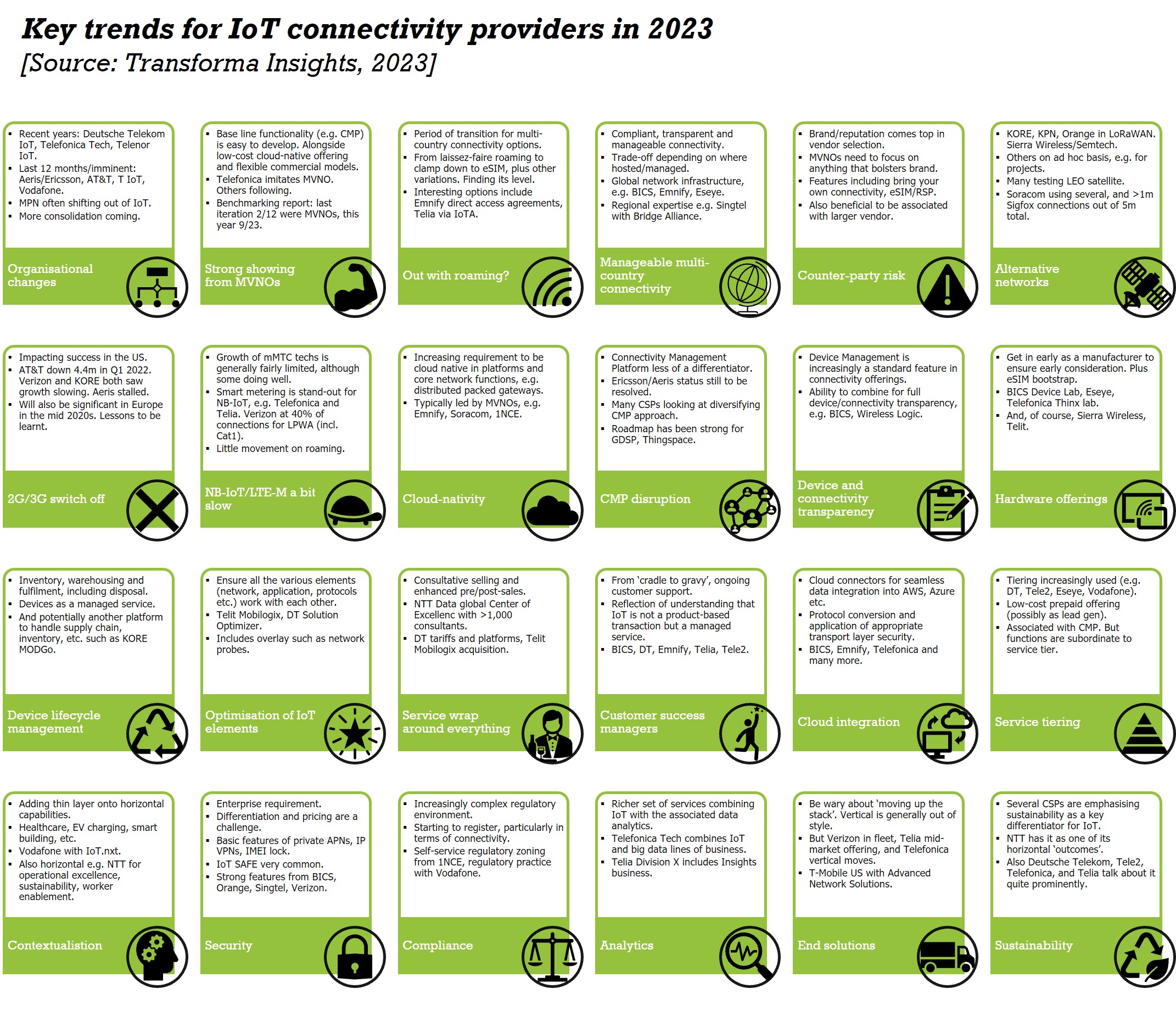 MNOs vs MVNOs?
At the macro level we see a couple of significant trends. There have been a lot of organisational changes within the various CSPs recently, and this continues. For instance, Deutsche Telekom group capabilities were combined into a single team and, as of 1st July 2020, a new business in the form of Deutsche Telekom IoT GmbH, and there is also an increasing focus on collaboration with T-Mobile US under the 'T IoT' umbrella. And others are ongoing: at the beginning of 2023 AT&T resurrected its Connected Solutions business unit as a home for its IoT services and Vodafone is in the process of some form of spin out of the IoT business unit. And on a similar note, the carving out of Ericsson's IoT Accelerator and Connected Vehicle Cloud businesses and handing over to Aeris is a radical piece of news, that we've covered elsewhere in the blog post 'What's behind the Ericsson/Aeris deal?'. We expect the changes to continue into 2023.
We also not a very strong showing from MVNOs which are doing some of the most innovative work in IoT connectivity today, particularly relating to being cloud native, supporting multi-country connectivity and global data management. We have seen recently, and will continue to see, attempts by MNOs to harness 'MVNO energy', adopting their approaches to addressing the market and in some cases acquiring them.
Multi-country connectivity
On the subject of multi-country connectivity, we are in a really interesting transition phase from a market dominated by roaming and physically switching SIMs to one based on localisation and richer forms of local connectivity. But the form that global support will take is still up for grabs and will take a few years to shake out. Is it 'out with roaming?' as some have suggested? We doubt it. As part of this trends, there are some great tools being deployed for more manageable multi-country connectivity delivering compliant, transparent and manageable connectivity using a variety of approaches, as well as interesting capabilities for managing data flows, including peering and local breakout.
One of considerations in how to deliver connectivity is counter-party risk, i.e. giving potential adopters confidence that your solution is a safe bet. Given the recent exits from IoT of some big technology names, it's hard to argue that it's a consideration. Technology vendors would be well advised to introduce features that will provide peace-of-mind to the adopter that they are selecting a partner that is in it for the long haul, e.g. eSIM or bring-your-own-connectivity.
Which networks?
One of the considerations related to IoT connectivity is always going to be: which technology? This has become a little more fragmented in recent years. Many of the CSPs profiled in this report are offering alternative technologies outside of the traditional public 3GPP family, notably LoRaWAN, a bit of Sigfox, private networks and potentially LEO satellites.We have long been advocates of CSPs being able to support whichever technology is needed rather than dogmatically sticking with just 3GPP technologies.
But we shouldn't skim over the trends with regular cellular technologies. Many operators have been going through a process of 2G/3G switch off and we saw some impact for the final throes of that process in the US, where some carriers have taken quite a hit from the process. This kind of experience will eventually be replicated in Europe and elsewhere. On the topic of 2G/3G switch-off, check out our webinar on the 23rd March with Telia and Ericsson: '2G and 3G Switch-off: What network evolution means for IoT'.
The progress in the replacement technologies NB-IoT/LTE-M has been a bit slow. These technologies represent the medium-term future of IoT connectivity and progress continues to be perhaps a little slower than had been anticipated, although with some significant highlights. One or two operators report up to 40% of new business using these technologies, there are big smart meter rollouts happening and the figures coming from China for NB-IoT connections are staggering.
The cloud brings scalability
The necessity of scaling IoT connectivity to billions of connections has been one of the main drivers of cloud nativity amongst CSPs, particularly the MVNOs. To a significant extent this has been one of the drivers for Connectivity Management Platform (CMP) disruption. The CMP has always been one of the key elements of an IoT connectivity proposition, dominated by a few major vendors today. Today it is less and less of a differentiator, with CMP functionality relatively easy to build and scale. CSPs are increasingly looking at their approach to CMP, looking at multi-platform sourcing.
The increasing prevalence of cloud computing, including in the context of how IoT is deployed, has been well documented. Many CSPs are now focused on cloud integration making provision for the streamlining of delivery of data to and from the cloud through cloud connectors. The next level of sophistication here would be to orchestrate where IoT data storage and processing is occurring. We anticipate some moves on that aspect of cloud/edge in future.
Get into devices
The subject of devices was quite prominent in the research. One aspect was device and connectivity transparency, combining device and connectivity data together to give full transparency over performance. But more fundamentally, it is becoming more important for CSPs to have hardware offerings. The provision of devices and connectivity are inextricably linked and that is becoming even more pronounced due to the need to cross-optimise IoT elements (which is also driving wider requirements for enhanced consulting-type capabilities), and the arrival of eSIM with connectivity baked into the device. Hardware vendors have amped up their connectivity offerings, notably Quectel and Telit, which CSPs should focus more attention here.
The opportunity associated with devices covers much more than just devices themselves, device management platforms and the software associated with them. It can also involve device lifecycle management, e.g. handling warehousing, release management, OEM warranty management and end-of-life.
Everything-is-a-service and contextualisation
The ability to provide technology building-blocks, whether they be software platforms, networks, or devices, no longer provides much of a sustainable differentiator. Any provider of such functionality also needs to put a service wrap around everything, focused on resolving customer pain-points. This fits very neatly with the prevailing trend from their customers: enterprises, for the most part, need their hand holding in some way in the deployment of their IoT projects. There is increasing amounts of good practice with regard to consultative selling, which is the approach being taken by most CSPs, and enhanced pre/post-sales. One aspect of this is customer success managers focused on being an internal advocate for the client and ensuring that deployments are successful. This may seem like a minor evolution, but it reflects an increasing realisation that addressing IoT clients is not a product-based transaction, but instead is a managed service and an ongoing relationship.
Associated with this is the application of service tiering, being able to segment a customer base and address it with appropriate differentiated levels of service. Most offerings continue to persist as a one-size-fits-all proposition. There is the opportunity to do much more, and we are seeing it, particularly through the addition of low-touch prepaid offers.
One of the watchwords for IoT connectivity is 'contextualisation', the building of vertical expertise allowing the CSP to better support service providers and enterprises is deploying into those verticals.
Value added services
There are increasing ways in which CSPs can add additional value-added services to their offerings. Security consistently rates as one of the top considerations for IoT buyers when selecting vendors. There are numerous ways in which security can be applied to IoT connectivity, including malware detection, end-to-end encryption, private APNs, and IPSec VPNs, transport layer security, and end-to-end cybersecurity services. The addition of new regulations in IoT in areas such as permanent roaming, data sovereignty, and newly-established rules around IoT device security, opens up the opportunity to add compliance capabilities to an offering. Several of the CSPs have identified the combination of IoT and analytics as the optimum approach for them, adding an additional layer of value over and above pure connectivity.
The ultimate value added services are end solutions, i.e. full end-to-end offerings for a particular vertical such as fleet management or smart buildings. CSPs are often advised to 'move up the stack' in the pursuit of the lion's share of any IoT solution revenue. We urge caution. Throwing another CSP 'me too' offerings into the mix is unlikely to see much success and could be a big drain on resources to build market share. To be successful, CSPs need a 'right to play' in a sector through heritage, acquisition or building in an underserved segment.
Saving the planet
Several CSPs are emphasising sustainability as a key differentiator for IoT with discussion about how it can be a key enabler for clients of meeting sustainable development goals.
About the report
The Transforma Insights report 'Communications Service Provider IoT Peer Benchmarking Report 2023' report, is a comprehensive analysis of the strategies and capabilities of 23 leading global providers of cellular-based IoT connectivity (1NCE, AT&T, BICS, Deutsche Telekom IoT, Emnify, Eseye, KORE, KPN, NTT, Ooredoo, Orange, Sierra Wireless, Singtel, Soracom, T-Mobile US, Tele2, Telefónica, Telenor, Telia, Telit, Verizon, Vodafone and Wireless Logic).
The research focused on understanding, for each of the CSPs, their performance metrics, organisational structure, middleware (e.g. platforms), core network infrastructure, network architecture, cloud integration, network technologies, approaches to multi-country connectivity, hardware strategy, target verticals, key customer wins, availability of end-to-end solutions, application development, professional services, and channels and sales strategies, amongst other things.
The report includes a executive summary of the key findings, detailed market analysis in the 'Key Trends for Communications Service Provider in IoT') section, comparison of vendor capabilities in the 'Who are the leading vendors? Section, and detailed profiles for each of the 23 providers.