In February 2023, Transforma Insights published its 'Communications Service Provider IoT Peer Benchmarking Report 2023' report, its comprehensive analysis of the strategies and capabilities of 23 leading global providers of cellular-based IoT connectivity (1NCE, AT&T, BICS, Deutsche Telekom IoT, Emnify, Eseye, KORE, KPN, NTT, Ooredoo, Orange, Sierra Wireless, Singtel, Soracom, T-Mobile US, Tele2, Telefónica, Telenor, Telia, Telit, Verizon, Vodafone and Wireless Logic).
One of the key features of the report is an assessment of the relative capabilities of each of those CSPs in addressing global IoT connectivity, an assessment which saw Vodafone top of the pile, strong showing from other major MNOs and great progress from IoT MVNOs. This article provides a summary of that aspect of the research: which CSP is best?
There is no 'the best'
The question of which of the 23 is the best provider is the most reductive of questions. The answer will always be "it depends". As an analyst I always try desperately to give that response to questions, but some times it's unavoidable. It depends on innumerable factors, including the capabilities that you need, the location of your devices, your preferred commercial models or even which cloud provider you use.
If you're an automotive OEM looking to connect cars in the Asia-Pacific region you would do well to look at Singtel, particularly given that it can corral a group of fellow operators in the region under the auspices of the Bridge Alliance. If you want to connect smart meters in Sweden, you're unlikely to look much beyond Telia. If you're a Japanese heavy equipment manufacturer wanting easy integration with AWS, Soracom will be top of your list.
But there is best practice
However, there is an interesting underlying question: what is best practice in IoT connectivity. This is a much better question to ask if you are an enterprises thinking about connecting IoT devices. This helps identify the types of capabilities they should be seeking out, and therefore shortlist providers accordingly. This is a better role for our analysis than trying to spotlight the individual operator that will be the answer to every buyer's needs, because there isn't one.
As a result, in this report we have elected to focus on innovation and best practice: which of these IoT Connectivity Providers has the most scalable, compliant, transparent and/or future-proof approaches to addressing the various elements of IoT connectivity and adjacent IoT services. That way we can, in some way, provide a useful comparison of capabilities.
It also, of course, helps IoT Connectivity Providers themselves to understand what their peers are doing in the space and examine some of the best practice that we have identified to understand whether it would be appropriate for them to implement.
Two dimensions: IoT connectivity and IoT services
There are innumerable ways in which we could have sought to benchmark the CSPs that we looked at. We have chosen to use a framework laid out in our recent report 'A new taxonomy for IoT reveals new roles and opportunities' (January, 2023), which is explored in a recent blog post 'A new taxonomy for the Internet of Things'. In that report, we set out our perspective that there are now seven Service Domains within IoT. One of those relates to Connectivity Management, i.e. the provision of managed connectivity over public networks. The companies profiled in this report are collectively the market leaders in such services.
Additionally, we also identified another six domains, covering areas such as devices, cloud/edge, security and compliance, all of which are potentially relevant for providers of connectivity. These are very closely adjacent to IoT connectivity and offer significant opportunities for differentiation of a service offering. These wider IoT services provide the second dimension against which we rate our CSPs.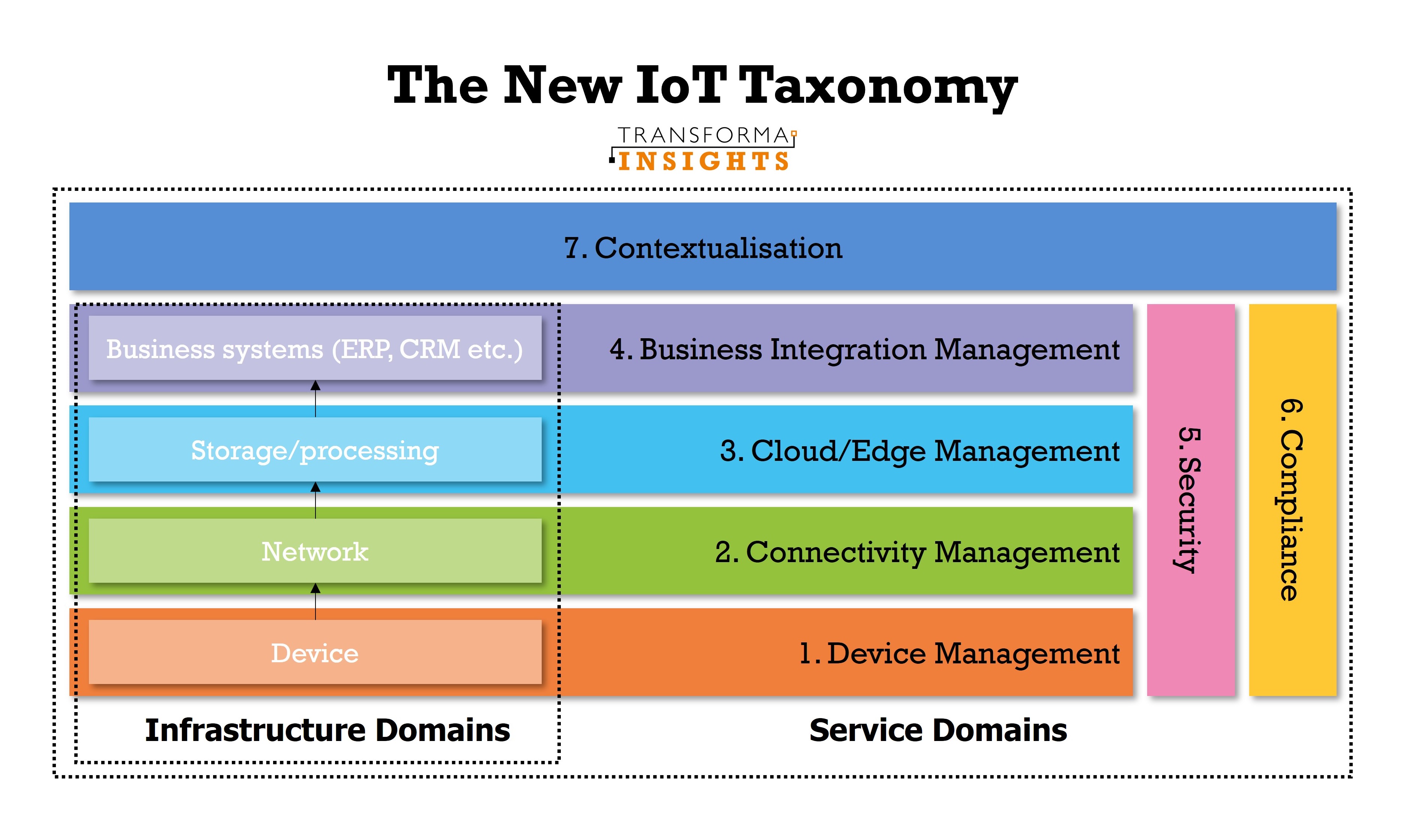 IoT Connectivity Management
Our rating of a CSP's capabilities in the Connectivity Management Domain (which is not to be confused with just the 'Connectivity Management Platform'), i.e. IoT connectivity, spans six elements, examined below:
Support for multi-country deployment – There are a variety of mechanisms for connecting devices in multiple geographies including roaming, wholesale, multi-IMSI, eSIM profile donation and various combinations of those. When rating this we give particular consideration to the service compliance (particularly related to specific countries including Brazil, China, India and Turkey) and control, rather than use of specific approaches. This category also considers the availability of full features for NB-IoT and LTE-M such as PSM and eDRX.

Scalability of platform and core network elements – IoT connectivity needs to scale to support billions of devices. As a result, highly scalable core network and connectivity management capabilities will be vital in future.

Global traffic management – Many CSPs have specifically engineered functionality for optimally managing the flows of IoT data globally, including peering and interconnect as well as local breakout.

Connectivity management features – This focuses on enhanced features that allow for the optimisation of delivering connectivity. It includes consideration of Connectivity Management Platform (CMP) features (including service tiering) and other capabilities such as device applets or connectivity twins.

Commercial capabilities – Degree to which the CSP is focusing attention on selling direct to enterprises (rather than wholesale) and reflecting strength of channels to market and investment in support services.

Multi-bearer support – This incorporates considerations of supporting connectivity using a technology other than regular terrestrial 3GPP cellular. It includes considerations of availability of mobile private networks, LoRaWAN and LEO satellite, as well has having optimised support for NB-IoT and LTE-M.
IoT Services
This considers the capabilities of the CSPs across the six other IoT Service Domains.
Devices & Device Management – Devices are the starting point for many IoT deployments. There is increasing need for cross-optimisation of devices with connectivity, and the advent of eSIM makes for greater correlation of device and connectivity sales. Device-related capabilities can include the provision of hardware, the integration and cross-optimisation with connectivity and the management of device lifecycle including inventory and fulfilment.

Cloud/Edge Management – IoT applications are increasingly deployed in the cloud and there is growing demand for edge compute to take advantage of low latency and reduce cellular traffic. A key function here is to integrate data into cloud functions (e.g. with cloud connectors) and to orchestrate the processing and storage between the different cloud and edge layers.

Business Integration Management – IoT is deployed to feed data into an enterprise's back-office systems, e.g. CRM or ERP. Managing the flow of semi-processed data into client systems is a close adjacency for IoT connectivity. Typically, this capability is provided by Application Enablement Platforms.

Security – This cuts across device, network, transport and end-to-end security. There are a set of standard features that many connectivity providers offer, including private APNs, IP VPNs and IMEI locking. Higher tier capabilities include transport layer security (e.g. IoT SAFE), network diagnostics and troubleshooting tools. At the highest level is a set of full end-to-end services including design and policy management.

Compliance – With increasing amounts of regulation around IoT, e.g. permanent roaming, data sovereignty, or know-your-customer, there is an increasing requirement for services associated with compliance. Some CSPs are starting to feature compliance services within their offering, up to and including a managed service.

Contextualisation – Often a key differentiator is simply having experience in a particular vertical to understand how all the other elements should be brought together to address the client requirement. This is not about the provision of vertical applications, rather the focus is on expertise/knowledge within the vertical and therefore the ability to feel the client's pain and speak its language. Also relates to some of the other prior layers, for instance contextualisation of security, regulation or device requirements.
We don't consider going 'up the stack' with vertical solutions
The seven Service Domains are focused on the provision of horizontal services. Many CSPs have also elected to go 'up the stack' and deliver full end-to-end vertical solutions for end customers, for instance Verizon's fleet management offering, or Vodafone's connected car offering. We have included extensive discussion of these capabilities within the individual CSP profiles but have decided not to include comparison of these capabilities as part of the report. It is difficult to find enough common ground between the providers to allow for a decent comparison, and besides which the competitive environment for such services is a set of specific vertical solution vendors rather than fellow CSPs.
And who comes out on top?
Vodafone emerges as the highest rated vendor in the analysis, across both IoT connectivity and IoT services. Other major MNOs also score well, including Deutsche Telekom, NTT, Telefónica, Verizon and Orange. In particular they tend to score strongly across the wider IoT services, reflecting their scale and presence across other ICT areas, including security and wider consulting.
In contrast, the increasingly assertive IoT MVNOs are much more specifically focused on pure IoT connectivity, and do a strong job with that. In IoT connectivity it is often the MVNOS that are doing some of the most innovative and interesting work. We highlight 1NCE, Emnify, Eseye and Wireless Logic as having pulled together compelling connectivity offerings which are gaining traction, plus KORE which has additionally done strong work enhancing its wider IoT Services offering, including particularly related to devices.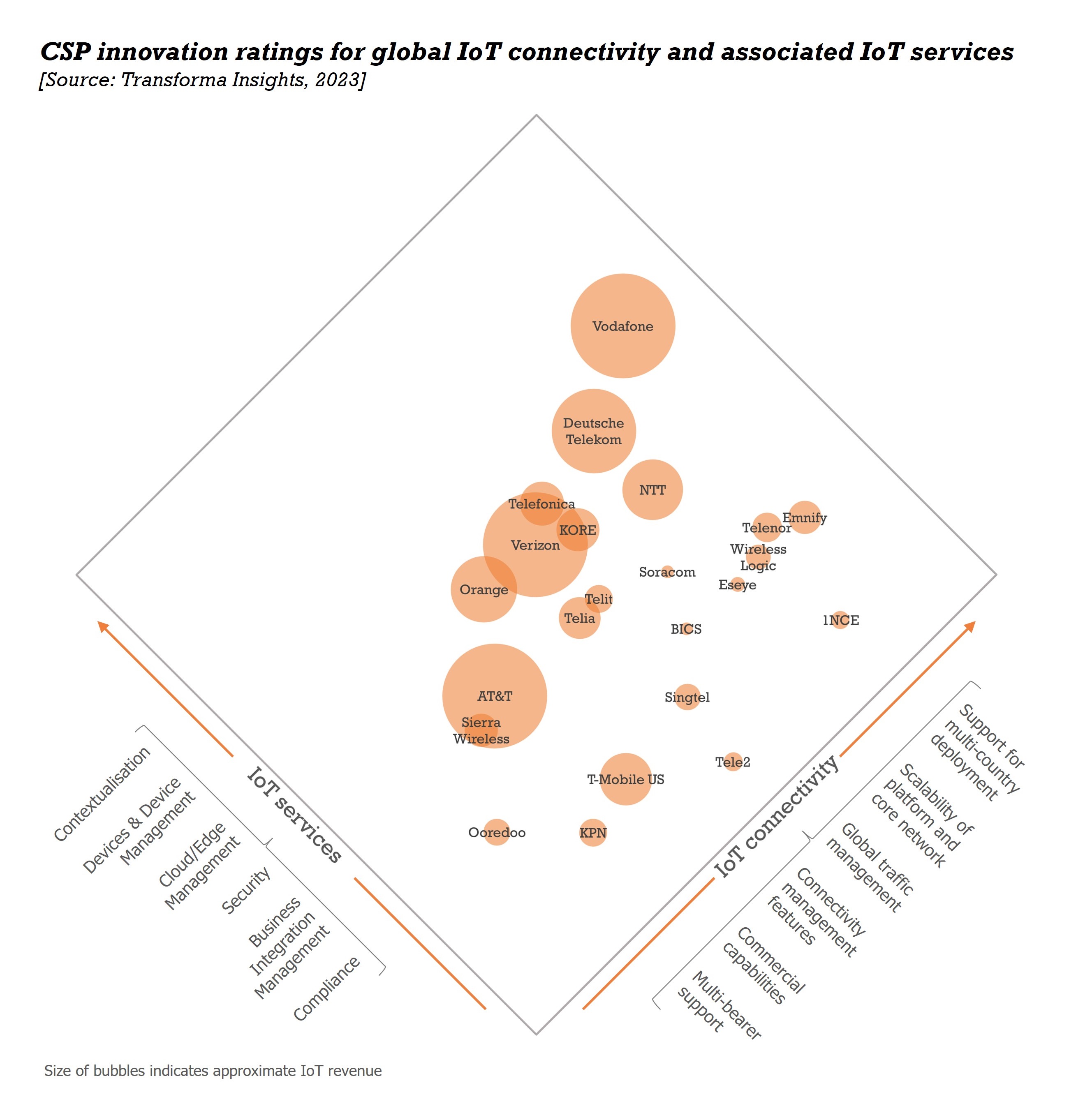 It is important to stress that many of these CSPs are going through some periods of change at the moment. Vodafone is going through a process of spinning out its IoT unit in some way, AT&T has just resurrected its Connected Solutions business under its Emerging Business. Besides which, Deutsche Telekom, as the relatively new DT IoT business, is working increasingly with T-Mobile on the one-year-old T IoT initiative. Ooredoo, Sierra Wireless, Telenor, Telia, Telit, and several others have gone through a period of change recently. There is a lot more innovation, and possibly a bit of retrenchment away from IoT, to come.