Transforma Insights recently published the report 'Industry 4.0 Digital Transformation Service Provider (DXSP) Peer Benchmarking 2021' which provides detailed analysis of the relative strengths of the leading twelve 'Industry 4.0' industrial digital transformation vendors (ABB, Ansys, Bosch, Dassault Systèmes, Emerson, GE Digital, Hitachi, Honeywell, PTC, Rockwell Automation, Schneider Electric, and Siemens) across dozens of functions and technologies.
As with all other sectors, Internet of Things (IoT) and Artificial Intelligence (AI) are the most critical disruptive technologies. For the industrial sector specifically, two technology areas are disproportionately important: Product Lifecycle Management (PLM) and Human Machine Interface (HMI). In this blog post we highlight some of the key trends in how these leading vendors are delivering PLM specifically.
Product Lifecycle Management is critical for Digital Transformation
Product lifecycle management is the process of managing the entire lifecycle of a product from inception, through engineering design and manufacture, to service and disposal of a manufactured product. From the so-called digital thread, which creates a connected data flow and integrated view of the asset's/products data throughout the lifecycle of the product, to digital twin and digital deployment, manufacturers' digitisation push in the past few years has focused on building realistic digital simulations.
This all makes PLM one of the most key technologies that digital transformation vendors must deliver. It is therefore one of the key technologies that we look at when evaluating industrial digital transformation vendors' ability to help enterprises deliver their digital transformation.
SaaS/cloud-based offerings open up PLM to the mass market
PLM is increasingly grabbing the attention of all sizes of organisations, not just the traditional large size corporation. SaaS/cloud-based offerings are opening up the value of PLM to mid-market and start-up customers, because of the ease of deployment.
All major PLM vendors are making movement towards repositioning their portfolios to capture more of the SaaS opportunity in the coming years. PTC has made significant investments in SaaS in the last few years with the acquisition of OnShape and Arena Solutions. Siemens introduced Teamcenter X in 2020, a cloud version of its flagship PLM product; TeamCenter X is built using industrial components from Mendix allowing customers to leverage cloud-native micro-services and stand-up new apps quickly. 3DEXPERIENCE is a flagship cloud platform for Dassault System, featuring a rich set of web-based design and engineering applications.
Siemens, PTC and Dassault Systèmes are leading PLM vendors
The chart below illustrates the overall scores of each of the twelve benchmarked vendors in the PLM category in the report. Transforma Insights derives this overall PLM score by analysing these vendors based on their capabilities in CAD/CAM software, manufacturing optimisation software products (which includes Manufacturing Execution Systems), PLM solution components, PLM integrated solutions, application development and system integration.
In recent years, all major PLM vendors have made significant moves either through technology acquisitions or via partnership developments, to add or advance simulation capabilities. For example, Siemens acquired MultiMechanics, a material modelling and simulation platform in 2019 to expand digital twin capabilities for material engineering.
Siemens is the overall leader in delivering PLM, with PTC, Dassault Systèmes and Ansys having strength in particular areas. Siemens' high rating in Manufacturing Execution Systems (MES) in particular helps to position it ahead of its competitors. Dassault Systèmes, PTC, Siemens, and Ansys are market leaders in CAD/CAM/CAE software products.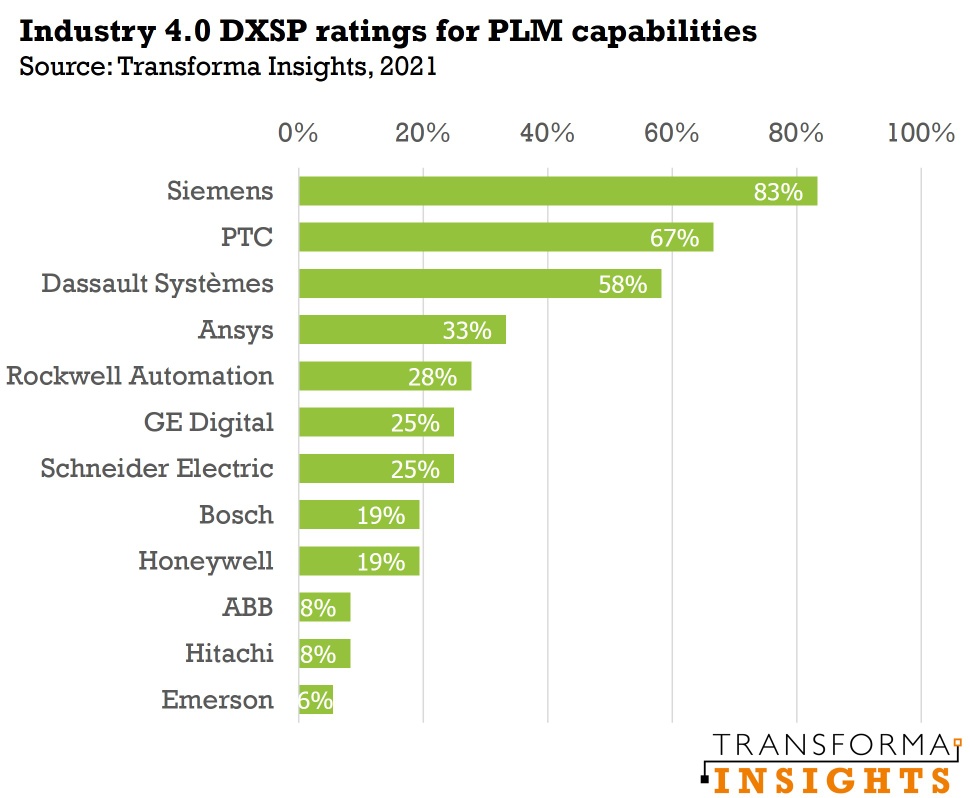 MES strategies tend to be vertically focused
Dassault Systèmes, Siemens, Rockwell Automation, Schneider Electric (AVEVA), and Honeywell have strong capabilities in manufacturing optimisation software/Manufacturing Execution Systems (MES). Most of the vendors analysed in the report have a vertically focused MES strategy. For example, Dassault Systèmes' offerings are focused mainly on discrete and repetitive flow/batch manufacturing, Honeywell provides MES solutions focused on process industries, Rockwell Automation has pre-built MES vertical applications developed specifically for life sciences, automotive, consumer packaged goods and metal industries.
PTC and Siemens are strong on integrated solutions
PTC and Siemens are leading in PLM integrated solutions. PTC's Windchill has a strong position in the traditional PLM market, and Arena leads the way in SaaS. Siemens Teamcenter is also one of the most robust and scalable PLM solutions offered in the market. Both the companies have strong alliances to offer comprehensive solutions, for example: Siemens has an alliance with SAP for selling the PLM suite Teamcenter and for integration between Siemens' PLM and SAP's ERP platforms, while PTC has strategic partnerships with Rockwell Automation and Ansys.
Siemens leads the PLM system integration and project management services category, with strong showings from Ansys, Bosch, Dassault Systèmes, Rockwell Automation, Hitachi, GE Digital, and PTC. Siemens and PTC also take the lead in PLM solution components. They offer a broad range of PLM components or 3D software development toolkits (SDKs) that enable CAD, CAM, CAE (Computer-aided engineering) and related PLM applications.
About the report
To find out more on our assessment of the capabilities of each of the vendors for each of the eleven technology families (including Internet of Things, Artificial Intelligence, Edge Computing, Product Lifecycle Management and Human Machine Interface) read our report on 'Industry 4.0 Digital Transformation Service Provider (DXSP) Peer Benchmarking 2021.