In Transforma Insights' recently published 'Communications Service Provider IoT Peer Benchmarking 2021' we raised the idea of a Hyperscale IoT Connectivity Provider.
In the report we identified seven key capabilities that would define a CSP as a Hyperscale IoT Connectivity Provider, i.e. able to scale to profitably support 10x-100x connections, particularly important in the world of $1 IoT.
In this blogpost, and drawing on the results of the research, I outline in brief some of the players who are ticking the boxes in terms of meeting those seven criteria, as illustrated in the chart below.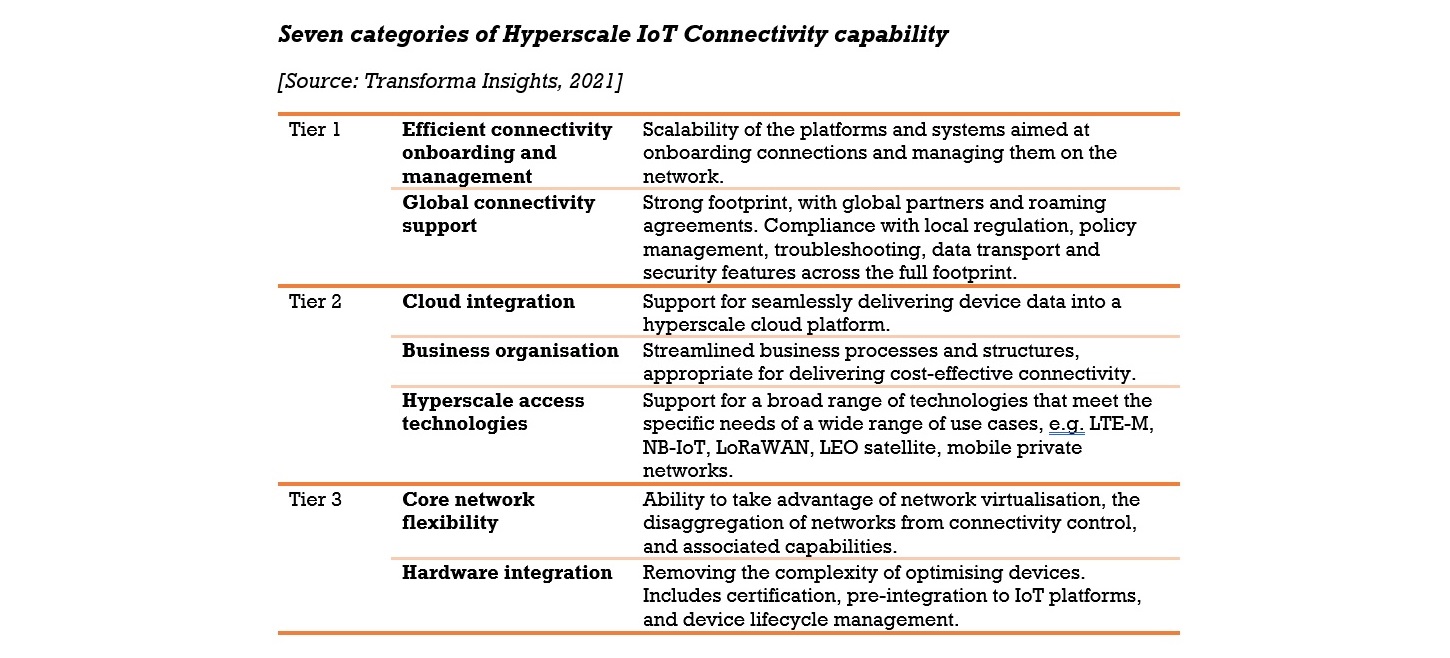 In the report we identify the capabilities of the CSPs across each of these capabilities, to build a view of which are the best placed to succeed at scale in delivering IoT connectivity in future.
Efficient connectivity onboarding and management
A core capability here is an efficient connectivity management platform (or platforms). Strong score here for Vodafone with its own platform, and Deutsche Telekom IoT which has been able to harness the low-cost onboarding platform of 1NCE. It's also good to be scalable, particularly making use of cloud services. Telenor Connexion's Managed IoT Cloud is built on AWS Cloud, as is 1NCE.
Global connectivity support
This category incorporates footprint, compliance, intra-network troubleshooting, data routing, and more. Vodafone scores highest here in part by virtue of its footprint but also its global network of partner operators. DT IoT also benefits from a trans-atlantic network (i.e. covering Europe and the US. Telenor and KORE both have strong heritage in addressing global deals. Key capabilities include being able to support connections in 'hard' countries such as Brazil and China. Increasingly we think there's an opportunity for a Transport Layer Orchestration Platform, managing the end-to-end delivery of data in a secure manner. More on this topic in a later blog post.
Cloud integration
This is a slightly more nebulous topic. As well as building capabilities in the cloud, CSPs need to be able to better integrate data with AWS and Azure. This takes the form of cloud connectors. Verizon, for instance allows abstraction of network and device data natively in AWS and Azure.
Business organisation
This is a more mundane topic. It relates to being a streamlined and efficient organisation. Many of the CSPs profiled have established separate business units. Increasingly they are streamlining processes to reflect the fact that selling and supporting IoT works in a different way from their regular services. MVNOs (Aeris and KORE) are particularly strong here, as are the MNOs which sell mostly off-net, such as Tele2 and Telenor. Telia (via a separate IoT product development process) and Vodafone (e.g. through harnessing IoT.nxt, and shifting product management responsibility into the business unit) have probably done the best job of creating new processes specifically for IoT.
Hyperscale access technologies
Addressing the IoT connectivity opportunity often means having a broad range of technologies available, spanning regular cellular networks, LPWA networks (NB-IoT, LTE-M and LoRaWAN), private networks, satellites and more. There is not much to choose between the operators here. The biggest challenge is in getting LPWA technologies, of some sort, deployed and then striking roaming agreements. KPN, Vodafone, Telia and Deutsche Telekom have done good work, but across the board momentum has slowed.
Core network flexibility
Network function virtualisation (NFV) and disaggregation has created a great opportunity for CSPs to be much more flexible in how they deliver connectivity. Check out the blog post about the 'Network New Normal' for more details. There's still quite a bit of room to move for CSPs to really take advantage of this. For instance, the ability to spin up core networks in multiple geographies will offer great benefits in delivering compliant and innovative services. Some CSPs have already deployed virtualised core networks e.g. Aeris and recently AT&T for 5G.
Hardware integration
Integration of hardware has become more important in IoT. The days of sticking any SIM card in any device and getting more-or-less the same performance are well gone. For instance eSIM and iSIM embeds connectivity earlier in the process. LTE-M and NB-IoT necessitate greater optimisation of device with network. CSPs are not just selling SIM cards any more. They need to pre-integrate devices (Verizon, Telefonica and Orange have done good work here) and look to handling device lifecycle management (KORE is the stand-out vendor).
Join our webinar to hear more
If you want to understand more about the requirements for Hyperscale IoT Connectivity and the capabilities of CSPs in addressing IoT, tune in for our webinar on 9th November at 16.00 UK: Best Practice for Communications Service Providers in delivering the IoT (link to replay which is available on demand for subscribers to Transforma Insights' free Essential package).