A (pretty) exhaustive assessment of the IoT MVNO landscape
In a long-gestating report published earlier this week, we at Transforma Insights have mapped the landscape for IoT MVNOs. To do this we cast the net wide to find and assess as many as possible. We turned up 175 that fit our definition. The aim of the report was to look at the capabilities of these players to understand the market composition, what capabilities they had, how successful they had been, how they were differentiating and what the overall trends were in the sector.
This is just one in a series of reports that we are publishing on the IoT connectivity space. Just last month we released our CSP IoT Peer Benchmarking Report, which looked at the capabilities of 12 leading CSPs, including a couple of MVNOs. Before that we released reports on pricing trends, protocols, eSIM, connectivity support platforms, access technologies, IoT MVNO differentiation, mobile private networks, and much more. In the latest report we sought to do a 'mile-wide' analysis of the IoT MVNO space. More detailed assessments of various parts of the connectivity market will follow soon, including what IoT MVNOs are doing in mobile private networks, how the hardware and connectivity markets are increasingly interconnected, the status of eSIM/iSIM and related capabilities, a look at device management, and much more.
A top tier of IoT MVNOs
According to our estimates, 22% of cellular IoT connections worldwide are supported by MVNOs and many MVNOs are developing propositions that are amongst the most innovative in the world. There is increasingly a separation between the innovative market leaders and the undifferentiated resellers. In this report we group the MVNOs into tiers according to these capabilities. Transforma Insights has identified five tiers of MVNOs:
Full MVNO with one or more genuine technical and/or commercial competitive differentiators relative to other MVNOs (and MNOs).

Operates as a Full MVNO with its own core network elements.

Does not operate its own core network elements but provides additional value-added services/solutions and typically has a SIM/connectivity management platform/portal.

Little or no technological capabilities but handles the commercial relationship, e.g. billing and customer care.

Simple resale of SIM cards from other MNOs or MVNOs.
The MVNOs assessed in this report all fit into one of the five tiers as per the chart (with tiers 2 and below obscured). It should be noted that many MVNOs do not fit perfectly into this categorisation and there is some flexibility in how we rate them.
Overall, few of the 175 we identify are strongly differentiated. Connectivity management platforms and value-added features such as private APNs are no longer real differentiators. Mobile private networks, cloud integration and virtualisation all offer mechanisms for doing so. Few are pursuing vertical solutions or consulting as ways to grow revenue, conscious of the difficulty of competing in those areas in a scalable way. Pricing innovation is surprisingly lacking and (despite some very low headline rates) few are even competing particularly aggressively on price point.
According to our rating there are 15 players that we count in our top tier of MVNOs: 1NCE, Aeris Communications, BICS, Cubic Telecom, EMnify, Eseye, Itron, KORE, Onomondo, Orbcomm, Sierra Wireless, Soracom, Transatel, Truphone and Twilio.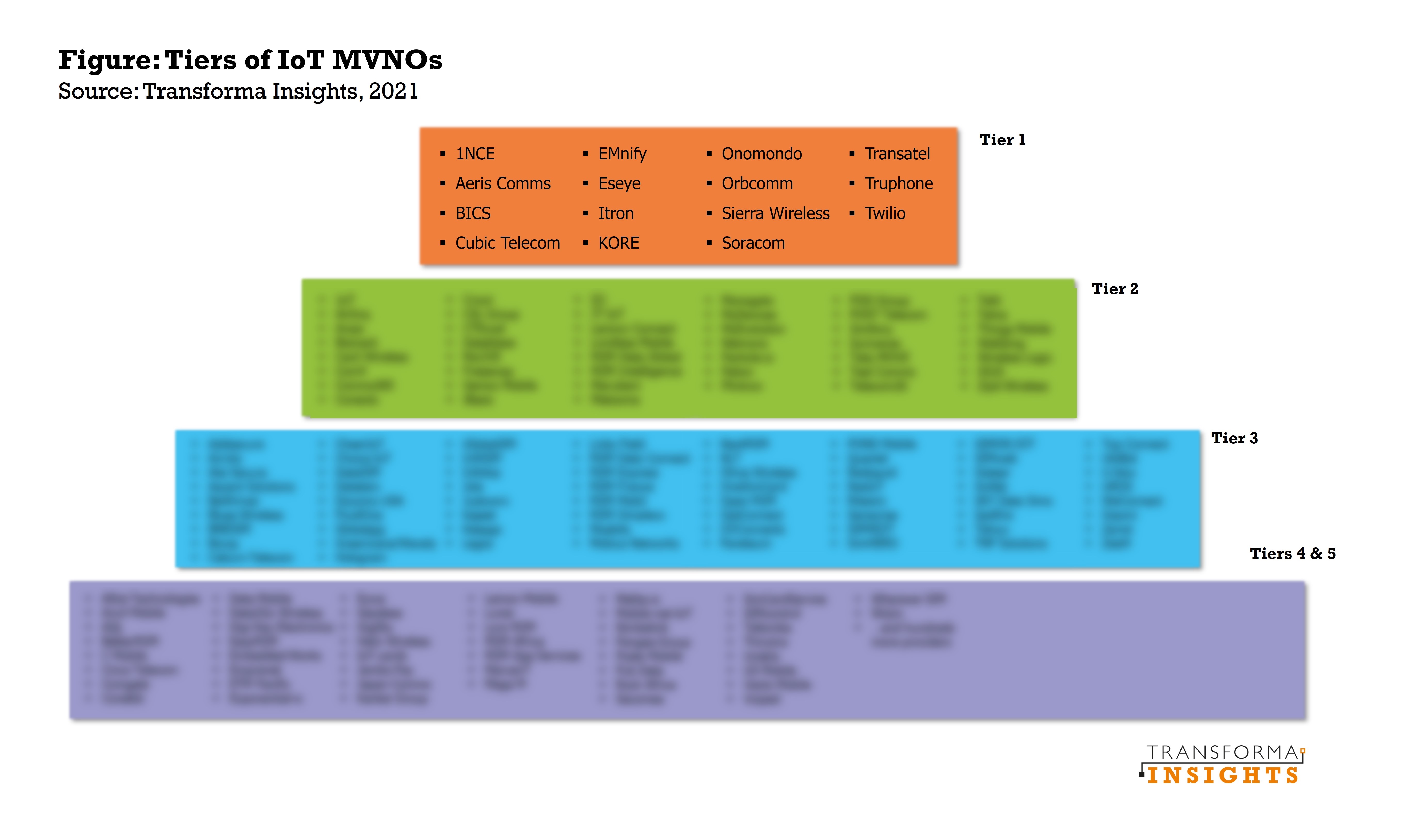 These 15 are not necessarily the largest. In the chart below (again obscured) we include a chart of the MVNOs ranked by capabilities (horizontal axis), and scale (vertical axis). There's unsurprisingly a lot of correlation between the two. Put simply, the more capable providers tend to sell more, and the bigger players tend to be able to differentiate their offering better.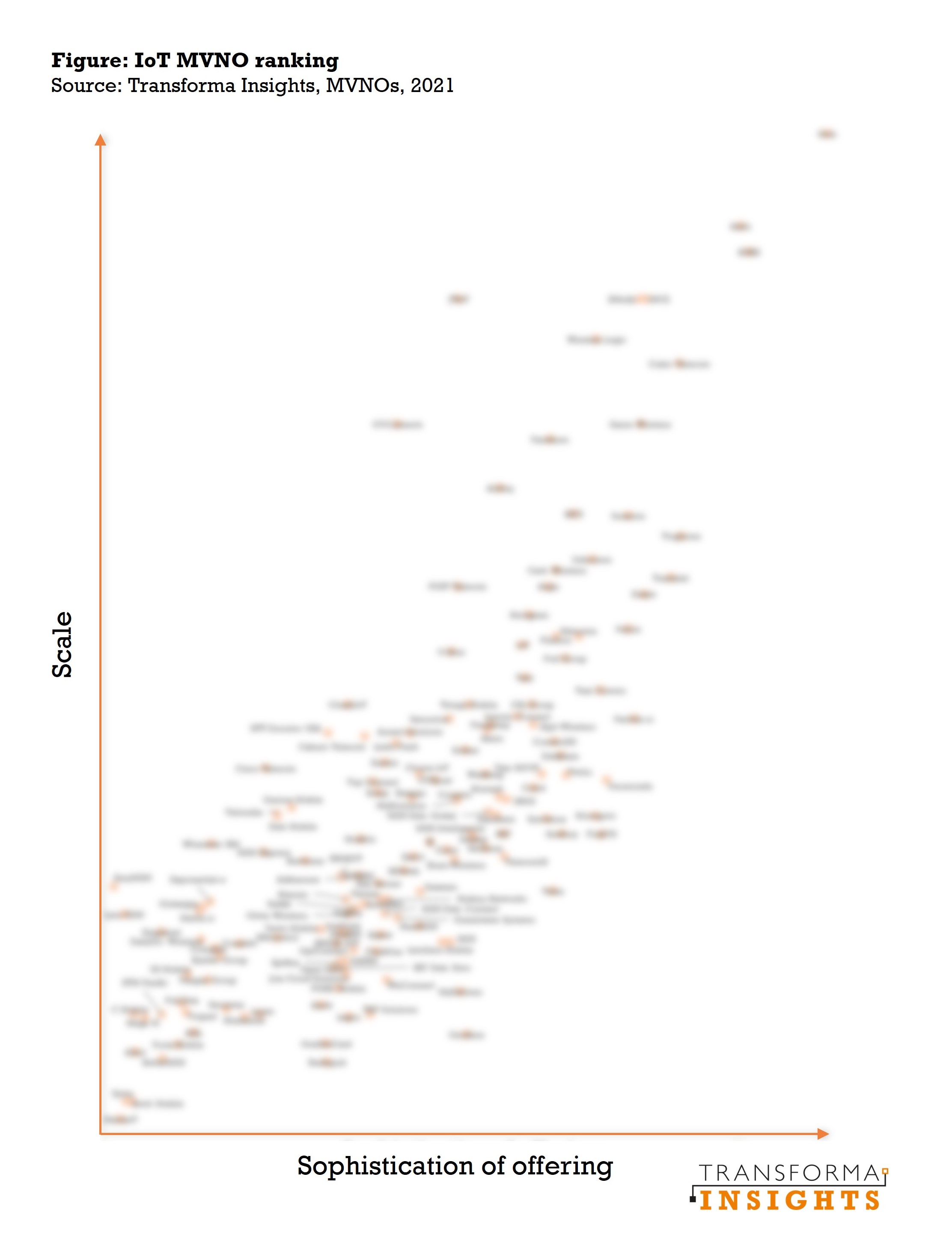 The list of MVNOs covered in the report is doubtless not exhaustive. In Tiers 4 and 5 there are dozens of small undifferentiated resellers that did not make it onto our radar. We do not attempt to provide a categorical list of them. By virtue of casting the net wide in our search for interesting IoT MVNOs, we assessed the capabilities of these organisations. For this reason, there are relatively few MVNOs shown in the Tier 4 & 5 level, not because there are not many of them, but because they don't feature in our report. Similarly, there are questions of definition of what constitutes (or does not constitute) an IoT MVNO. Other peoples' definitions may vary.
About the MVNO IoT Market Landscape report
The IoT MVNO Market Landscape 2021 report looks at the increasingly vibrant IoT MVNO (Mobile Virtual Network Operator) landscape. It includes analysis and profiles of the capabilities of 175 MVNOs around the world, including profiles of each.
Based on the analysis we draw some conclusions on the current state of the IoT MVNO market landscape. We answer a series of important questions: who are the leading IoT MVNOs, how important are MVNOs, what are MNO attitudes to MVNOs, and what are MVNOs using to effectively differentiate themselves?
It is available to subscribers to Transforma Insights' Advisory Service.