Transforma Insights recently published a report 'Hyperscale cloud providers are rated as top vendors by enterprise IoT adopters' which looked at enterprise IoT adopters' attitudes towards dozens of leading IoT vendors and the extent to which they were aware of and keen to use their products and services. The report includes a lot of analysis of the opinions of those enterprise IoT adopters, including which vendors' IoT offerings they are aware of, which they have used, and which they would use again.
Which are the leading IoT vendors?
The chart below presents a summary of key findings of the research, ranking the vendors by the number of respondents who said they had used the vendor and would use it again.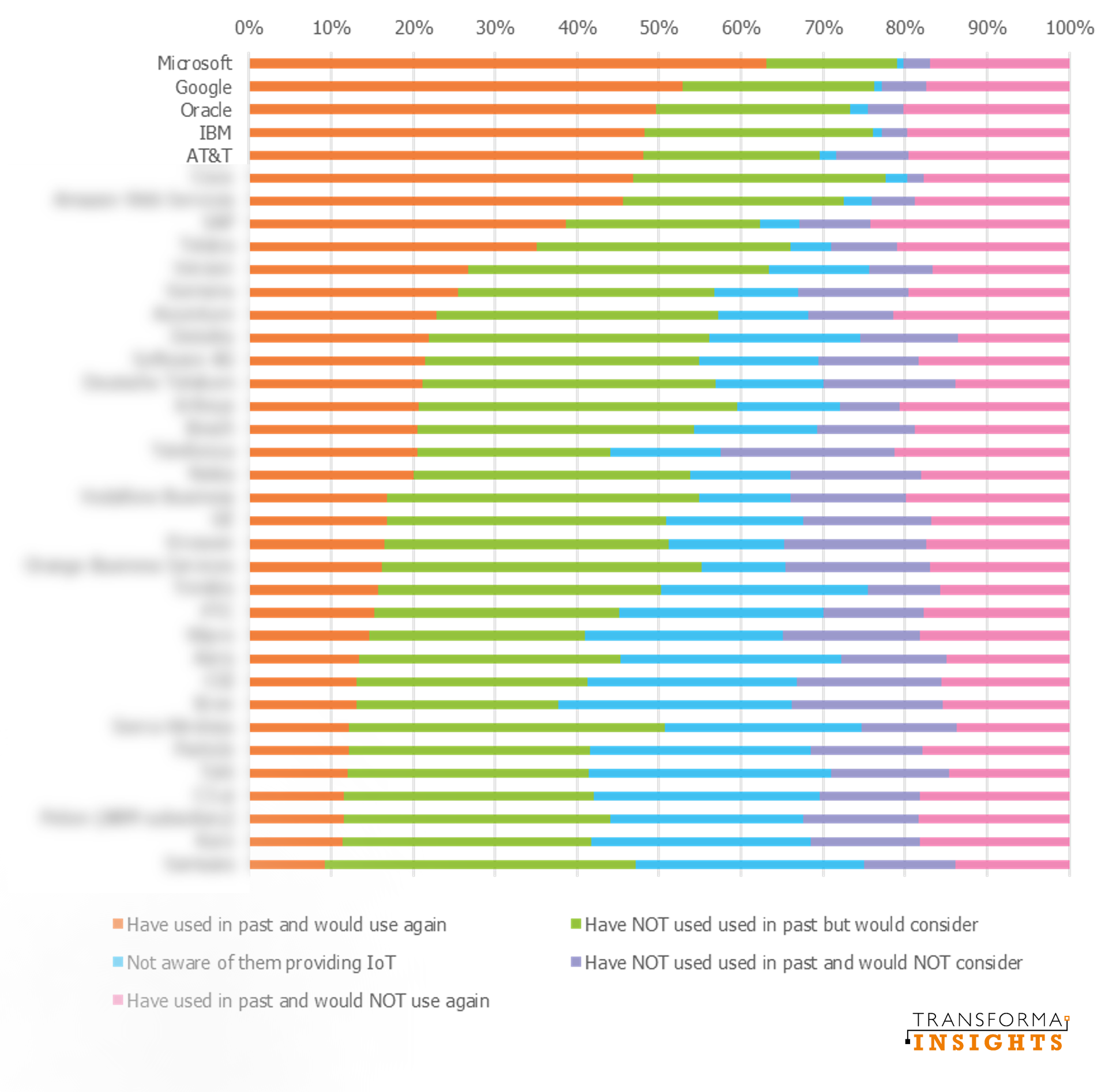 There is a notable top tier of vendors encompassing major IT vendors, particularly cloud providers, and a couple of communications service providers. The top 5 consists of Microsoft, Google, Oracle, IBM and AT&T, all of which score very well in terms of awareness of the products and interest in using again. Others in the top 10 include AWS, SAP and Verizon.
Overall, there is a very strong correlation between organisations using a particular vendor and their willingness to recommend them. There are two implications here. Firstly, that there is a group of vendors with which adopters have an established relationship and whose services they almost inevitably anticipate using in future. The second is that smaller vendors find it harder to establish stickiness with their customers. There are a few vendors that buck this trend and score relatively well on reuse despite not being particularly widely used, namely Deloitte, Deutsche Telekom and Verizon.
And who are the least preferred?
The reverse of the analysis is to look at a ranking of vendors by the proportion of respondents who have said they use them but would not use them again. The companies that score highest (or lowest, depending how you look at it) tend to comprise smaller IoT platform providers, such as Particle and C3.ai, and IoT MVNOs, such as Pelion, Aeris and Kore.
About the report
The report is available to subscribers to Transforma Insights' Advisory Service. For more details contact us. The report covers the following vendors: Accenture, Aeris Communications, Amazon Web Services, AT&T, Bosch, C3.ai, CGI, Cisco, Deloitte, Deutsche Telekom, Ericsson, GE, Google, IBM, Infosys, Itron, Kore, Microsoft, Nokia, Oracle, Orange Business Services, Particle, Pelion, PTC, Samsara, SAP, Siemens, Sierra Wireless, Software AG, Telefonica, Telit, Telstra, Trimble, Verizon, Vodafone, and Wipro.