One of the key research areas of interest for Transforma Insights is best practice in the delivery of Digital Transformation (DX) projects. An integral part of this research is understanding the suppliers of products and services which are used to deliver those projects. There is a group of vendors, which we term Digital Transformation Service Providers (DXSPs), that are able to do just that, using a variety of disruptive technologies.
Earlier in January, we at Transforma Insights published a report 'Digital Transformation Service Provider (DXSP) vendor selection framework' which examined the emerging DXSP opportunity. It is the first in a series we will publish looking at which vendors are best able to deliver Digital Transformation projects. In this post I provide a summary of that report.
What is a Digital Transformation Service Provider?
First, a definition: Digital Transformation Service Providers (DXSPs) are organisations that are able to deliver transformational use cases for enterprise (as illustrated on the right side of the chart, below) using disruptive new technologies (such as AI and IoT, as shown on the left), while often at the same time being engaged in helping the enterprise to make the internal transformations necessary to fully realise the benefits (as illustrated in the centre).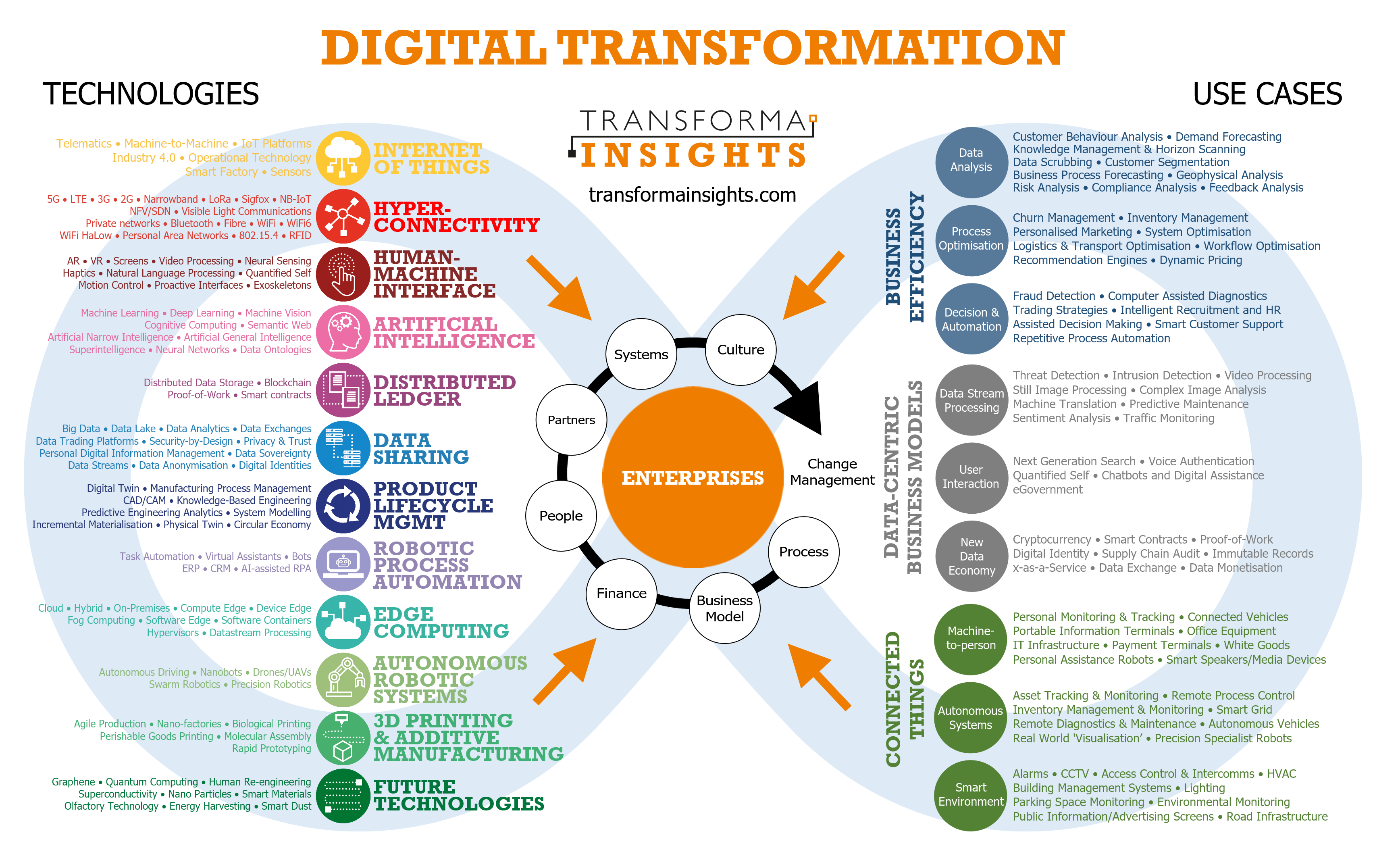 There are a range of different capabilities included under the umbrella of DXSP, including systems integration, strategic consulting, and change management. DXSPs do not necessarily need to be able to deliver all aspects, but they must have a sufficient range of capabilities to be able to be considered as a viable strategic partner for any enterprise looking at engaging in multiple projects using multiple technologies as part of a company-wide transformation process.
Six criteria for selecting a DXSP
The main reason for looking at the DXSP market is to provide enterprises with a perspective on which would be the appropriate vendors to short-list for DX projects, as well as to allow vendors to benchmark themselves against their peers.
However, no two DXSPs have identical capability sets or expertise. For that reason, Transforma Insights proposes a framework of six criteria against which any DXSP can be compared, in order to identify which are the most appropriate vendors. The six criteria are:
Phase – Is your project in the initial planning phase, or deep into mass implementation? This will dictate choice of vendors, particularly in terms of picking long-term strategic partners versus short-term suppliers.

Function – The 'DXSP' umbrella covers a range of companies performing a variety of roles, from the very strategic through to the very practical. Choice of which company to engage will, in large part, be determined by what the project requires. Consulting firms such as Bain, Deloitte and EY will be stronger at the strategy consulting elements, whereas IT services vendors such as Tech Mahindra and Wipro will be better placed for heavy-lifting systems integration.

Solution – Not all end-user DX solutions need to be developed from the ground up, and in many cases an end-user may find that there are vendors in the market that already offer the specific solution that they need, or something very similar. As more and more DX solutions become 'mainstream', the role of DX solution providers can only be expected to increase in the marketplace.

Capability – In cases where an end-user needs a solution of a type that has not yet become 'mainstream', then vendor technology capabilities are more relevant. Examples include any of the DX technologies identified above, and additional niche concepts such as VR/AR, physics-based modelling or geospatial analysis. Some vendors have stronger portfolios related to certain technologies. IBM, for instance, is a market leader in AI, while T-Systems is strong in areas related to connectivity. Furthermore, different DXSPs have different capabilities in aspects of those technologies, e.g. some being more capable at application development, field services or systems integration. Probably any DXSP can support any technology or role, but a vendor with an existing product and solution portfolio related to the project is generally preferable to one that is using an unfamiliar product or introducing a third-party partner.

Context – Some vendors specialise in different contexts, for example Industry 4.0, ERP integration, or servitisation. Such specialisations can be a relevant consideration, particularly in the case of more ground-breaking projects.

Industry – Enterprises should favour organisations with experience in relevant domains. Often utilities will favour different suppliers from retailers or financial services companies, for instance. By virtue of their heritage, some DXSPs already have particular expertise in certain verticals, e.g. Hitachi or Siemens in heavy manufacturing. Others might have experience of functions that cut across verticals, e.g. supply chain management.
About the report
Each of these six elements is explored in further detail in the report, identifying best practice in vendor selection for each of them. Critically, it is by aggregating this analysis of these discrete areas that a would-be adopter of digital transformation solutions can identify the most appropriate supplier.
The aim of this report is to provide a framework for understanding the DXSP market environment. Over the coming months Transforma Insights will expand upon this analysis to provide a guide for enterprises to which of the diverse set of DXSPs would be the most appropriate to help deliver their project.
In the report we include consideration of companies such as Accenture, AsiaInfo, AT&T, Atos, Avanade, Bain & Company, BearingPoint, Boston Consulting Group, BT, Capgemini, CGI, Cognizant, Deloitte, DXC, EY, Fujitsu, GE, Genpact, Globant, HCL Technologies, Hitachi Vantara, HPE, IBM, Indra Sistemas, Infosys, KPMG, McKinsey, NEORIS, North Highland, NTT Data, PricewaterhouseCoopers, Publicis Sapient, Reply, SAS, Siemens, Slalom Consulting, Smartronix, Sopra Steria, Taos, Tata Consultancy Services, Tech Mahindra, TietoEVRY, T-Systems, Unisys, Verizon Communications, Virtusa, Wipro