The latest report from industry analyst firm Transforma Insights analyses the sustainability and wider ESG impact of use cases that harness Internet of Things, Artificial Intelligence, Edge Computing and a range of other emerging technologies, based on extensive analysis of real-world deployments.
Transforma Insights today published the report 'Sustainability Enabled by Digital Transformation', which details the results of its recently completed analysis of the sustainability impact of new and emerging technologies.
A 'Clean Dozen' of Digital Transformation solution areas
The conclusion of the comprehensive study is that there is a 'Clean Dozen' solution areas that can help organisations achieve sustainability goals, including fleet operations, supply chain, smart grid and smart buildings. The dozen solution areas account for use cases with significant impact on electricity consumption, (hydrocarbon) fuel consumption, water usage, and CO2 emissions, collectively representing the main measures of sustainability. In addition, the report also analyses the often-extensive benefits that they can bring to meeting wider ESG goals, as well as the parallel benefits that they might bring in driving a positive business impact.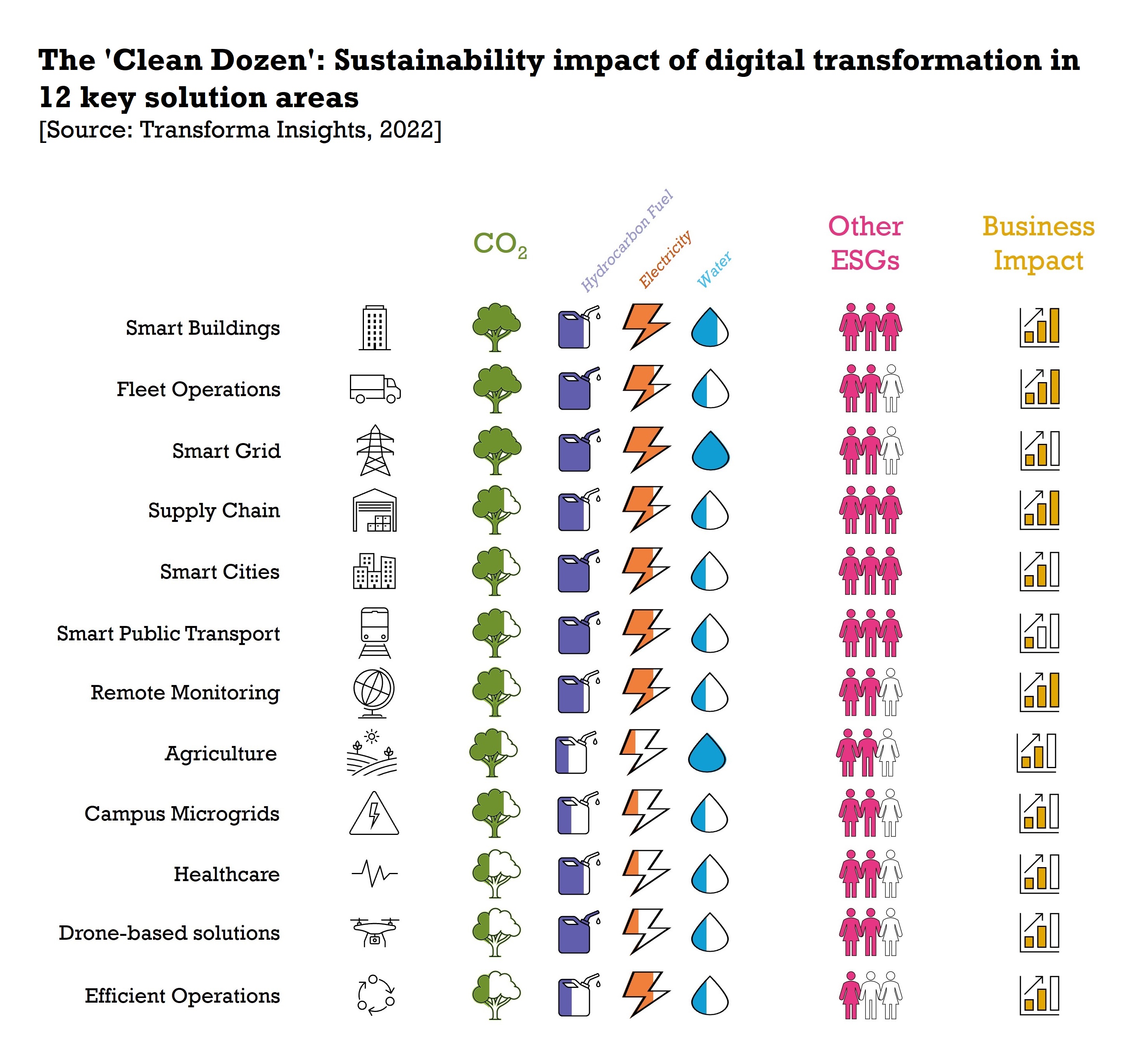 Buildings, fleet and grid lead the charge
Report author Suruchi Dhingra, Research Manager, said of the findings: "The highest impact on reduction in carbon emissions is created by Smart Buildings, Fleet Operations and Smart Grid solutions. Smart Building solutions create a huge impact on reduction in electricity consumed by building systems (such as HVAC, Lighting), they can bring about 10-20% reduction in overall electricity consumption which decreases the carbon emissions by the same proportion. Reduction in carbon emissions by Fleet Operations is majorly a result of reduction in fuel consumed by vehicles by 15%, this also impacts the cost of operating vehicles as fuel accounts for a significant portion of the total cost. Smart Grid solutions contribute towards significant savings in electricity, fuel and water, mainly because of increased efficiency of grid distribution, decrease in transmission losses and reduced truck-rolls to visit remotely monitored assets. Smart meters can also prompt consumers to be more conscientious about their usage."
Internet of Things is at the heart of most sustainability initiatives
While the report draws from analysis of numerous key enabling technologies, including AI, Distributed Ledger, Robotic Process Automation, Product Lifecycle Management and Additive Manufacturing, it is the Internet of Things that is overwhelmingly at the core of applications that enable sustainability benefits, albeit often augmented by other technologies. The IoT represents the interface between all types of IT systems and 'the real world', and it is in the real world that savings in energy consumption, water consumption and CO2 emissions can be made.
Overall, the solution areas profiled in the report account for between 97.8% and 99.4% of the total savings of electricity, (hydrocarbon) fuel, water, and CO2 emissions in 2030 that will result from the deployment of applications that involve IoT.
Commenting on the results, Founding Partner and report co-author Jim Morrish said: "Overall, IoT solutions are good for the planet, with sustainability benefits that significantly outweigh sustainability costs. Behind this high-level message are two clear dynamics. Enterprise IoT applications are generally deployed to increase efficiency and reduce costs, and so naturally have associated net sustainability benefits. Meanwhile, many consumer-sector IoT-enabled solutions are more focussed on improving and enhancing an overall user proposition, and so can often be associated with net negative sustainability impacts."
Morrish added, "Several enterprise IoT applications that are particularly beneficial from a net sustainability perspective in fact reduce (hydrocarbon) fuel consumption at the cost of increasing electricity consumption. This effect is, in itself, a positive dynamic since electricity can be more readily generated from renewable sources."
About the report
This 112-page report focuses on the sustainability benefits of a range of digital transformation (DX) solutions, and related ESG (Environmental, Social, and Governance) benefits. The solutions profiled in this report have been defined to include all of the most impactful sustainability-enabling applications that Transforma Insights has previously identified through a comprehensive market review of all emerging digital transformation Use Cases. These have been aggregated into 'Solution Areas' that are groups of related concepts defined with the intention of better-informing specific groups of end-user and also vendors who might be in conversation with those end-users.
Overall, we have identified twelve key areas (the 'Clean Dozen') where digital transformation can significantly help an organisation achieve sustainability goals. These are discussed in more detail in this document and comprise:
Fleet Operations, including a range of applications associated with the efficient operation and maintenance of vehicle fleets.

Supply Chain includes a range of applications used to improve the working and efficiency of supply chain operations such as sourcing, logistics, transportation, warehousing, manufacturing and production.

Smart Cities comprises of wide spectrum of smart city applications ranging from street lighting control to traffic management and parking space monitoring.

Smart Public Transport, solutions that enable tracking of buses, assets that are part of sharing schemes (such as bikes, e-scooters, cars).

Smart Buildings, technologies used to monitor and control the uses of resources (such as electricity, heating, cooling, water) in a building.

Smart Grid, including all aspects of grid operations, energy generation, smart metering, transmission and distribution.

Campus Microgrids refers to a network of distributed energy resources (DERs) for managing electricity flow in a campus location.

Remote Monitoring & Maintenance includes a range of applications for remote monitoring and maintaining the condition of machines.

Smart Healthcare, solutions used to remotely monitor the health of people.

Drone-based Solutions, solutions that enable efficient maintenance and monitoring of infrastructure in buildings, wind farms with drone-based inspection.

Smart Agriculture includes a range of applications used to make farming methods more efficient while increasing yield.

Efficient Operations, other technology use cases that contribute towards sustainability initiatives but that are not related to IoT.
For each of the twelve focus areas listed above the report includes:
Identification of case studies and reported findings of relevant real-world solutions in terms of their impact on electricity consumption, (hydrocarbon) fuel consumption, water consumption, and CO2 emissions.

The identification of wider ESG (Environmental, Sustainability, and Governance) benefits such as the potential for fleet management solutions to reduce speeding and so accident rates, or for supply chain monitoring solutions to help manage the provenance of raw materials or parts.

The business impact of identified applications, including financial costs saved and potentially incremental revenues.

Illustrative scenarios to aid dialogue between vendors and potential end-user adopter.

Discussion of key supporting technologies.
A sample extract of this report (covering Smart Buildings) is available to free 'Essential' subscribers: Sustainability enabled by Digital Transformation [Sample: Smart Buildings]
About Transforma Insights
Transforma Insights is a leading research firm focused on the world of Digital Transformation (DX). Led by seasoned technology industry analysts we provide advice, recommendations and decision support tools for organisations seeking to understand how new technologies will change the markets in which they operate.
For more information about Transforma Insights, please see our website transformainsights.com or contact us at enquiries@transformainsights.com. Follow us on Twitter: @transformatweet.