New Transforma Insights reports covering one of the twelve pillars of Digital Transformation show that the market for distributed ledger solutions will increase from USD1.5 billion to USD141 billion between 2020 and 2030, driven largely by supply chain audit.
Transforma Insights today published a new set of forecasts for Distributed Ledger Technologies, including a diverse range of applications that exist to increase trust in complex systems.
The market opportunity for distributed ledger technologies (not including Cryptocurrency) will be dominated by Supply Chain Audit, increasingly driven by the desire of consumers (and so companies) to lessen their environmental and sustainability footprint, and also to ensure that appropriate working practices have been adopted along the supply chain.
Significant opportunities for distributed ledger technologies to support concepts like personal identity (Digital Identity) do exist, and are in-fact already live in Estonia, but it is as yet unclear exactly when other national governments worldwide will adopt similar solutions. Beyond these two Use Cases, distributed ledger technologies will find significant opportunities in the context of Immutable Records (principally to support property transactions), with additional more marginal opportunities to support Smart Contracts and Proof-of-Work.

A key observation for all of the Use Cases listed above is that there is a distinct process dimension, including:
Origination – the entry of information relating to an asset onto a distributed ledger.

Processing – the use of information contained in a distributed ledger, often in combination with other information as part of a related process, and the submission of new information to the ledger. An example could be a manufacturer reading information related to the source of raw materials, manufacturing a product, and uploading new information to describe the source of the raw materials contained in the product.

Distribution – the movement of goods through supply chains and other networks, tracking changes in geographic locations and custody.
It is 'Origination' that will dominate, accounting for between 41% (2020) and 52% (2026) of total market revenues. Processing, Distribution, Deployment, and Support process elements represent sequentially smaller shares of market revenues as the use of distributed ledger technologies becomes increasingly abstracted away from original information.

Commenting on the findings, author Jim Morrish said: "Distributed ledger technologies (often referred to as 'Blockchain') are amongst the most high-profile of all currently emerging technologies that will drive enterprise digital transformation. Outside of Cryptocurrency, which we do not discuss in this report, Use Cases for distributed ledger technologies include Supply Chain Audit, Immutable Records, Digital Identity, Smart Contracts, and Proof of Work. All of these Use Cases are anchored in the key concept of enabling increased trust within complex systems."
Morrish added: "Whilst the hype associated with distributed ledger over recent years will likely prove to be mostly unfounded, there are clear opportunities for distributed ledger technologies to support enterprise digital transformation."
The forecasts are included in the report 'Distributed Ledger: a diverse market opportunity, dominated by Supply Chain Audit'. In parallel we also updated our 'Distributed Ledger Technology Insight Report' which examines qualitative aspects of market development.
About the Reports
The reports can be accessed as part of a subscription to Transforma Insights Advisory Service. The first, 'Distributed Ledger: a diverse market opportunity, dominated by Supply Chain Audit' examines the scale of the market opportunity associated with diverse distributed ledger solutions. The second, a Distributed Ledger Technology Insight Report, discusses the overall market for distributed ledger technologies including key market trends, vendor landscape, and analysis of historic deployments. Distributed Ledger is one of the twelve technology families that Transforma Insights considers in our coverage of Digital Transformation.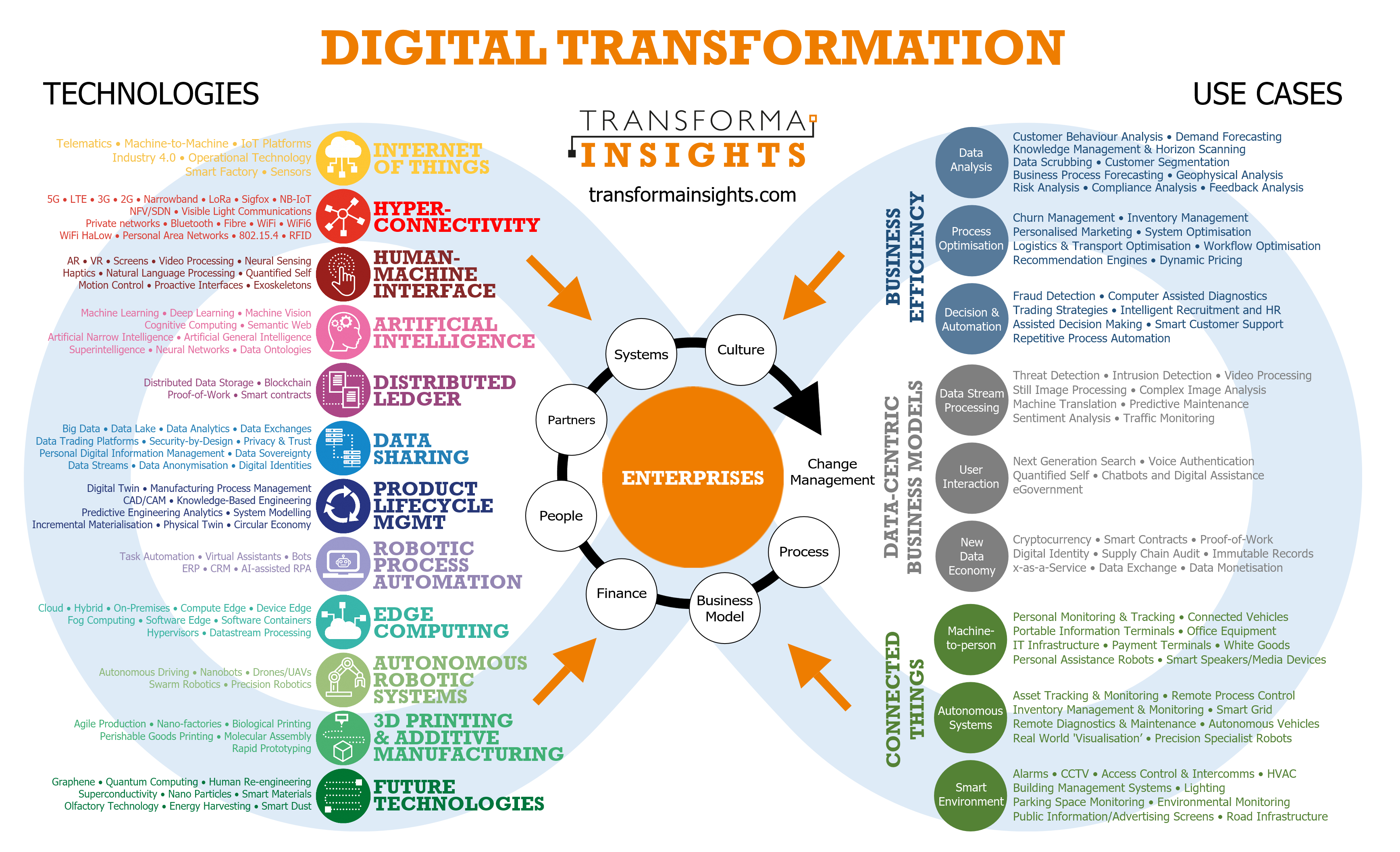 The focus is on quantitative analysis, examining numbers of revenue generating units (RGUs), connections, technology splits and revenue, including examination of which verticals will dominate, and analysis of geographical distribution. This report provides summary charts of the granular forecasts within the Transforma Insights TAM Forecast Database.
The TAM Forecast Database includes our IoT 'Connected Things' Forecast, which covers the period 2019 to 2030 for Revenue Generating Units (RGUs), connected devices, annual shipments and revenue across 20 use cases, 69 application groups (of which Unmanned Aquatic & Aerial Vehicles is one), 20 vertical sectors and 198 countries. Device and shipment forecasts include technology splits between cellular (2G, 3G, 4G, 5G), LPWA (5G mMTC and non-mMTC), satellite, short-range and other. Revenue splits between hardware (module) and recurring (connectivity and service wrap).
Our main IoT forecast provides splits based on highest embedded technology. Additionally our 'hyperconnectivity' forecasts provide forecasts for all embedded technology to illustrate all technologies supported by any given use case or application. Further details from the press release in January 2021.
About Transforma Insights
Transforma Insights is a leading research firm focused on the world of Digital Transformation (DX). Led by seasoned technology industry analysts we provide advice, recommendations and decision support tools for organisations seeking to understand how new technologies will change the markets in which they operate.
For more information about Transforma Insights, please see our website transformainsights.com or contact us at enquiries@transformainsights.com. Follow us on Twitter: @transformatweet.