A new report from Transforma Insights compares the capabilities of 16 technology vendors, systems integrators and consultancies across 11 technology areas, including AI, IoT and distributed ledger, and dozens of functions, to determine which is best able to meet the needs of enterprises.
Transforma Insights today published its report 'Digital Transformation Service Provider (DXSP) Peer Benchmarking 2021'. The report analyses the relative strengths of 16 companies in delivering Digital Transformation capabilities for enterprises. It features Accenture, Atos, CGI, Cognizant, Deloitte, EY, Fujitsu, HCL, IBM, Infosys, KPMG, Oracle, SAP, TCS, Tech Mahindra, and Wipro.
Using its universal rating system for vendors in Digital Transformation, Transforma Insights has analysed these companies in their ability to address enterprise requirements for functional capabilities (e.g. hardware, software, systems integration) across eleven technology families (e.g. Artificial Intelligence, Internet of Things).
The chart below illustrates a summary of the findings. The 'Maximum' rating on the right-hand side is based on a theoretical organisation that is 'Market Leading' in every aspect of providing Digital Transformation across all technologies (with different weighting applied to each element of the value proposition and to each technology).
In total, IBM has secured a rating of 49% compared to that theoretical maximum, Accenture 36%, TCS 32%, Wipro 30% and most of the other players ranging between 20 and 30%.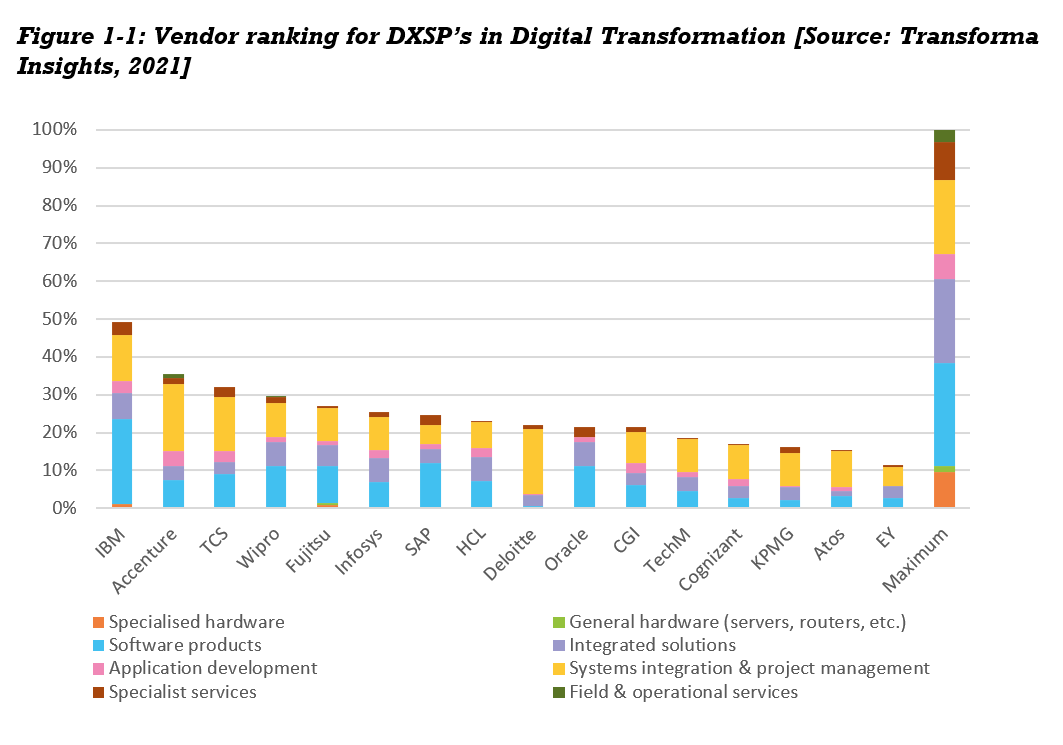 Commenting on the overall ranking, author Suruchi Dhingra said: "After exhaustively reviewing all of the products and services capabilities of these sixteen vendors, IBM came out as a clear winner. However, we should note that Digital Transformation strengths are different for every company, so there is no single vendor that is leading in all areas of functional capabilities. IBM leads in software platforms, integrated solutions and system integration. The focus of Accenture, TCS and Deloitte is on systems integration and consulting, while Oracle, SAP, Wipro and Fujitsu lead in software products and integrated solutions."
Based on the analysis, the report is able to compare different vendors in terms of the approach to the market, for instance whether they are more focused on products (e.g. hardware and software) or services (e.g. application development and systems integration). IBM is leading in the products category, followed by Fujitsu, Oracle, SAP and Wipro, mainly because of strong software products and integrated solutions; few have significant offerings in hardware. Accenture, Deloitte, IBM and TCS lead in the services category.
This report forms part of a wider set of research on vendors' abilities to address enterprise Digital Transformation. In an earlier report we examined the hyperscalers AWS, Google and Microsoft. As a result we are able to also compare these DXSPs with them. For this reason AWS, Google and Microsoft are included in the chart below, for comparison. See press release 'Transforma Insights rates Microsoft the leading hyperscaler in supporting enterprise digital transformation' for more details.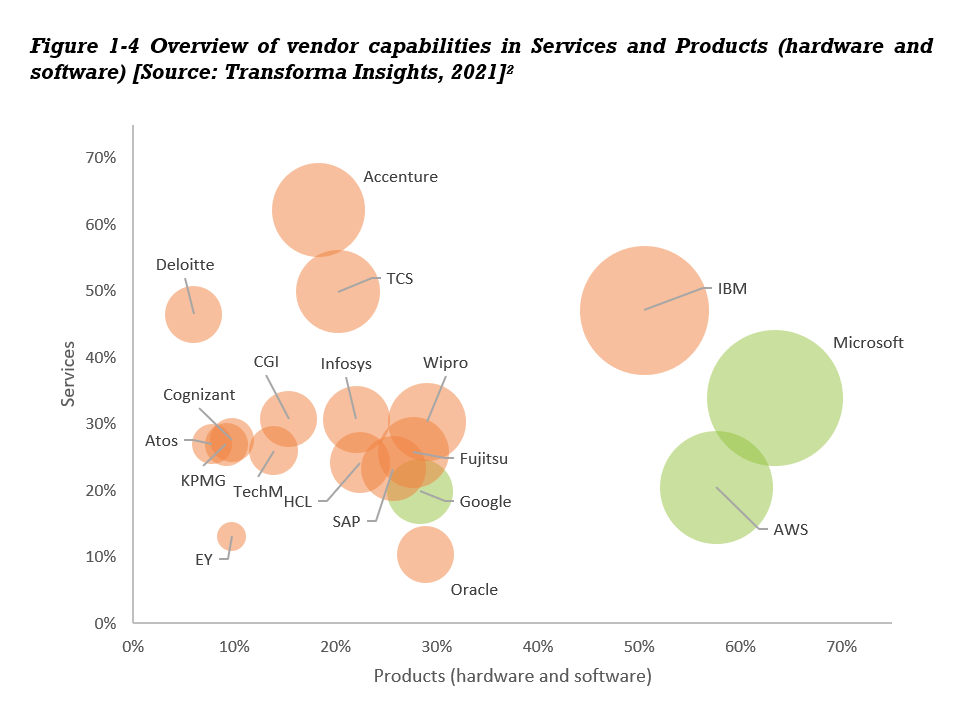 The report analysis is not just done at an overall Digital Transformation level. Each of the functional capabilities noted above are scored for each of 11 technology families, including Artificial Intelligence, Distributed Ledger, Edge Computing, and IoT, with a weighting applied according to the importance of the technology.
Capabilities vary substantially across the technologies and between the vendors. AI and IoT are the most competitive technology areas, with most or all the companies having some form of capability in Artificial Intelligence and Internet of Things. This reflects the fact that these will be the most impactful technology families, and the Transforma Insights rankings are weighted accordingly. IBM, Accenture, Infosys and Wipro lead in Artificial Intelligence. IBM, TCS, Accenture, SAP and Fujitsu are the top five vendors in IoT. In the Distributed Ledger area, IBM is followed by TCS, Accenture and Oracle.
Jim Morrish, Founding Partner at Transforma Insights notes: "Vendor selection for digital transformation projects is a major headache for enterprises. Often the enterprise in question is making its first foray into a brand new space and has little knowledge of who it should be working with. What we're aiming to do with this report, and others using the universal Digital Transformation rating system, is to make it easier for them to focus in on which vendors they should be shortlisting. Of course, the decision-making process is more complicated than that, with other considerations such as project phase, existing relationships and budget having to be taken into consideration. However, this rating system gives our enterprise adopter customers a great steer on who they should be talking with based on which technology they're deploying and what functional requirements they have."
About the report
The 158-page report comprises a comprehensive review of the products, services and capabilities or our chosen 16 DXSPs across each of the technology families and functional capabilities. It also includes comparison and rankings of the vendors as well as expert commentary.
The bulk of the report provides our assessment of the capabilities of each of the vendors for each of the eleven technology families and between 5 and 14 functions per technology family. This includes hardware, software, services, consulting, and various other elements. This section was compiled based on extensive desk research and written feedback from the vendors. The section includes an explanation of the rating system (based on 'Emerging', 'Significant' or 'Market Leading' capabilities) and recommendations to enterprises on which vendor would be best placed to support them for different functions within the particular technology family. It also includes tabulated notes on our views on each of the vendors for each of the technology families.
Based on the rating of each vendor for each function in each technology family we are then able to rank the vendors, by technology, by role and overall, for Digital Transformation. For the purposes of ranking the vendors, we apply a weighting for each function and for the eleven technology families relative to each other. The latter is based on the expected investment in that technology family over the next decade. These weightings allow us to score the overall capabilities of the vendors for Digital Transformation as a whole.
As well as the ratings, there are a number of broader intangible factors, such as how easy the company is to work with, the extent of its channels, scale of the company, geographical exposure. These are considered in a further section.
The report is available to 'Corporate' level subscribers to Transforma Insights Advisory Service.
The next few quarters will see further reports looking at the capabilities of other vendors against the same universal rating system. The next focus will be on major industrial vendors, including ABB, Bosch, Dassault Systemes, Emerson, GE Digital, Hitachi, PTC, Rockwell Automation, Schneider Electric and Siemens.