New report from industry analyst firm Transforma Insights finds that reputation, price and security are the leading decision factors for choosing an IoT connectivity vendor, major network operators continue to dominate mind-share in vendor selection, and 5G and LPWA are high on the agenda of enterprises.
Transforma Insights has today published its Enterprise IoT connectivity survey 2022 report based on a survey of 1,114 enterprises conducted by Transforma Insights in September/October 2022 in France, Germany, Italy, Spain, UK and US.
Some of the key findings include:
IoT platform vendors are the most popular choice to lead IoT projects but Communications Service Providers are significant in the context of this survey which focuses on enterprises with cellular IoT deployments. This finding is illustrated in the graphic below. This varies by vertical with, for instance, public sector favouring data analytics companies.

Reputation, price and security are the top three factors influencing a choice of IoT vendor. US buyers tend to favour simplicity of offering. They are significantly influenced by their vertical, e.g. with utilities and public sector being more price-sensitive. Larger organisations are focused on security and price.

The major mobile network operators (AT&T, Orange, T-Mobile, Telefonica, Verizon and Vodafone) lead on awareness and 'approval rating'. Wireless Logic is the highest rated of the IoT MVNOs.

There is, naturally, a lot of geographical variation. In the US the three main carriers lead the way by a significant margin, whereas there is more variation in Europe and more positive outlook on MVNOs.

Future success for cellular IoT connectivity providers hinges on price and security. For larger organisations, transparency is also a key issue, along with cloud integration, transparency and service assurance.

The manufacturing sector is the most demanding, particularly in terms of greater requirements for security and transparency.

Adopters are expecting to make use of 5G and diverse LPWA technologies in future, alongside 4G. Demand for 2G and 3G is much reduced, as a result of network switch-off, actual or imminent, in all countries.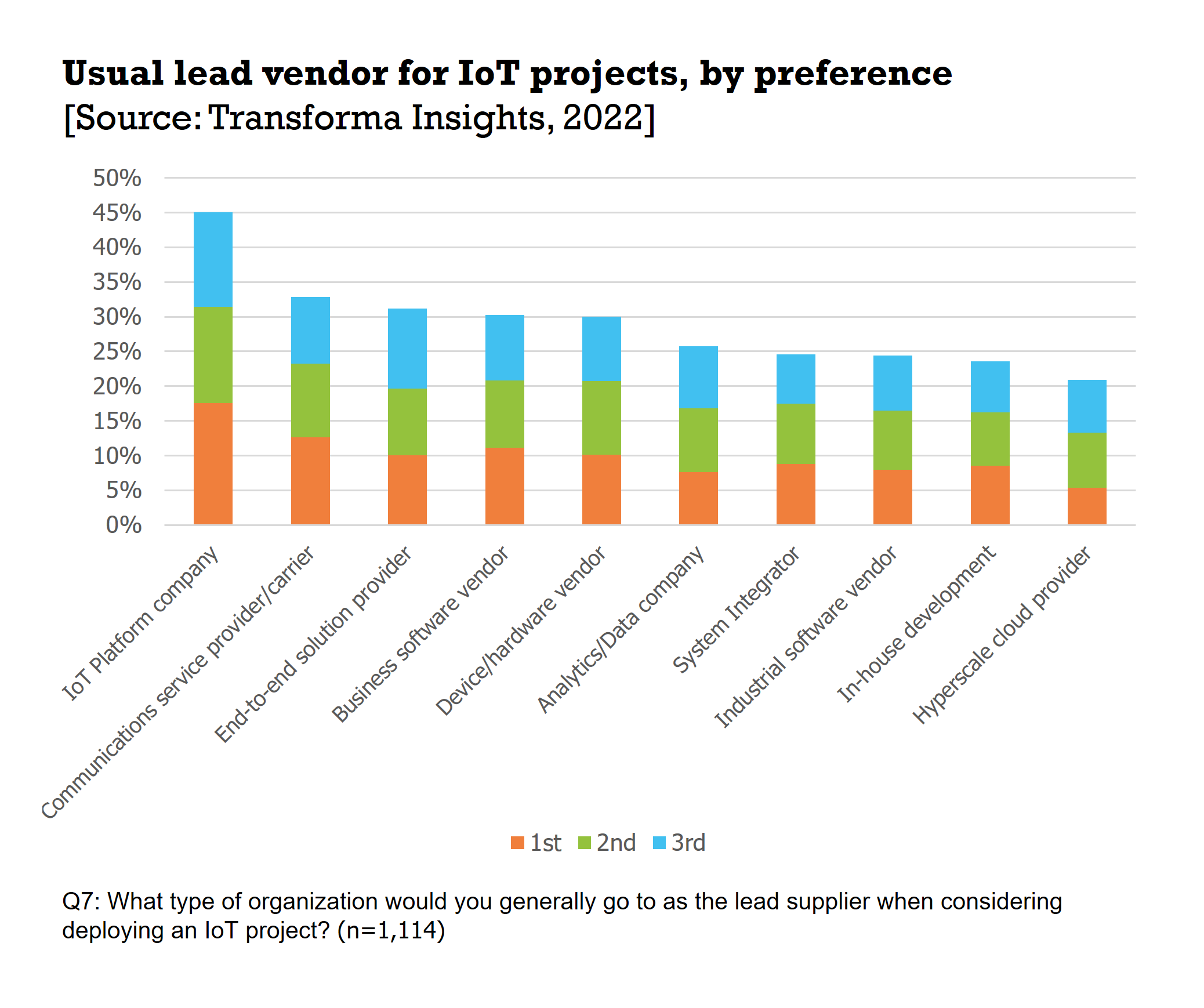 Commenting on the results, Matt Hatton, Founding Partner at Transforma Insights said: "We believe that this is the first time that any organisation has taken such a deep dive into the opinions of buyers of specifically cellular IoT connectivity, to understand their key pain points, opinions and aims."
The results are also very interesting in the context of Transforma Insights' ongoing research on the IoT connectivity vendor space. The update for the annual CSP IoT Peer Benchmarking report is currently ongoing (the press release for last year's report can be found here: 'New Transforma Insights study ranks the leading global IoT Communications Service Providers'). Hatton comments: "We were particularly interested to understand their views on the leading IoT connectivity providers, which gives us further insight direct from the customer, on which IoT connectivity vendors they are aware of, which they have used, and whether they would want to work with them again. In our annual peer benchmarking report we assess the capabilities of all the leading connectivity players, and having the end user perspective is an extra valuable addition to our analysis."
About the survey
The survey was conducted in September/October 2022. It covered 1,114 enterprise employees who had experience of procuring cellular-based IoT connectivity for projects deployed by their organisations.
Geographically the survey covered the United States (510 respondents), France (115), Germany (131), Italy (124), Spain (115) and UK (119).
The survey covers the following topics, and more:
Preferred vendor types for IoT projects, including IoT platform companies, communications service providers, solutions providers and hardware vendors.

The top factors influencing choice of IoT vendor, including reputation, security, price, coverage and customisation.

Awareness and preference ratings for 31 top cellular IoT connectivity vendors in Europe and the US: 1NCE, Aeris Communications, AT&T, BICS, Cubic Telecom, Deutsche Telekom, DT IoT, EMnify, Eseye, Hologram, KORE, KPN, NTT, Onomondo, Orange Business Services, Orange, Orbcomm, Particle, Quectel, Sierra Wireless, Teal Communications, Tele2, Telefonica, Telenor, Telenor Connexion, Telia, Telit, T-Mobile USA, Transatel, Truphone, U-blox, Verizon, Vodafone Business, Vodafone, Wireless Logic

Features that make specific connectivity providers stand out from the crowd, including coverage, compliance, transparency, and tariffs.

Buying behaviour in terms of which channels are preferred.

Demand for future service features, including security, transparency, solution development and device-to-cloud integration.

Likelihood of using different connectivity technologies, including 5G, NB-IoT, LTE-M, and LoRaWAN.
If you have questions concerning the methodology or results of the survey, don't hesitate to contact our analysts via enquiries@transformainsights.com.
About Transforma Insights
Transforma Insights is a leading research firm focused on the world of Digital Transformation (DX). Led by seasoned technology industry analysts we provide advice, recommendations and decision support tools for organisations seeking to understand how new technologies will change the markets in which they operate.
For more information about Transforma Insights, please see our website transformainsights.com or contact us at enquiries@transformainsights.com. Follow us on Twitter: @transformatweet.