Transforma Insights has announced its series of webinars to run between September 2022 and May 2023, covering a range of topics that we expect to be critical in the next twelve months, including applied AI, private networks, 5G, sustainability and IoT.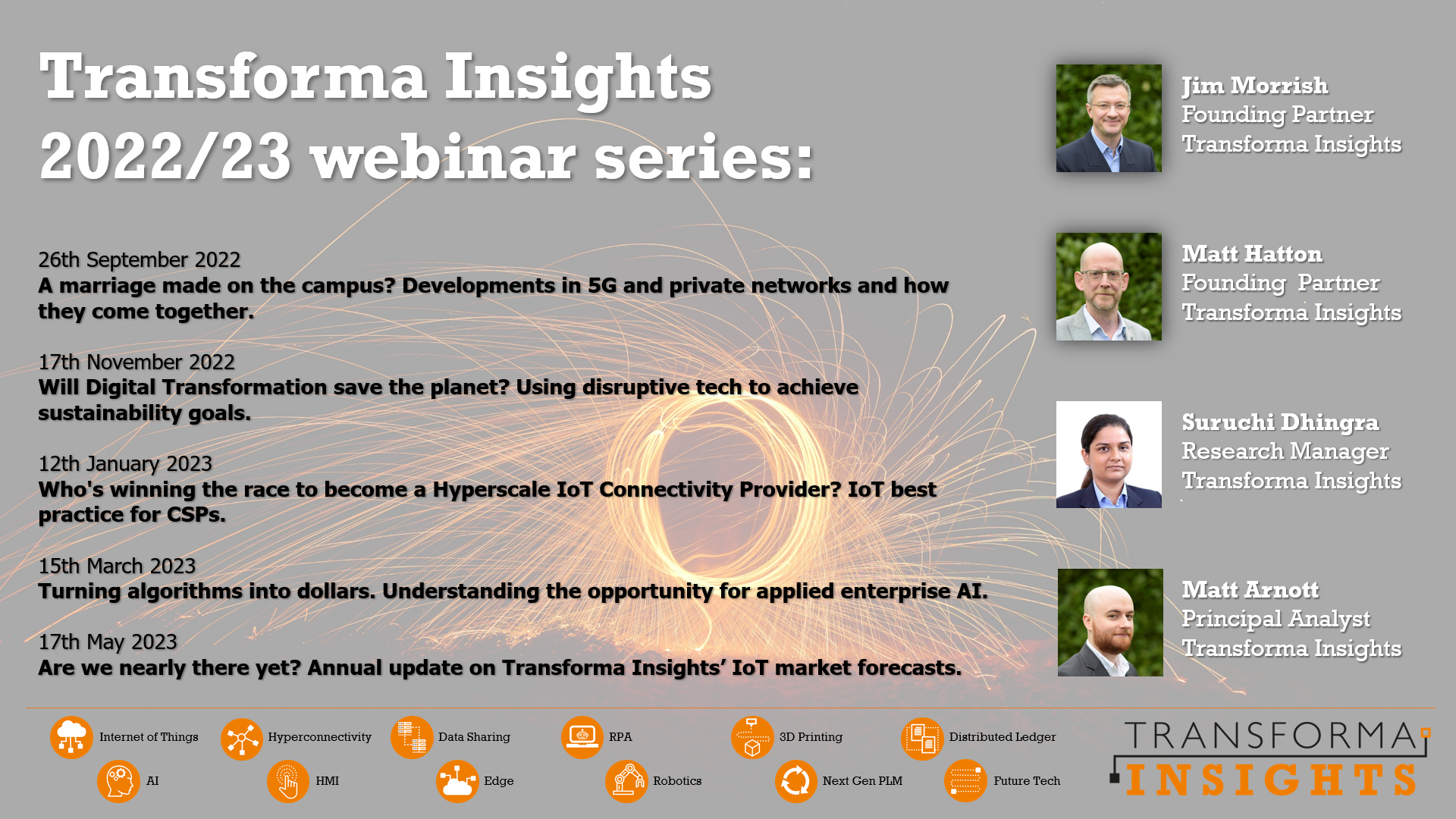 Upcoming analyst webinars
A marriage made on the campus? Developments in 5G and private networks and how they come together.
26th September 2022
This webinar explores two of the key cellular technology themes: 5G and mobile private networks/private wireless, including looking at technology evolution, adoption trends and changing commercial models.
Will Digital Transformation save the planet? Using disruptive tech to achieve sustainability goals.
17 November 2022
Sustainability is a key research theme for Transforma Insights. This webinar will examine how enterprises can use disruptive technologies such as IoT and AI to achieve their ESG objectives.
Who's winning the race to become a Hyperscale IoT Connectivity Provider? IoT best practice for CSPs.
12 January 2023
We revisit our extensive annual CSP IoT Peer Benchmarking Report to examine best practice amongst operators in delivering the connectivity for the IoT.
Turning algorithms into dollars. Understanding the opportunity for applied enterprise AI.
15 March 2023
Enterprises have yet to realise much of the opportunity associated with Artificial Intelligence. This webinar explores how and where businesses can best harness AI for competitive differentiation.
Are we nearly there yet? Annual update on Transforma Insights' IoT market forecasts.
17 May 2023
The annual review of our extensive and ultra-granular IoT market forecasts, looking at connection growth, technology splits, revenue opportunity and much more.
We hope you can join our team of analysts. Further webinars, conferences and other events in which we are participating can be found on our Events Page.