The role of the IoT Connectivity Management Platform is evolving, to the point where perhaps even the term CMP is past its sell-by date. It can be as simple as a SIM management and billing platform, or it can be highly sophisticated including core network functions, eSIM management and even extending some way into the provision of connectivity. We identify seven main types of functionality within the remit (or potential remit) of a CMP, as well as numerous additional technical and commercial considerations.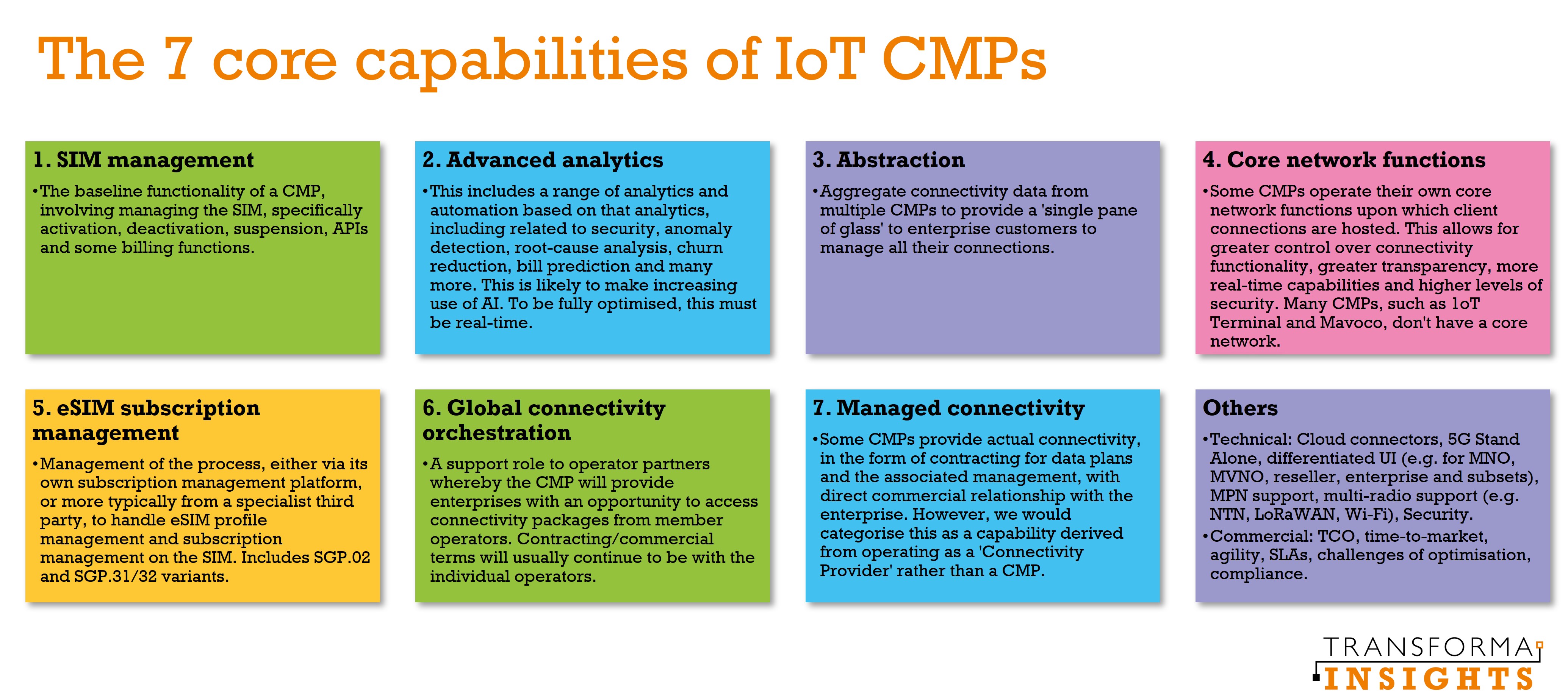 The 7 core capabilities of a Connectivity Management Platform
1. SIM management
The baseline functionality of a CMP, involving managing the SIM, specifically activation, deactivation, suspension, APIs and some billing functions.
2. Advanced analytics
This includes a range of analytics and automation based on that analytics, including related to security, anomaly detection, root-cause analysis, churn reduction, bill prediction and many more. This is likely to make increasing use of AI. To be fully optimised, this must be real-time.
3. Abstraction
Aggregate connectivity data from multiple CMPs to provide a 'single pane of glass' to enterprise customers to manage all their connections.
4. Core network functions
Some CMPs operate their own core network functions upon which client connections are hosted. This allows for greater control over connectivity functionality, greater transparency, more real-time capabilities and higher levels of security. Many CMPs, such as 1oT Terminal and Mavoco, don't have a core network.
5. eSIM subscription management
Management of the process, either via its own subscription management platform, or more typically from a specialist third party, to handle eSIM profile management and subscription management on the SIM. Includes SGP.02 and SGP.31/32 variants.
6. Global connectivity orchestration
A support role to operator partners whereby the CMP will provide enterprises with an opportunity to access connectivity packages from member operators. Contracting/commercial terms will usually continue to be with the individual operators.
7. Managed connectivity
Although typically the role of the MNO or MVNO, some CMPs provide actual connectivity, in the form of contracting for data plans and the associated management, with direct commercial relationship with the enterprise. However, we would categorise this as a capability derived from operating as a 'Connectivity Provider' rather than a CMP. The big question is whether CMPs can bridge that gap to being Connectivity Providers too.
Other functions
Beyond these seven, there are a few areas of functionality and characteristics of platform providers that might need to be considered:
Cloud connectors - It is becoming increasingly standard to establish a proxy point on the network for protocol conversion and application of Transport Layer Security to deliver into cloud platforms.

5G Stand Alone (SA) - Several platform providers, particularly the most sophisticated, are introducing features related to 5G, particularly around virtualised network functions and network slicing. In the context of the bifurcation topic discussed in the previous section, this would relate almost exclusively to the high-tier CMP market.

Differentiated UI and self-care - This relates to the fact that CMPs need to provide differentiated views and functionality from their portals depending on the type of viewer, e.g. MNO, MVNO, reseller, enterprise, or subsets of those. The enterprise-facing UI should also include support for self-care by enterprise customers to help reduce the cost to serve for operators.

Mobile Private Network support - Some CMP vendors are supporting cellular private wireless networks and the types of specific functionality required for them, whereas others are focused exclusively on public networks.

Multi-radio support - This relates to the support for alternative network technologies such as 3GPP Non-Terrestrial Networks (NTN), LoRaWAN, Wi-Fi and others.

Security - A CMP will include features associated with supporting security, including private APNs, network diagnostics and troubleshooting, device locking, device quarantining, and transport layer security. There is some overlap with the analytics functions mentioned in the previous section, but this is broader.
Commercial and operational considerations
In addition to all of the functional elements identified above, there are also a number of other considerations that might influence a connectivity provider when considering its choice of CMP:
Low total cost of ownership - The issue of unit economics, both for the vendor and the operator, will be a huge consideration. It needs to make economic sense for both parties, i.e. the CMP vendor needs to be able to sustain the development roadmap, and the operator need a fee structure from the CMP that allows it to address devices generating less than USD1/year.

Fast time-to-market - Operators will want a CMP that is deployable in a matter of weeks to avoid missing out on business. Being deployed in the cloud helps with this.

Agility - CMPs also need to be sure that they can react to changing market dynamics, including regulation, requiring new features, reports or technologies, delivered in a timely way. As a result, an agile mindset is essential from the vendor.

Strict SLAs - Increasingly IoT is being deployed for mission-critical use cases. Enterprises will demand strict SLAs and therefore operators will equally want similar SLAs with their CMP, particularly over up-time and fault resolution time. The ability to offer SLAs will depend largely on the CMP vendor's end-to-end control of the proposition. White labelling of third-party functionality makes for fewer guarantees.

Understanding of the technical challenges of optimising IoT - Today there are a host of technologies optimised for IoT, including devices, LPWA network technologies, protocols, operating systems, and even mechanisms for supporting multi-country connectivity (e.g. eSIM or roaming) or data transport. This creates a challenge: each of the elements of the IoT solution needs to be optimised, and cross-optimised with each other, to ensure that, for instance, battery life is not compromised by a 'chatty' application, devices are able to block networks that don't have power-saving features, firmware updates can be handled appropriately, and different traffic types can be secured and routed in different ways. A CMP vendor should be able to help optimise this.

Compliance - Transforma Insights believes that there is a future opportunity associated with Compliance-as-a-Service whereby a vendor provides some level of guarantee to the enterprise about the end-to-end compliance of its deployment. This could potentially be a role for a CMP.
About the report, and the associated webinar
This article is based on a free report from Transforma Insights, Transition Topic Position Paper: Connectivity Management Platforms.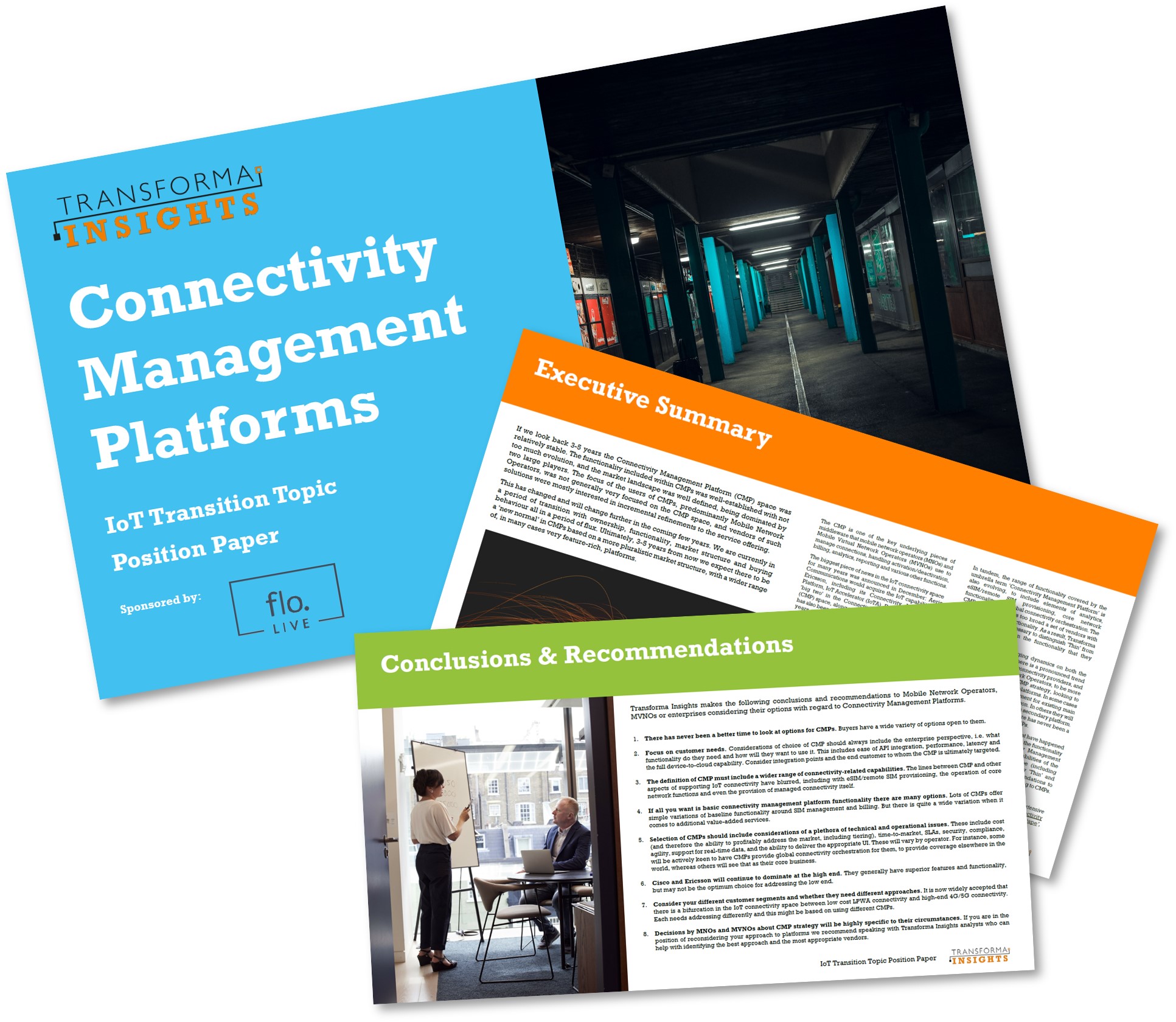 The themes of the report were also covered in a free Virtual Briefing on the 16th May featuring Transforma Insights and floLIVE, the recording of which is available here: 'The future of IoT Connectivity Management Platforms in an era of transition'.
Registration required for both, with a free 'Essential' Transforma Insights subscription.