Over the course of the last few months we have written quite a number of reports looking at the landscape for IoT connectivity. And that's not to mention the refresh that is on the way for the CSP IoT Benchmarking Report (details of last year's here).
Big changes coming to IoT connectivity
The starting point was 'What will cellular connectivity for IoT look like in 2030?' (May, 2021) which examines the likely trends and developments in technology, ecosystem and commercial relationships, including the face of radio access networks, the new dynamics in how core and access networks are delivered, new models for spectrum ownership, the impact of hyperscalers, pricing and network economics, regulation and the relationships between the various participants in the ecosystem.
The conclusion was that there are significant changes coming to the provision of IoT connectivity in the 2020s. The promise of the various 3GPP technologies will finally start to be realised, delivering much improved capabilities for delivering IoT, including mMTC and 5G that live up to expectations. These networks will face increasing rivalry from satellite and unlicensed technologies. In the meantime, the competitive landscape will also change quite dramatically, reflecting an increase in market scale and declining margins. MVNOs and MNOs will be more in conflict and hyperscalers will inject themselves into the market. There is also potential for conflict between MNOs and infrastructure vendors. It's going to be quite a ride.
How the IoT connectivity market will evolve
The changing dynamics are neatly summed up by this graphic.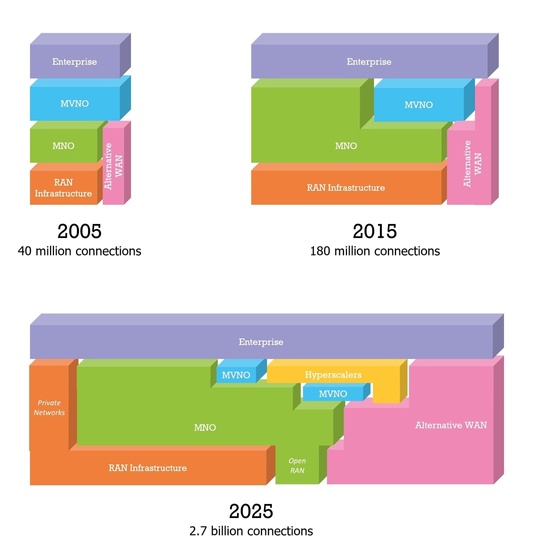 Differentiation in providing IoT connectivity
As a follow-up to that report (and it was initially going to be part of the same report, but it expanded so much I figured it was worth its own title) was 'Finding an effective differentiator for IoT MVNOs' (July, 2021) which looked at the MVNO space. It's currently really vibrant including new arrivals like Blues Wireless and Soracom, and neatly upgraded offers from the likes of Eseye and KORE. It does, however, face some challenges over eroding margins, in part because of the aforementioned increased friction with MNOs. The report examines which differentiators, including software platforms, scale, tariffs, coverage, cloud integration, vertical solutions and pre- and post-sales support, will prove to be the most effective.
A number of tactics will be effective in securing a sustainable future for any MVNO. Most importantly they need to be nimble, continuing to evolve their offering to avoid getting overtaken by other new-comers. Secondly, they need to look at multiple methods of differentiation. In such a competitive market, a single differentiator will not be enough. Finally, they need to identify which part of the market they are pursuing and develop a proposition accordingly. It might be embedded developers, the retail sector, AWS customers or any number of other sub-segments of IoT.
Tough choices in IoT connectivity
Finally I took a look at the choices MNOs should be making in what radio access technologies to support. Clearly the favourites will be the 3GPP family of technologies (2G-5G, NB-IoT and LTE-M) but I wanted to explore how much of a missed opportunity it might be if they didn't also support other alternatives. 'CSPs that are serious about delivering IoT need a diverse portfolio of connectivity technologies' (July, 2021) explores the growing fragmentation in the technology options for wide area IoT connectivity, including LoRaWAN, satellite and mesh networks.
All of these topics will also feature as part of the examination of CSP strategies which form the CSP IoT Benchmarking Report. This year we're expanding it beyond the 10 we covered last year (Aeris Communications, AT&T, Deutsche Telekom, KORE, Orange, Telefónica, Telenor, Telia, Verizon and Vodafone) to also include KPN, Singtel, Tele2, Telus, T-Mobile US and more.