On the 19th July Transforma Insights published a key new report 'Sustainability enabled by Digital Transformation' which examined the ways in which enterprises could harness new disruptive technologies to meet their sustainability and wider ESG goals. This blog post provides some key data points from the report specifically related to how Internet of Things can be used, and the typical results that can be expected in terms of fuel, energy and water savings and reductions in greenhouse gas emissions.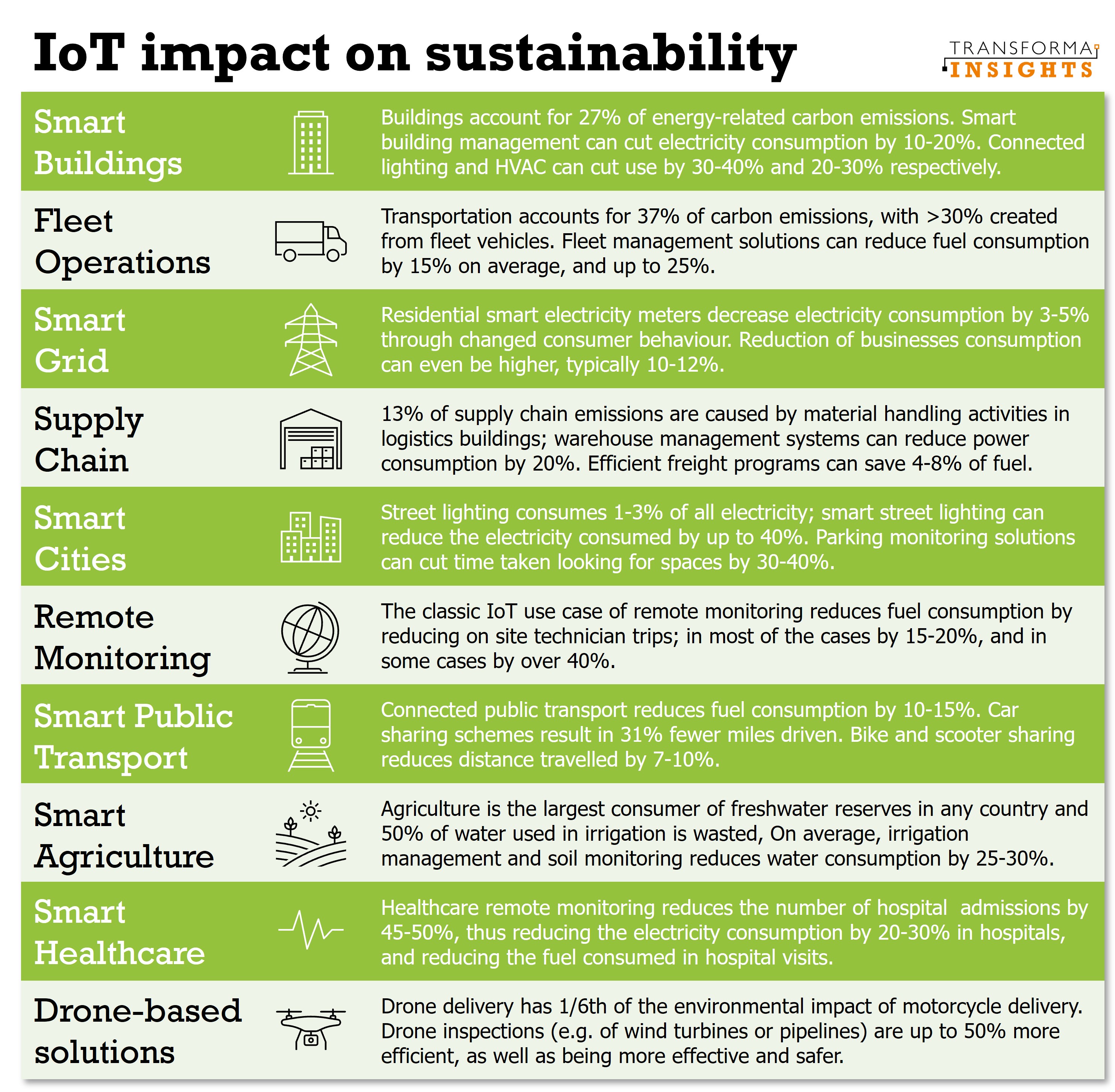 Selected data from the report shows that:
Residential smart electricity meters decrease electricity consumption by 3-5% through changed consumer behaviour. Reduction of businesses consumption can even be higher, typically 10-12%.

Transportation accounts for 37% of carbon emissions, with >30% created from fleet vehicles. Fleet management solutions can reduce fuel consumption by 15% on average, and up to 25%.

Buildings account for 27% of energy-related carbon emissions. Smart building management can cut electricity consumption by 10-20%. Connected lighting and HVAC can cut use by 30-40% and 20-30% respectively.

13% of supply chain emissions are caused by material handling activities in logistics buildings; warehouse management systems can reduce power consumption by 20%. Efficient freight programs can save 4-8% of fuel.

Street lighting consumes 1-3% of all electricity; smart street lighting can reduce the electricity consumed by up to 40%. Parking monitoring solutions can cut time taken looking for spaces by 30-40%.

The classic IoT use case of remote monitoring reduces fuel consumption by reducing on site technician trips; in most of the cases by 15-20%, and in some cases by over 40%.

Connected public transport reduces fuel consumption by 10-15%. Car sharing schemes result in 31% fewer miles driven. Bike and scooter sharing reduces distance travelled by 7-10%.

Agriculture is the largest consumer of freshwater reserves in any country and 50% of water used in irrigation is wasted, On average, irrigation management and soil monitoring reduces water consumption by 25-30%.

Healthcare remote monitoring reduces the number of hospital admissions by 45-50%, thus reducing the electricity consumption by 20-30% in hospitals, and reducing the fuel consumed in hospital visits.

Drone delivery has 1/6th of the environmental impact of motorcycle delivery. Drone inspections (e.g. of wind turbines or pipelines) are up to 50% more efficient, as well as being more effective and safer.
For more on the findings from the research, see the press release 'New report from Transforma Insights identifies the 'Clean Dozen' digital transformation initiatives that will drive sustainability'. A sample section of the report is available to download by any Transforma Insights 'Essential' subscriber, free of charge here: 'Sustainability enabled by Digital Transformation [Sample: Smart Buildings]'.